3. Leather Skin Case
The Sena Leather skin case looks just like the the Flipper case without the front flip down portion of the case. It is essentially just the "skin" section of the case.
Here are the specs on this case:
Product Information for BLACKBERRY PEARL LEATHERSKIN CASES
Slim Design
Protective plastic cover on screen
ULTRA belt-clip (optional)
Headset jack and USB port opening
Microphone and speakerphone opening
Headphone jack opening
Camera opening
Easy access to all buttons
Top Quality full grain leather
LED indicator opening

LeatherSkin: This form-fitting case is comprised of ultra-thin premium leather providing a soft layer of "skin" to gently protect devices from scratches. The fine, slender design offers a tight fit enhancing the curves o the device. Perfected for many of today's most popular devices.
Design: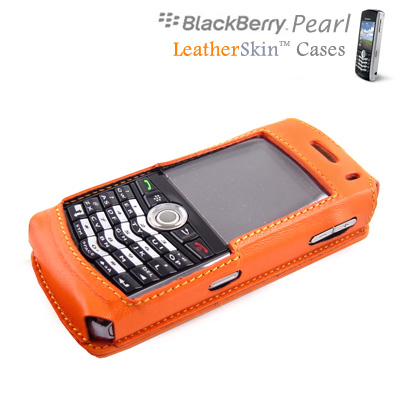 This case is designed to be slim - yet protective and it achieves this goal. Like the Flipper case, it has perfect cutouts for all the major function buttons - camera, microphone, speaker, voice dial button, etc.
This case, like the Flipper case, also has the protective plastic screen protector stitched into the front of the case for added protection.
Quality:
Quality was superior - just like the flipper case.
Convenience:
Since there is no "front" to this case - it is slimmer. The pros are that it is smaller and fits in a pocket just like the Pearl itself. The cons are that you don't have the added protection and padding over the front of the case. You don't have to open the case to use it which is very convenient and preferred by some.
Overall Conclusions:
This is another beautiful case. It is definitely slimmer, but I do feel like the front of the unit, especially the trackball and keyboard are "unprotected" by this case - but it is really a matter of personal choice.
Pros:
Great look and feel
beautifully crafted
perfect cutouts
slim
Cons:
The Sena Leather Skin case can also be found at: www.senacases.com and the price is US$39.99