9. DVD Writing Tests
- Writing Performance
Now we will check the burning performance with DVD media. Below, the available writing speeds can be seen, as reported by Nero Burning Rom.
By using Nero CDSpeed with DVD-R and DVD+R media, we are able to see the 16X writing strategies.
- DVD+R media @ 16X CAV
- DVD-R media @ 16X CAV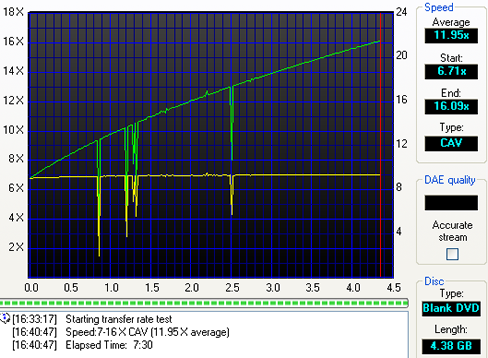 - Burning Tests
DVD-R media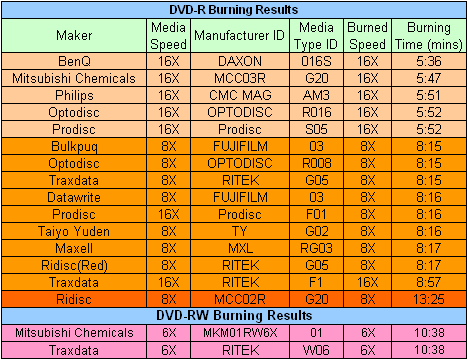 The Samsung SH-W162L burner's writing times were good, which managed to burn at 16X speed in less than 6 minutes for most of the media. Impressive is the time needed with the BenQ disc, only 5:36min. Traxdata and ProdiscF01 media are 16X certified but they were burned as 8X media and the Ridisc 8X disc took too long to burn. A new firmware release will hopefully fix this.
The compatibility list for 16X is good for the DVD+R, with the exception of BenQ media which reported a time closer to 12X recording. However, the 5:33min with Verbatim media is rather impressive.
- Comparison with other drives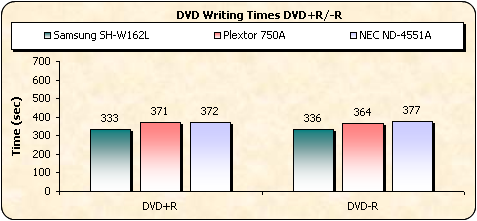 There is not a lot to comment about here. The lower the better...
- DVD Overburning Tests
The Samsung SH-W162L failed to overburn DVD-R and DVD+R media.