Samsung Launches Virtual Reality Creators Program
Samsung Electronics has launched Samsung Creators designed to encourage storytellers to create content based on the Samsung VR technology. "We want to bring the power of VR technology directly to the people," said Samsung Electronics America's Chief Marketing Officer Marc Mathieu. "To help creators learn and perfect the art of VR storytelling, we've built an entire VR ecosystem that pushes beyond the frame and empowers them to develop unforgettable, immersive stories, and inspires us all to do the same."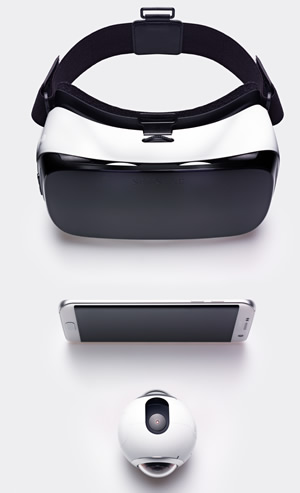 At VidCon-and, beyond-Samsung Creators will provide seminars and classes, putting VR capabilities in the hands of filmmakers. Leading into VidCon, Samsung Creators is working with Casey Neistat to spotlight emerging creators from YouTube and push the creative boundaries of 360 video storytelling. This special curation of content will premiere at VidCon.
In July, Samsung Creators will launch a competition, challenging aspiring, indie filmmakers and creators to develop VR / 360 content, using Samsung's VR products. Ten winners will be chosen, one from each of the following ten categories: Music, Auto, Science and tech, Gaming, Travel, Fashion, Culinary, Cause-related, 4D and Sports.
In addition, today Samsung launched Samsung VR– formerly known as Samsung Milk VR – which now supports user generated content. Creators can load their own 360-degree videos to the Samsung VR platform for sharing and for the first time view them in Samsung Gear VR.
Samsung Gear 360 also launched in the U.S. today, a high-resolution camera developed for storytellers to create their own 360-degree videos for mobile viewing and VR content for Samsung Gear VR, powered by Oculus. The Gear 360 is priced at $349.99 in the United States and will be available for purchase on a limited basis during VidCon in Anaheim, California.
The Gear 360 was initially announced back in February 2016, alongside the Galaxy S7 and Galaxy S7 edge, but this is the first time it will be available for purchase in the United States.
The small, spherical Gear 360 uses two 180° field-of-view cameras, each with an f/2.0 lens, to capture 30MP still images or 3840x1920 video that's viewable with Samsung's Gear VR headset or mobile devices. It includes a microUSB port for charging and is powered by an internal 1350mAh removable battery.
Pictures and video can be saved to a microSD card. The Gear 360 can also use Wi-Fi Direct and a companion app running on one of Samsung's latest smartphones, including the Galaxy S6/S7, Galaxy S6/S7 edge, Galaxy S6 edge+, and Galaxy Note5, to enable remote camera control and live preview features and for transferring content to the phone for editing. The Gear 360 also includes a small PMOLED display and control buttons that allow it to be used independently of a smartphone.