C-Lab's FaceSense Introduces Biometric-based VR Navigation
At the recent VRLA Expo 2017 in Los Angeles, a group of Samsung employees introduced an experimental, hands-free VR interface that they call FaceSense.
FaceSense is a product of C-Lab (Creative Lab), Samsung's startup business program that nurtures its employees' ideas to develop the technologies of tomorrow. The project presents a new approach to VR navigation that works just as its name implies: by tracking movement in the user's face.
Whenever we speak, change our expression or shift our gaze, our faces generate electric signals. FaceSense recognizes and translates these biometric signals into input for navigation, allowing users to maneuver through VR worlds with intuitive movements and simple voice commands, rather than reaching for out-of-sight physical controls.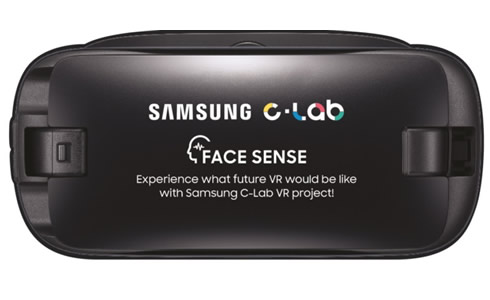 The prototype showcased at the exhibition was designed for Samsung's Gear VR headset, and may one day lead to the development of further biometric technologies that allow more individuals, enjoy VR experiences.
FaceSense works by recognizing and translating biometric signals in the user's face, allowing them to navigate VR worlds hands-free.
The technology registers movement in the user's eyes and facial muscles, and is also capable of recognizing certain words.
The prototype is currently capable of recognizing voice commands such as 'home', 'back', 'select' and 'cancel'.