RealNetworks Introduces RealPlayer Cloud
RealNetworks is aiming at a comeback with video software and storage services that enable people to share videos among different devices. The company today released the new RealPlayer Cloud, which is an integrated video player and cloud service. The new software addresses the problem of incompatibility among video formats on various devices, allowing users to upload a video which can then be viewed and shared on a PC, a tablet, an iPhone, an Android device or a TV set.
"The amount of video content that consumers are capturing and watching is exploding, but moving that video around is often painfully difficult," said Rob Glaser, founder and interim CEO of RealNetworks. "RealPlayer Cloud is a breakthrough product that gives consumers a seamless and easy way to move, watch, save, and share their videos across all their devices. In short, we've made video easy."
RealPlayer Cloud apps are available as a free download on six platforms - Android Phones, iPhones, iPads, Windows PCs, Roku TV Players, and any other device via a Web Browser.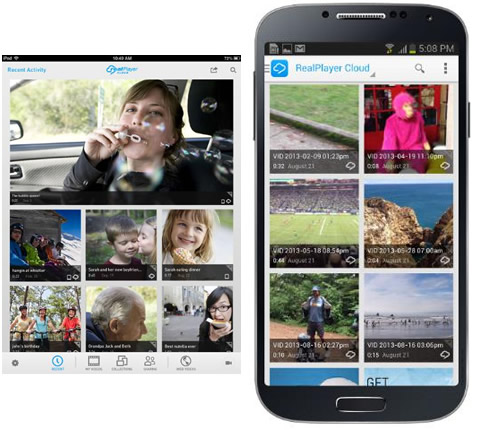 RealPlayer Cloud's multi-device functionality is enabled by SurePlay, a technology from RealNetworks that enables auto-formatting of videos to fit the device type, size of screen, available bandwidth and storage space available on the device.
RealPlayer Cloud also offers additional storage via subscription plans that start at $4.99 per month.
RealNetworks will be rolling out RealPlayer Cloud on other devices and in other territories and languages in the months ahead.
RealNetworks was launched in 1994 and originally provided tools and services for streaming audio and then streaming video. But the company has struggled to evolve in a fast-changing internet media market, spinning out its Rhapsody subscription music service and moving into the gaming business via acquisitions.