Quick look: AMD Radeon R9 Nano
2. Benchmarks
Lest's run some benchnarks on this new baby. The becnhmark PC configuration is the following:
CPU: Intel Core i7-6700K
Motherboard: ASUS Z170-A
Memory: DDR4-2133 8GB × 2 (15-15-15-35,1.20V)
Storage: 256GB SSD (CFD S6TNHG6Q)
Graphics driver: AMD Catalyst 15.8 Beta (15.201.1151) / GeForce 355.82
OS: Windows 10 Pro 64bit
Applications: 3DMark, 3DMark11, The Witcher 3: Wild Hunt, Final Fantasy XIV: Blue Sky of Ishugarudo, MHF benchmark
In the 3DMark Fire Strike benchmark, the Radeon R9 Nano scored higher by 26% compared to the GeForce GTX 970, although that score was about 13% lower than the Radeon R9 Fury X.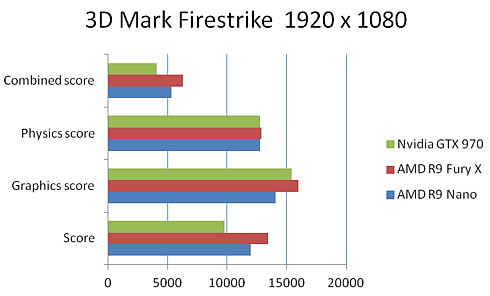 Pushing the resolution to 4K resultred to a greater score difference between the R9 nano and the GeForce GTX 970 (32%). Agaimn the high-end Radeon R9 Fury X took the lead.
At the Sky Diver and Cloud Gate becnhmarks, the differences among the total scores of teh cards were smaller. The Radeon R9 Nano scored bettwe than the GeForce GTX 970 by 10 ~ 17% (graphics score).
In the 3DMark11 Extreme benchmark, the score differences among each GPU in the test were almost teh half of what we saw in the Sky Diver and Fire Strike benchmarks.
The Witcher 3 becnhmark unveiled a significant frame rate difference between the GeForce GTX 970 and R9 Nano, mainly at 4K.
In the MHF benchmark, the Radeon R9 Nano was about 10% faster than the GeForce GTX 970 in the full HD test, with the difference to be further widened at about 30% in 4K at about 30 percent.