PS3 Motion Controller on Track For Spring Release, Price Cut For Nintendo Wii
Sony Computer Entertainment Inc. today made some interesting announcements related to the PS3 and PSP game consoles at the "Tokyo game show 2009" held in began in Makuhari Messe, Japan. At the same time, Nintendo announced a significant price cut for its popular Wii system.
1 Million New PS3 Sold in 3 Weeks
At his keynote at the Tokyo Game Show 09, Kazuo Hirai, President and Representative Director and group CEO of Sony Computer Entertainment (SCE), announced that retail sales of its new PlayStation 3 (CECH-2000A) computer entertainment system achieved a total of 1 million units worldwide in the 3 weeks since its launch on September 1, 2009 .
The increase represents sales of the console in the three weeks after Sony slashed the price of the PS3 - whose sales have lagged behind Nintendo Co Ltd's Wii and Microsoft Corp's Xbox - to about $300 in the United States last month, compared with sales for the three weeks before.
A few days after Sony's price cut, Microsoft dropped the price of its Xbox 360 Elite to $299.
The new PS3 is available at a recommended retail price of 29,980 yen (including tax), US$299 and €299, with a streamlined form factor and a pre-installed 120GB Hard Disk Drive. Furthermore, the reduction of power consumption and fan noise as well as the casual appearance have also become drivers in attracting a larger and broader range of users.
Sony's rival Nintendo, also announced today that it would cut the price of its popular Wii video game console by 20 percent, responding to Sony's similar and Microsoft's (Xbox 360) cuts. Last month, Microsoft slashed $100 off the price of its high-end Xbox 360 console.
Nintendo said it would lower the price of the Wii by $50 to $199.99 in the United States starting Sunday. The price in Japan will fall by 5,000 yen to 20,000 yen on October 1.
Nintendo has so far outsold its rivals in this generation of consoles. However, Wii sales have tailed off in recent months and competition was set to get tougher after its rivals cut prices.
In a move to further expand a pool of popular software titles for its game console, Sony said it plans to launch the latest installment of its highly anticipated racing game series "Gran Turismo 5" in March. The "Gran Turismo" series has so far sold more than 52 million units worldwide.
Long-awaited console price cuts and new games, including updates to the "Halo", "Guitar Hero" and "Call of Duty" franchises are expected to boost sales in coming months.
Motion Controller For PS3 Available in spring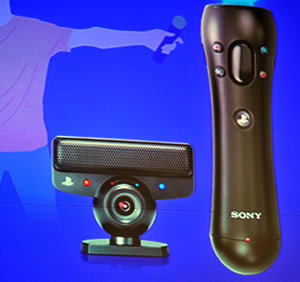 Sony announced that it will release new Motion Controller (tentative) for PlayStation 3 (PS3 ) computer entertainment system in Spring 2010. The new controller, equipped with high-precision, highly accurate motion sensors, can deliver whole new entertainment experience on PS3 when combined together with the PlayStation Eye camera.
Capable of recognizing and tracking a user?s face and voice as well as body motion, PlayStation Eye can also output the player?s image onto the TV screen.
The newly announced Motion Controller is equipped with two motion sensors, three axes gyroscope and three axes accelerometer that can detect the controller?s angle and movement held in the user?s hand. Together with the PlayStation Eye camera for PS3 which can track the absolute position of the controller, the controller can detect the natural movement of the hand and reflect the precise movement on to the game. The sphere placed on the top of the controller is not only used to track the absolute position but can also give visual feedback to users by changing the colors or the illuminating patterns of the sphere.
Furthermore, the new controller is also equipped with a rumble feature, familiar to the PlayStation DUALSHOCK series controller.
Further expanding the new experience on PS3, SCE Worldwide Studios will deliver many software titles for the Motion Controller in 2010.
Software Titles for Motion Controller include the following games:
Ape Escape
Echochrome 2
Eccentric Slider
Sing and Draw
Champions of Time
Motion Party
The Shoot
Tower
PAIN
Flower
Hustle Kings
High Velocity Bowling
EyePet
New content For PLAYSTATION STORE
Sony also announced the expansion of the PlayStation Store video category starting this November with new videos downloadable to both the PSP (PlayStationPortable) and the PlayStation 3 (PS3) systems.
The updated PlayStation Store video category will feature a selection of video content from newly established partners, including EMI Music Japan Inc., MEDIA FACTORY, INC., PONYCANYON INC., Sony Music Entertainment Inc., TV TOKYO Corporation, Warner Entertainment Japan Inc. and Warner Music Japan Inc.
In November, PlayStation?Store users will be able to download and enjoy movies and drama series of more than 300 titles including, Harry Potter series and Terminator Salvation, as well as over 1,000 videos from over 90 titles and anime. Furthermore, music videos from Label Gate Co., Ltd. will also be added.
This content will be available for download either to rent or to own.
PSP Price Cut
Sony Computer Entertainment Japan also today announced that it will reduce the recommended retail price of the PSP (PlayStation Portable) handheld entertainment system (PSP-3000 series) in Japan to 16,800 yen (including tax) starting October 1, 2009.
For the upcoming holiday season, many highly anticipated software titles are to be released from third-party developers and publishers as well as from SCE Worldwide Studios, including Shin Sangokumusou 5 Special from KOEI Co., Ltd., Metal Gear Solid: Peace Walker from Konami Digital Entertainment Co., Ltd., PHANTASY STAR PORTABLE 2 from SEGA CORPORATION, KINGDOM HEARTS Birth by Sleep from SQUARE ENIX Co., Ltd., GRAN TURISMO, Minna no Sukkiri and Everybody?s Tennis Portable from SCE.
Sony also introduced digital comics service for PSP system. Starting December 2009, the service will be available in Japan on the PlayStationStore.
Digital comics will be available for download in the new "Comics" category within the PlayStation Store, and the service will launch with titles from leading publishers, such as ASCII MEDIA WORKS Inc., BANDAI VISUAL CO., LTD., ENTERBRAIN, INC., FUJIMI SHOBO CO., LTD., Futabasha Publishers Ltd., HAKUSENSHA INC., KADOKAWA GROUP PUBLISHING CO., LTD., KODANSHA Ltd., SHOGAKUKAN INC., SHUEISHA Inc., SQUARE ENIX CO., LTD., with more to follow.
The new service, accessible on all PSP models, including PSP-1000, PSP-2000 and PSP-3000, as well as on the newly introduced PSP go (PSP-N1000) which will be released on November 1 in Japan, will allow users to enjoy digital comics anytime, anywhere, through the widescreen LCD on the PSP system.