Intel's CPU Roadmap 2009-2011
Intel provided an overview of its server and client roadmap at the IDF in San Francisco. Mr. Stephen Smith, vice president, director of operations Intel Architecture group, described how Intel remains on pace with its ambitious product and manufacturing cadence referred to as the company's "tick-tock" strategy.
That plan revolves around introducing an entirely new processor microarchitecture alternating with a cutting edge manufacturing process about every 12 months.
Server Precessor Roadmap
According to Smith, Intel plans to release the "Boxboro" platform powered by the "Tujwilla and Poulson processors in 2010 and afterwards. Boxboro is expected to replace the currently available Itaniun 9100 series.
The Boxboro platform will be also powered by the new Nehalem -EX processor and later in 2010 by the 32nm Westmere -EX CPU.
Intel's 45nm Xeon 5500 series will be also be replaced by the 23nm Westmere-EP CPU.
The "heart" of the entry level sequence for servers will be the "Foxhollow" platform, powered by 32nm Clarkdale CPUs - which pack a GPU inside - and the Intel 3400 chipset.
The company plans to introduce the Sandy Bridge platform in 2011.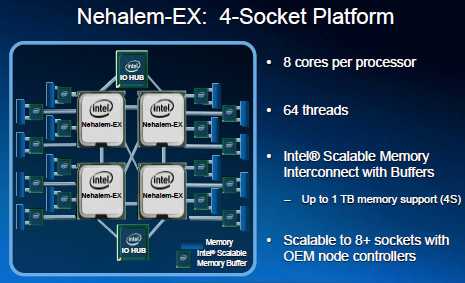 Client roadmap
Smith announced the development of the 32nm "Gulftown" CPU that is expected to be the successor of the currently available Core i7 9xx+X58 for the high-end desktop segment in the middle of 2010.
The mainstream/performance platform will include the Lynfield (quad core) and the 32nm Clarkdale CPUs (dual core) as well as the Intel's 5 series chipset for 2010.
Finally, the Mobile performance/extreme platform will inlcude the 32nm "Arrandale" CPU and the Intel 5 series-M chipset in Q1 2010.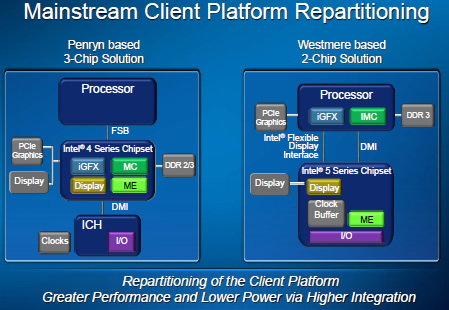 For the firts time, Intel also disclodes benchmark data for its dual-core 3.3GHz Clarkdale CPU. According to the results, ther Clarkdale CPU is faster than an Intel Core 2 Quad CPU (Q9400).
For high-end desktops, Intel also plans to release the 32nm 6-core "Gulftown" CPU in 2010. The CPU will offer 12 threads an will be compatible with the Intel X58 chipset.