5. SiSoftware Sandra, RightMark
- Everest Ultimate Edition 2007
EVEREST Ultimate Edition is an industry leading system diagnostics and benchmarking solution for enthusiasts PC users, based on the award-winning EVEREST Technology. During system optimizations and tweaking it provides essential system and overclock information, advanced hardware monitoring and diagnostics capabilities to check the effects of the applied settings. CPU, FPU and memory benchmarks are available to measure the actual system performance and compare it to previous states or other systems. Furthermore, complete software, operating system and security information makes EVEREST Ultimate Edition a comprehensive system diagnostics tool that offers a total of 100 pages of information about your PC. The software has build-in several tests for memory and CPU/FPU.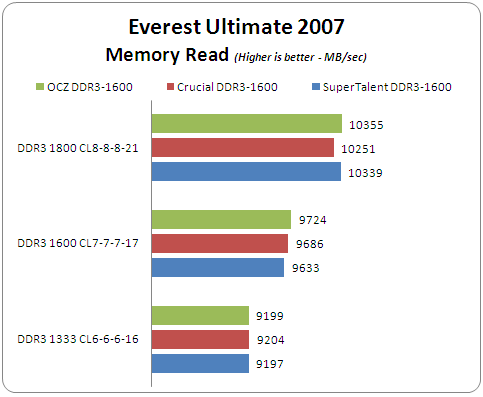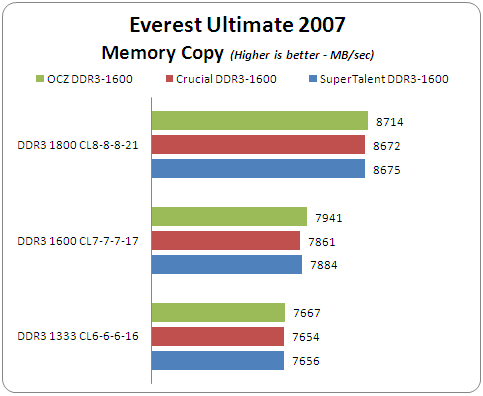 With Everest Ultimate 2007 we confirmed the previous results...
PCMark®05 is everything you need to reliably and easily measure the performance of your PC and determine its strengths and weaknesses. With PCMark05, you will be able to select the optimal upgrades for your existing PC, or choose the right new PC that fits your specific needs. This easy-to-use product gives you the same tools and knowledge that virtually every professional tester in the industry uses. Below you can see all three available scores, memory, CPU and total.
Finally, the PCMark 05 Memory Benchmark. At DDR3-1800 the OCZ DDR3-1600 got the highest rank.