1. Features
Nvidia has been introducing affordable products for medium range users for sometime now. The GS and GT series represent the vision of Nvidia towards good performance and a price that will please most users. Recently, Nvidia introduced its latest creation, the 8800GT series, which promises to rock your gaming world. The GeForce 8800 GT was announced on October 29th by Nvidia as an answer to enthusiast gamers demands for high-performance graphics.
The recently released DirectX10 games Crysis, Hellgate: London, and Gears of War really need a powerful GPU, which Nvidia now offers at the $199 - $259 price range. The new 8800GT series include 112 stream processors and a 256-bit frame buffer interface running at 900MHz, while Nvidia has revised the PureVideo HD engine that promises even better Blu-ray and HD-DVD movie picture quality than the previous generation.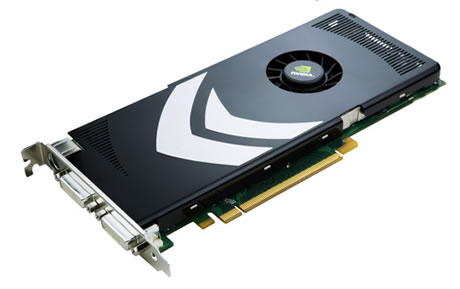 Lastly, it is PCI Express 2.0 bus architecture certified, even though not many motherboards on the market currently support this new interface. Below is a table that illustrates the major features of the various 8800 models in terms of core/shader/memory clocks and interface bandwidth.
Core Clock (MHz)
Shader Clock (MHz)
Memory Clock (MHz)
Memory Amount
Memory Interface
Memory Bandwidth (GB/sec)
Texture Fill Rate (billion/sec)
GeForce
8800 Ultra
612
1500
1080
768MB
384-bit
103.7
39.2
GeForce
8800 GTX
575
1350
900
768MB
384-bit
86.4
36.8
GeForce
8800 GT
600
1500
900
512MB
256-bit
57.6
33.6
GeForce
8800 GTS
500
1200
800
640MB or
320MB
320-bit
64
24
GeForce
8600 GTS
675
1450
1000
256MB
128-bit
32
10.8
GeForce
8600 GT
540
1190
700
256MB
128-bit
22.4
8.64
GeForce
8500 GT
450
900
400
256MB
128-bit
12.8
3.6
GeForce
8400 GS
450
900
400
256MB
64-bit
6.4
3.6
The GeForce 8800GT comes with a blazing 600MHz core, 1500MHz shader and 900MHz memory clocks that place it above the 8800GTS series. Moreover, it has 512MB of on-board memory with 256 bits of bandwidth.
The test results should be very interesting, especially since for the first time, Nvidia releases a low priced product with high performance. At this point, we have in our labs two graphics cards based on Nvidia's 8800GT, clocked at higher speeds, and of course higher performance. The Inno3D 8800GT and XFX 8800GT, both OC editions. First, let's meet the Inno3D 8800GT OC edition.