OCZ 1000W Fatal1ty Series Power Supply Review
1. Features, specifications
Earlier this year OCZ Technology introduced the Fatal1ty 1000 Watt power supply, a high-performance PSU targeted at gamers and enthusiasts seeking for maximum wattage, and a modular cabling configuration. As it names suggests, the PSU was co-developed with world champion Johnathan "Fatal1ty" Wendel to meet the needs of fellow gamers in performance.
The PSU is featuring individually-sleeved modular cables to eliminate unnecessary wire clutter for a cleaner overall presentation and better airflow in high end systems that are packed with components.

It is combining a single +12V rail and high-quality components and promises to offer a continuous output at a 50°C ambient temperature, as it uses Japanese 105°C capacitors along with protection circuitries for reliability and stability. Key features include a temperature and load controlled 140mm double ball-bearing fan with red LEDs, well-regulated electrical noise and ripple, and 80 Plus Gold certification with up to 90% efficiency at typical loads.

The Fatal1ty Series offers a complete array of connectors including detachable CPU, and multiple PCIe, SATA, and peripheral cables. It also provides universal input and active PFC (Power Factor Correction) to regulate input voltage and maintain a stable supply of power in an ATX form factor to accommodate virtually all computer towers.
Newegg had the best price for the specific PSU at the time of writing this article, as the unit is listed for $230.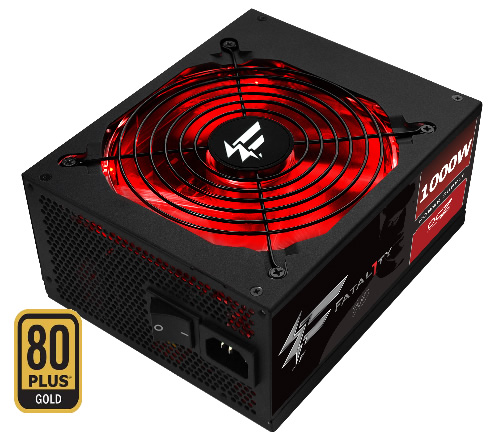 - Features
Continuous 1000W output at 50°C
Built with 100% Japanese low ESR 105°C capacitors
Single +12V rail
Temperature and load controlled 140mm double ball-bearing fan with Red LED
80-Plus Gold certified for up to 90% efficiency (typical load)
Individually sleeved modular cables
Active Power Factor Correction (PFC)
ErP compliant for low power usage in standby
Heavy-duty protection circuitry
Dimensions: 150mm(W) x 86mm(H) x 180mm(L)
MTBF: 100,000 Hours
5-Year Warranty
Connectors
1 x 20+4-pin ATX
2 x 4+4-pin ESP/12V CPU
6 x 6+2-pin PCIe
8 x 4-pin Peripheral
12 x 5-pin SATA
2 x Floppy
Part Numbers
USA: OCZ-FTY1000W
Europe: OCZ-FTY1000W-EU
United Kingdom: OCZ-FTY1000W-UK
China: OCZ-FTY1000W-CN
Australia: OCZ-FTY1000W-AU
No Power Cord: OCZ-FTY1000W-NP