Nvidia Geforce GTX 1080 review
3. The Witcher 3: The Wild Hunt, Final Fantasy XIV, MHF benchmark
The Witcher 3: The Wild Hunt, benchmark again gave the top score to GeForce GTX 1080. The card has a 40-50% graphics performance lead over the GeForce GTX 980, and about 10% compared to the GeForce GTX 980 Ti AMP Extreme. The result is almost consistent to what we previously saw in the Graphics Score of 3DMark.
Obviously, the GTX 1080 can maintain more than 60 FPS during game play at 2,560 x 1,440.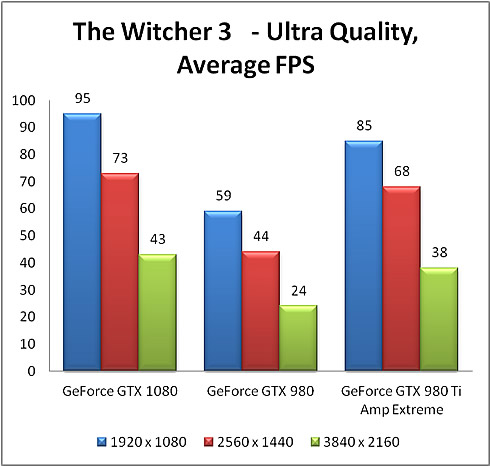 Moving on to the more demanding Final Fantasy XIV, as the load becomes heavier, the performance gap between the GTX 1080 and the GTX 980 becomes bigger, especially in the resolution of 3,840 x 2,160. We see a 70% to 80% lead over the GTX 980 and a smaller 10% lead over the GeForce GTX 980 Ti AMP Extreme.
The MHF benchmark showed almost the same trend, with the GeForce GTX 1080 to outperform the other GPUs.