Nikon Announces D3X digital SLR
Nikon today officially unveilled the long-awaited D3X digital SLR, which has 24.5 effective megapixels. The Nikon D3X digital SLR employs a Nikon FX-format CMOS imaging sensor (35.9 x 24.0 mm) with an imaging area equivalent to 35mm film.
Designed for professionals, the camera includes:
- Newly developed Nikon FX-format CMOS sensor (35.9 x 24.0 mm sensing area)
- 24.5 million effective pixels
- Superior-resolution image quality equivalent to medium-format digital cameras
- High-speed continuous shooting of up to approx. 5 frames per second in FX format (24.5 megapixels) / 5:4 (20.4 megapixels); 7 frames per second in DX format (10.5megapixels)
- Wide ISO sensitivity of 100 to 1600 at normal setting, with low noise performance
- Two Live View modes ? Handheld and Tripod
- High-density 51-point AF system In 12-bit A/D conversion mode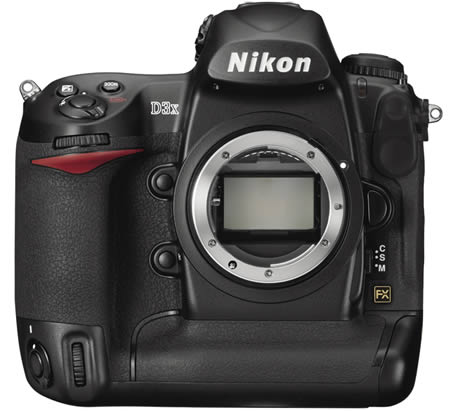 Nikon FX-format CMOS sensor with 24.5 megapixels
The D3X employs a new Nikon FX-format CMOS sensor with 24.5 effective megapixels covering an area of 35.9 x 24.0 mm to achieve amazing resolution. Nikon has also optimized the pixel characteristics to provide a higher S/N ratio and wider dynamic range by securing a greater amount of light received by each pixel, thereby reducing lost highlights and shadows, and ensuring smoother tone reproduction with minimized noise.
Wide sensitivity range starting at ISO 100
At normal setting, the D3X offers a wide range of sensitivity ? from ISO 100, suitable for stroboscopic setting in studio shoots, to ISO 1600. It realizes high image quality with less noise at ISO 1600 as well as at low sensitivity settings. What's more, the sensitivity range can be increased by two stops (up to ISO 6400 equivalent) and decreased by one stop (down to ISO 50 equivalent). Auto sensitivity control is also available.
New EXPEED-based image processing
A new image processing system, based on Nikon's EXPEED digital image processing and specially optimized for the D3X, provides superior image quality, faster processing speeds and lower power consumption. Furthermore, Nikon's advanced noise processing function, which was designed to minimize noise occurrence, achieves this without interfering with other factors, including hue.
High-speed performance meets
Just like the D3, the D3X achieves a start-up time of 0.12 second and a shutter release time lag of 0.04 second. It delivers a continuous shooting speed of approx. 5 frames per second in FX format (36 x 24) or 5:4 (30 x 24), and 7 frames per second in DX format (24 x 16). Also, the D3X is fully compatible with UDMA, the new-generation high-speed card that enables 35 MB recording equivalent to the D3. The D3X is capable of recording approx. 7.1 MB (JPEG, image size L, NORMAL) of data captured in FX format at speeds of approx. 5 frames per second.
Scene Recognition System
As with the D3, the D3X recognizes subjects and shooting scenes using a 1,005-pixel RGB sensor that controls exposure by detecting not only the brightness but the colors of the subjects as well. The results are applied to control Autofocus, Auto Exposure, i-TTL Balanced Fill-flash and Auto White Balance.
AF system employing high-density 51-point AF
The Multi-CAM 3500FX autofocus sensor module, originally incorporated in the D3, offers proven outstanding performance. All 51 focus points, including the 15 cross-type sensors located at the center, are effective in all AF NIKKOR lenses with a maximum aperture of f/5.6 or larger. Three AF-area modes ? Single point, Dynamic-area AF and Auto-area AF ? are available to maximize the use of the 51 focus points by selecting the most suitable one to match subject conditions. Moreover, in Scene Recognition System, subject identification and tracking information is applied to improve subject acquisition performance in Dynamic-area AF mode and focusing accuracy for human subjects in Auto-area AF mode.
Superior durability
Magnesium alloy is used for the exterior cover, chassis and mirror box to ensure light weight and rugged reliability. Strict O-ring sealing at critical connected parts effectively restricts dust and moisture. The shutter unit, developed and manufactured by Nikon, employs a new material (carbon fiber/Kevlar hybrid) for the shutter blades, guaranteeing durability through 300,000-cycle release tests with the shutter actually loaded. Precision is also maintained with a shutter monitor.
The D3X incorporates a 3-inch LCD monitor with ultra-high resolution of approx. 920k-d­ots (VGA). The wide viewing angle of 170° makes it easy to check composition in Live View shooting for both high and low angles.
Two Live View modes available
In Handheld mode, which allows the frame to be recomposed prior to actual shooting, ordinary TTL phase-difference AF using all 51 AF points is activated. Tripod mode is designed for precise focus with still subjects and tripod stabilization; it allows focal-plane contrast AF on a desired point within a specific area. Optional software Camera Control Pro 2 enables monitor focus and control shutter release from a computer. And optical Wireless Transmitter WT-4 enables wireless remote camera control and image transfer.
Picture Control System
Picture Control System offers four kinds of Picture Controls: Standard, Neutral, Vivid, and Monochrome. Choose one and use as is, or adjust image creation factors (Sharpening, Contrast, Brightness, Saturation, and Hue). Optional Picture Controls (Portrait, Landscape, D2XMODE I, D2XMODE II and D2XMODE III) are available at the Nikon website for downloading and installation to your camera.
Active D-Lighting
In settings with strong contrast, Active D-Lighting, used in combination with 3D Matrix Metering II, determines an exposure by utilizing a gradation of highlights, detects lost shadows, then reproduces them after digital processing. Rather than simply expanding the dynamic range, Active D-Lighting prevents images from looking flat through localized tone control technology, and creates realistic contrast while compensating lost shadows and highlights. Choose from Auto, Extra High, High, Normal, Low or Off setting prior to shooting.
Electronic virtual horizon
An accelerator sensor incorporated in the body of the camera detects inclination and displays it in the LCD monitor. In Live View shooting, virtual horizon is displayed in the LCD above the monitor image. It can also be displayed in the top control panel and in the exposure indicator of the viewfinder.
GPS Unit GP-1 (optional)
GPS records shooting information such as latitude, longitude, altitude and date of shooting. Coordinated with map information, you can create an original map using images.
The Nikon Dx3 is expected to retail for $7,995 in body-only form.