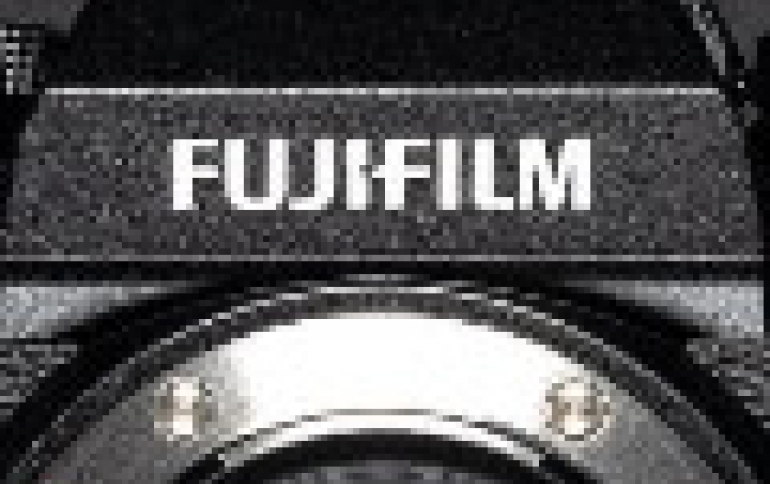 New Fujifilm X-T3 Mirorless Camera is Armed With a 26MP X-Trans Sensor and 4K/60p video
Fujifilm has inctroduced the X-T3 mirorless camera powered by a 26MP BSI X-Trans CMOS 4 sensor that can shoot at up to 30 fps and capture 4K/60p video.
The X-Processor 4 is three times faster than the chip on current X-series models. The camera also has a native base ISO of 160, down from 200 on the X-T2. All of Fujifilm's Film Simulation modes are here, including Acros, Classic Chrome and Eterna.
The X-T3 looks like its predecessor, featuring a weather-sealed body with analog dials, dual-axis articulating LCD and an electronic viewfinder. Both the LCD and EVF have been enhanced, with the former becoming touch-enabled and the latter getting a resolution boost to 3.69 million dots. The EVF has a 100 fps refresh rate when the camera is in 'boost mode,' which no longer requires the optional battery grip for maximum performance. The EVF diopter is now lockable, and the camera's various dials and buttons are larger.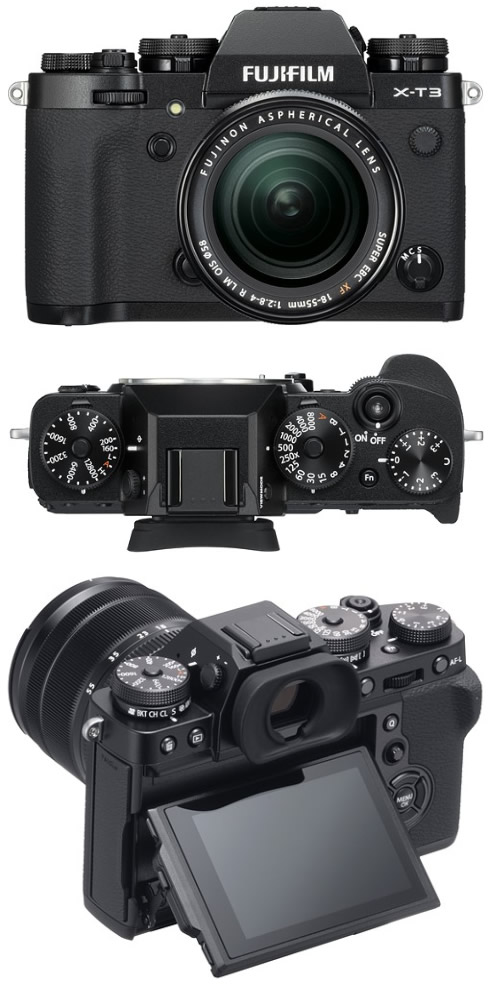 The autofocus system has beem improved with 2.1 million phase detection pixels providing nearly 100% coverage. The system checks focus and metering 1.5x faster than the X-T2 and is capable of focusing in light levels as low as -3EV. Face and eye detection are also better in this new model, with the latter now available in AF-C mode. Fujifilm has also added a 'Digital Microprism' focusing aid, simulating the view through an old-school film SLR finder.
At full resolution the camera can fire away at 20 fps with the electronic shutter or 11 fps with the mechanical shutter. Putting the camera into 'Sports Finder' boosts the top burst rate to 30 fps with a 1.25x crop. A pre-capture option continuously buffers images and saves the images taken immediately before and after you press the shutter release. The X-T3's battery life is rated at 390 shots per charge, which is above average for a mirrorless camera.
In terms of video capturing, the X-T3 can capture 4K/60p video (DCI and UHD), output 10-bit 4:2:2 to an external recorder or capture 10-bit 4:2:0 internally (using the H.265 codec).
The X-T3 can record F-Log footage (with a minimum ISO of 640), with HLG support coming later in 2018. The camera has mic and headphone sockets, along with HDMI and USB-C.
The X-T3 will be available starting September 20th in black and silver for $1,499.95 body-only, or as a kit with the XF 18-55mm for $1,899.95.
Fujifilm X-T3 Key Features:
1MP X-Trans CMOS 4 Sensor with primary color filter
X-Processor 4 Image Processing Engine

Capable of 4K/60P and 10bit output
Features 4 CPU units
Startup time of 0.3 seconds
Shutter time lag of 0.045 seconds

High-precision, 0.5-inch, 3.69 million dot OLED color viewfinder

Viewfinder magnification of 0.75x
Wide viewing angle (diagonal 38 degrees and horizontal 30 degrees)
Display time lag of just 0.005 seconds, refresh rate of approx. 100fps

Robust magnesium alloy body
Continuous Shooting

30fps [Only electronic shutter, 1.25 x Crop ] (JPEG: 60 frames Lossless compression RAW: 35 frames Uncompressed RAW: 33 frames)
11fps (JPEG: 145 frames Lossless compression RAW: 42 frames Uncompressed RAW: 36 frames)
5.7fps (JPEG: endless Lossless Compression RAW: 62 frames Uncompressed RAW: 43 frames)
Pre-shot: Approx. 30fps [Only electronic shutter, 1.25 x Crop ] (max. 20 frames while half press, max. 20 frames after full press, total max. 40 frames)

Movie Recording (using a card with the UHS Speed Class 3 or higher)

File format

MOV (MPEG-4 AVC/H.264, HEVC/H.265, Audio: Linear PCM / Stereo sound 24bit / 48KHz sampling)

Movie compression

All Intra/Long-GOP, can be used with the following settings:

DCI4K/4K 29.97p/25p/24p/23.98p 400Mbps
Full HD(2048x1080)/Full HD(1920x1080)94p/50p/29.97p/25p/24p/23.98p 200Mbps

File size/ Frame Rate/ Recording Time

[DCI 4K(4096x2160)] 94p/50p/29.97p/25p/24p/23.98p 400Mbps/200Mbps/100Mbps 59.94p/50p: up to approx. 20min. 29.97p/25p/24p/23.98p: up to approx. 30min
[4K(3840x2160)]94p/50p/29.97p/25p/24p/23.98p
400Mbps/200Mbps/100Mbps 59.94p/50p: up to approx. 20min. 29.97p/25p/24p/23.98p: up to approx. 30min
[Full HD(2048 x1080)] 94p/50p/29.97p/25p/24p/23.98p 200Mbps/100Mbps/50Mbps up to approx. 30min.
[Full HD(1920x1080)]94p/50p/29.97p/25p/24p/23.98p 200Mbps/100Mbps/50Mbps up to approx. 30min.
[Full HD(1920x1080) High speed rec.] 120p/100p 200Mbps (recording) up to approx. 6min.
Recording movies in 400Mbps can be done with DCI4K/4K 29.97p/25p/24p/23.98p.
DCI4K 59.94p/50p is not available when H.264 is selected.

For recording movies, use a SD memory card with UHS Speed Class 3 or higher. For recording movies in 400Mbps, use a SD memory card with Video Speed Class 60 or higher

LCD Monitor

0 inch, aspect ratio 3:2, approx. 1.04 million dots touch screen color LCD monitor (approx. 100% coverage)

16 Film Simulation Modes

PROVIA/Standard, Velvia/Vivid, ASTIA/Soft, Classic Chrome, PRO Neg. Hi, PRO Neg. Std, Black & White, Black & White +Ye Filter, Black & White +R Filter, Black & White +G Filter, Sepia, ACROS, ACROS +Ye Filter, ACROS+R Filter, ACROS+G Filter, ETERNA/Cinema), B & W Adjustment: -9~+9

Bluetooth Ver. 4.2 low energy technology
16 Film Simulation Modes
Accessories included:

Li-ion battery NP-W126S
Battery charger BC-W126S
Shoe-mount flash unit EF-X8
Shoulder strap
Body cap
Strap clip
Protective cover
Clip attaching tool
Hot shoe cover
Vertical battery grip connector cover
Connector cover (detachable)
Sync terminal cover
Cable protector
Owner's manual
FUJIFILM X-T3 Accessories:
X-T3 Vertical Power Booster Grip VG-XT3

Weather-resistant design fits two additional batteries

X-T3 Metal Hand Grip MHG-XT3

Enhanced ergonomic design for horizontal shooting

X-T3 Bottom Leather Case BLC-XT3
X-T3 Cover Kit CVR-XT3 includes:

Sync terminal cover
Hot shoe cover
Connector cover
Vertical battery grip connector cover, black
Vertical battery grip connector cover, silver

FUJIFILM Remote Release RR-100
Battery Charger BC-W126S