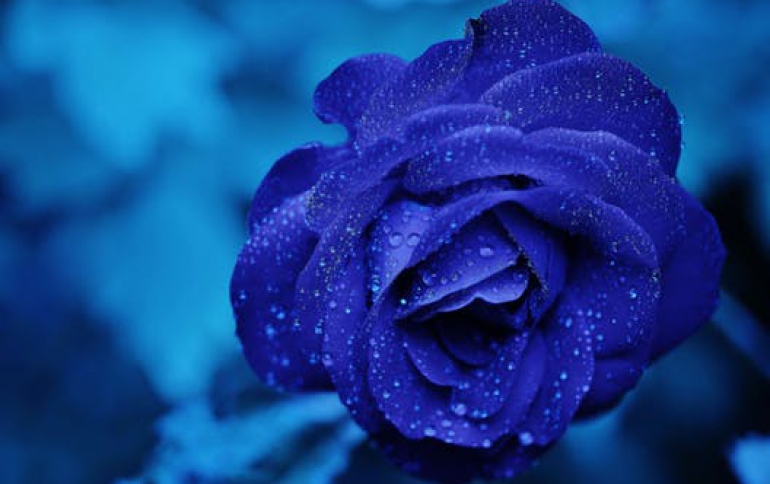 Motorola Unveils Seven New W Series Handsets
Motorola said on Thursday it plans to start selling seven new phones for its W Series of handset line in the fourth quarter. The handset maker said the phones, which would sell at an affordable price point, would suit people who want to talk and send text messages on easy-to-use phones that could also serve as upgrades to basic cell phones.
It said the W160, W180, W213 and W377 would also include FM radios. Its W156, W175, W180, W206 and W213 models will include Motorola's CrystalTalk Technology, which automatically adjusts audio to ensure clear calls in a noisy environment, it said.
Motorola W377: Mobile Entertainment Essentials
The W377 delivers sound with an integrated FM radio and MP3 ringtones. This handset also features an integrated VGA camera, Bluetooth wireless technology? and preloaded games.
The W377 also offers organization tools, such as one-touch SMS2, speakerphone, mobile calendar, an alarm clock and is packed with 10MB of user memory.
Motorola W206 and Motorola W213
The Motorola W206 and W213 features the CrystalTalk Technology, long battery life, large phonebook for up to 500 entries, and SMS storage for up to 500 messages.
MP3 ringtones, pre-loaded games and WAP/GPRS are also available. Consumers can customize the W206 and W213 by downloading up to 1MB of wallpaper, screensavers and ringtones, with GPRS connectivity. The W213?s FM radio rounds out the entertainment experience.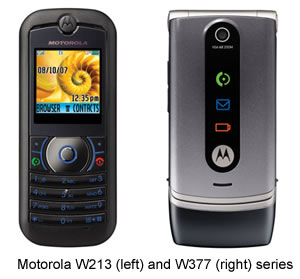 Motorola W175 and Motorola W180
With FM radio featured on the W180, and CrystalTalk Technology featured on both, both candybar handsets are optimized for business with a battery time that supports long calls and one-key access to text messaging. Type out texts quickly via SMS and iTAP predictive text entry2and save the most important texts, up to 750 of them. The internal phonebook can hold up to 500 phone numbers.
Motorola W156 and W160
With an friendly user interface, large display and sleek keypad, the W156 and W160 are easy to use. An FM radio is available on the W160 and Motorola?s CrystalTalk Technology on both.
Consumers can personalize their phone and easily identify callers with 10 preloaded 32 channel polyphonic ringtones and 15 standard alert ringtones.
For more information, please visit www.motorola.com/motoinfo.
All products will be available during fourth quarter of 2007.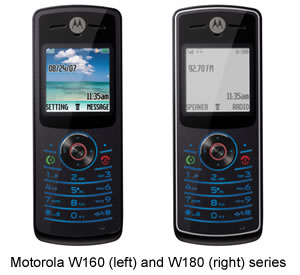 New RAZR2 for Holidays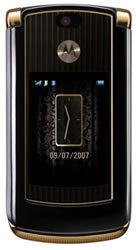 Motorola also announced a special edition of the new RAZR2, available in limited quantities. The signature RAZR2 form factor has been re-imagined and reconfigured in luxurious materials - bathed in gold and clothed in snake-like skin.
Basic Features:
- Motorola's patented CrystalTalk Technology and quad-band technology make calls clearer by automatically adjusting the audio controls to account for background noise.
- Large, color external display that provides touch-sensitive music controls, picture caller I², album art, self-portrait camera display, and more.
- Opera Mobile Browser 8.5 enables easy Web surfing.
- A 2.0 megapixel camera with 8x digital zoom records the moment with high resolution pictures and also provides up to 2 hours of video capture and playback.
- Up to 2GB of on-board storage
- Windows Media Player 11 delivers simple music management and playback and enables access to over 200 online music stores.
This special edition of RAZR2 comes complete with a black slate Motorola H680 Bluetooth headset with 18k gold-plated accents, included in-box. A wired stereo headset, a leather carrying case with mini strap, and a polishing cloth are also included in box.
RAZR2 V8 Luxury Edition is expected to be available beginning in the fourth quarter of 2007 in select regions.