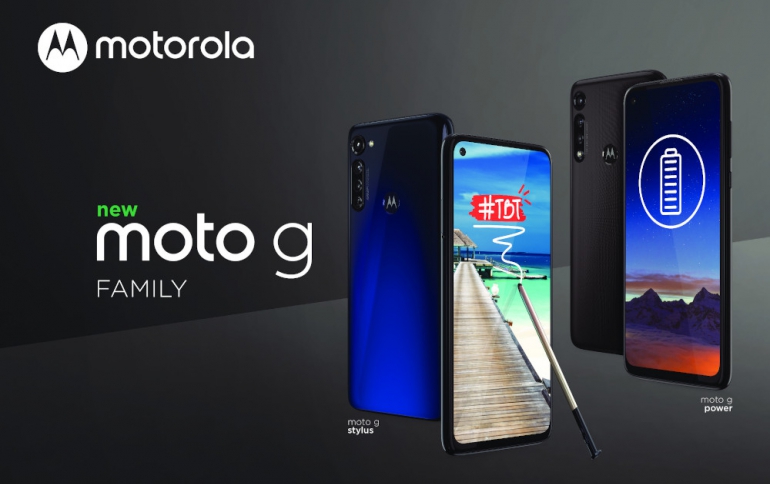 Motorola Adds the moto g Stylus and moto g Power to Smartphone Lineup
Motorola is celebrating 100 million moto g smartphones sold around the world and is introducing two new devices in US & Canada – moto g stylus and moto g power.
moto g stylus has a built-in stylus pen and a 48MP AI triple camera system, with quad pixel technology. In Quad Pixel mode, the 48 MP sensor combines 4 pixels into 1, for an effective photo resolution of 12 MP.
The moto g power includes a 5,000mAh battery and an AI camera system.
The built-in stylus gives you precise control while using your smartphone. With the pen you can edit photos, jot down notes, sketch artwork, copy and paste text and even mark up screenshots. The stylus is integrated into the phone's design and software. Pop it out and start writing in the Moto Note app without even unlocking your phone.
moto g stylus also offers an AI triple camera system. The 48MP main sensor delivers 12 MP photos using Quad Pixel technology. The camera supports a Night Vision mode, ultra-fast laser autofocus. The dedicated action camera lets you shoot ultra-wide angle videos in landscape mode, allowing you to fit 4x more action in the frame — even while holding the phone vertically. Plus, you can count on the Macro Vision camera to highlight any detail, getting you 5x closer to your subject. And for Instagram-worthy selfies, there is a 16MP front-facing camera with the Quad Pixel technology.
moto g stylus is powered by a 4,000 mAh battery designed to last up to two days on a single charge.
moto g power is equipped with a 5,000 mAh battery that's designed to keep you going for up to three days on a single charge. The phone comes with an AI-powered triple camera system: a 16MP main camera with phase detection autofocus; an ultra-wide angle lens that fits 4x more into the frame compared to a standard lens; and a dedicated Macro Vision camera to get 5x closer to your subject. For selfies, there is front-facing selfie cam with Quad Pixel technology.
moto g stylus and moto g power feature dual stereo speakers and are powered by intelligent Dolby audio.And your favorite movies, series or games will look larger than life on the 6.4″ Max Vision display.
They both come with a Qualcomm Snapdragon 665 octa-core processor and 4 GB of RAM.
Their water repellent design ensures your phone is protected inside and out. You can also do more with exclusive Moto Experiences that put favorite features right at your fingertips. Motorola is also introducing the Moto Gametime, a new feature that blocks interruptions during gaming. moto g stylus and moto g power come with the bloatware-free Android 10 software.
The new moto g stylus will be available universally unlocked starting this spring at Best Buy, B&H Photo, Walmart and on Amazon.com with subsequent availability at Verizon, Metro by T-Mobile and Republic Wireless. (MSRP: $299.99).
The moto g power will be also available universally unlocked starting this spring at Best Buy, B&H Photo, Walmart and on Amazon.com with subsequent availability at Verizon, U.S. Cellular, Consumer Cellular, Republic Wireless and Xfinity Mobile. (MSRP: $249.99)