Micron Expands Crucial NVMe SSD Line With New Crucial P5 and P2 SSDs
Crucial, Micron's global brand of memory and storage, introduced the new Crucial P5 and P2 SSDs today, expanding its NVMe PCIe solid-state drive portfolio beyond the P1 SSD.
The new drives extend Crucial's P-series product line to offer speeds,large capacities and data protection.
The Crucial P5 SSDis engineered for gamers and creative professionals who demand quick response times when editing, designing, gaming and multitasking. The drive features read/write speeds up to 3400/3000MB/s, delivers performance with Micron's TLC 3D NAND technology and controller, and offers capacities ranging from 250GB to 2TB.
Dynamic write acceleration, error correction algorithms and adaptive thermal protection work together to optimize performance and durability.
The P5's endurance is rated at MTTF greater than two million hours for extended longevity. Data security is also enhanced with rapid, full-drive encryption capability.
The new P2 SSD is available in capacities up to 1TB and it is built for value-conscious consumes looking for a fast, affordable SSD. It is available in capacities up to 1TB.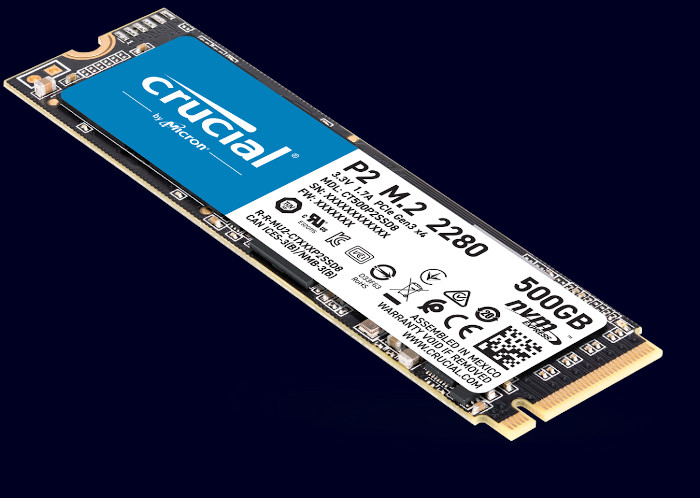 The drives are backed by Crucial's five-year limited warranty.
Specifications Crucial P1
Life Expectancy (MTTF): 1.5 million hours
Performance

250GB: 2100MB/s read, 1150MB/s write
500GB: 2300MB/s read, 940MB/s write

Data Transfer Software: Acronis True Image for Crucial cloning software
Features: Dynamic Write Accelerationm Redundant Array of Independent NAND (RAIN), Multistep Data Integrity Algorithms, Adaptive Thermal Protection, Integrated Power Loss Immunity, Active Garbage Collection, TRIM Support, NVMe standard Self-Monitoring and Reporting Technology (SMART), Error Correction Code (ECC), NVMe Autonomous Power State Transition (APST)
Warranty: Limited five-year warranty

Specifications Crucial P5
Life Expectancy (MTTF): 1.8 million hours
Endurance

250GB: 150 Total Bytes Written (TBW)
500GB: 300 Total Bytes Written (TBW)
1TB: 600 Total Bytes Written (TBW)
2TB: 1200 Total Bytes Written (TBW)

Performance

250GB: 3400MB/s read, 1400MB/s write
500GB, 1TB, 2TB: 3400MB/s read, 3000MB/s write

Data Transfer Software: Acronis True Image for Crucial cloning software
Features: Dynamic Write Accelerationm Redundant Array of Independent NAND (RAIN), Multistep Data Integrity Algorithms, Adaptive Thermal Protection, Integrated Power Loss Immunity, Active Garbage Collection, TRIM Support, NVMe standard Self-Monitoring and Reporting Technology (SMART), Error Correction Code (ECC), NVMe Autonomous Power State Transition (APST)
Warranty: Limited five-year warranty