31. Conclusion
LG proves itself to be one of the leading manufacturers in the optical storage market and has a real winner in the GSA-H62N. This optical storage drive produced some of the best burns of any drive, and what makes it all the more remarkable is that many were at 16X and 18X burning speeds.
Starting at the top, the drive is not the best CD reader when it comes to defective media, and this is probably its only weak point. It did quite poorly in all three checks that we performed with our defective CD media test discs. DVD error correction was much better though, in fact it did quite well with all the DVD test discs.
As a CD-R burner, it proved quite good and although only one (Moser Baer) out of the four CDs we burned passed the Clover Systems test, the other discs were not far off. Most important here is the fact that all of the discs had zero E32 count.
But the real success of this drive is its DVD writing quality. I have always been wary of 18X writing speed, in fact I very rarely use 16X. I want to be fairly certain that any discs I burn, will be readable in a year's time and not suffer data loss because of the slightest scratch. Well this drive produced burning quality at 16X and 18X, difficult to find from most other drives even at 8X. There wasn't a single failure in reading any of the burnt discs with CD-DVD Speed and our DaTARIUS Analyser produced some of the best graphs of any drive. There were of course discs with poor quality, but in the main writing quality was very good. The only thing to keep an eye on is the Jitter which was consistently above limits and this may be causing many of the POF errors that we saw. I don't know if this is something that LG can fix or at least reduce in a future firmware release, or if it's a problem in the mechanics of the drive.
At just above US$30 (newegg, pricegrabber), it is very reasonably priced, especially when we consider that it supports DVD-RAM and above all, the good writing quality. My only warning is, it probably won't read those old defective CDs, so it would be a good idea to have a good CD reader along side as well. It does much better with DVDs though.
Finally, booktype support and the useful software bundle that accompany this drive, make the LG HL-DT-ST GSA-H62N, very good value for money.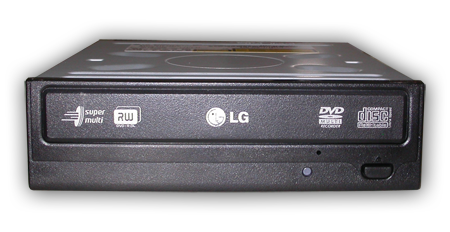 Pros
Excellent burning quality
Supports the booktype feature
Fast DVD reader
Good software bundle (Nero Express, InCD, PowerProducer & PowerDVD)
Excellent DVD error correction mechanism
SATA interface
Cons
Doesn't support overburning
Not very good CD error correction