1. Introduction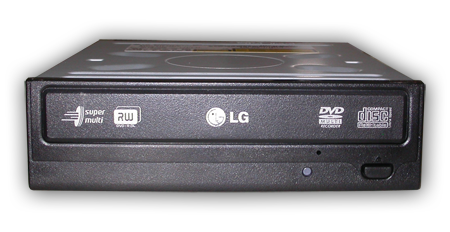 18X DVD writing speed, DVD RAM support and SATA interface are just a few of the features of this Super Multi DVD Burner from LG, that looks like it has the makings of a very high quality and reliable device. It offers maximum writing speeds of 18X for SL DVD±R, 10X for DL DVD±R, and 12X for DVD-RAM.
Let's start by taking a look at the specs.
Specifications
DVD-R

18x (CAV)

DVD-R (DL)

10x (ZCLV)

DVD-RW

6x (CLV)

DVD-RAM

6x-12x (PCAV)

DVD+R

18x (CAV)

DVD+R (DL)

10x (ZCLV)

DVD+RW

8x (ZCLV)

(High Speed DVD+RW: 6x(CLV), 8x(ZCLV)
CD-R

48x (CAV)

CD-RW

32x (ZCLV)
| | |
| --- | --- |
| DVD-R/RW/ROM(SL/DL) | 16x/13x/16x/12x max. |
| DVD-R DL | 12x max. |
| DVD-RAM (Ver. 1.0/2.2) | 6x max. (SL/DL). CASV |
| DVD-Video (CSS Compliant Disc) | 4.8x max. (SL/DL). CASV |
| DVD+R/+RW | 16x/13x max. CAV |
| DVD+R DL | 12x max. CAV |
| CD-R/RW/ROM | 48x/40x/48x max. CAV |
| CD-DA (DAE) | 40x max. CAV |
| 80mm CD | 10x max. |
Contents
The drive comes with the black bezel fitted, but there is also an ivory bezel included in the retail box. Also included is a Quick Setup Guide, 4 mounting screws, SATA Cables (both data and power), and the LG DVD Writer Solution CD with:
Nero Express (DVD/CD Recording software)
InCD (UDF Packet Writing software)
PowerProducer (Authoring software)
PowerDVD (MPEG-2 software)
Host interface: T13 ATA/ATAPI-7, MMC-5, INF-8090i v7)
External dimensions(WxHxD): 146x41.3x165 mm (W/O Bezel)
We take a look at the look at the drive's internal circuitry with the pictures below. The drive is based on the RENESAS R8J32022HFPV Chipset. Do not attempt to open the case, as this will void the warranty.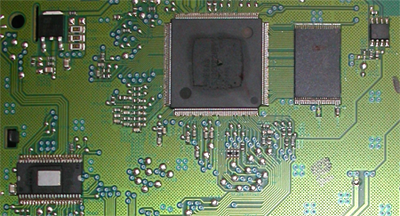 Installation
The LG DVD-RAM drive was recognised under Windows XP as "LG HL-DT-ST DVDRAM GSA-H62N CL00".