Lenovo To Release Motorola Modular Smartphone
Motorola is expected to unveil two new metal and modular Android smartphones this year - the Moto X Vertex and Moto X Vector Thin. While the LG G5's bottom bezel can be removed for additional add-ons, the Moto X Vertex and Moto X Vector Thin incorporates modularity into the entire back of the phone, so you'll be able to pull out the phones' back plates and insert different ones that bring additional functionality.
According to Venture Beat, these add-ons will be called "Amps" (LG calls them "Friends"", and Motorola already have six ready for launch. Each Amp brings the following additional feature: stereo speakers, extra battery, a camera grip with optical zoom and additional flash, a wide-angle lens attachment, and a projector.
The dual-phone release includes a "premium" flagship phone and a less powerful phone aimed at the mid-price market. The Vector Thin is the top dog here, with a 5.5 inch Quad HD AMOLED display and a Snapdragon 820 processor. The Vertex runs Snapdragon 625 and a 1080p HD display. The Vector Thin also features a 16-megapixel camera to its smaller brother's 13-megapixel. Both phones have fingerprint scanners.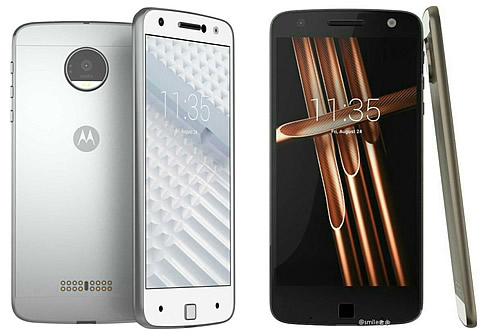 The more powerful Vector Thin has a much smaller battery (2,600 mAH) to the Vertex's (3,500 mAH).
There's no word on pricing yet, but Android Police reports that The Moto X Vertex and the Moto X Vector Thin will be officially unveiled on June 9 at Lenovo's Tech World event in San Francisco.