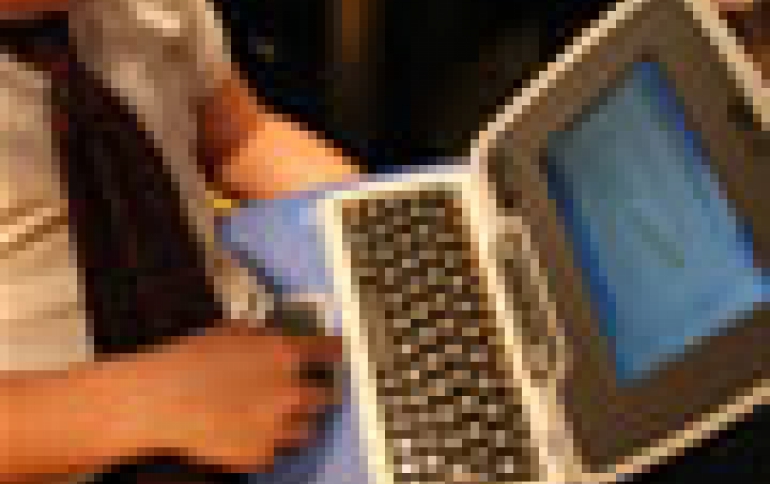 Intel Unveils New Classmate PCs
Intel unveiled new features for its line of low-cost laptops for schools Wednesday, adding bigger screens and more data storage capacity as the chip maker ratchets up its rivalry with the One Laptop per Child organization, which sells a competing machine. Intel's new Classmate PCs - slated to go on sale in April for between $300 and $500 - reflect the company's growing efforts to sell computers equipped with its own chips to schools in developing countries, a battleground for technology companies because of the millions of people there just coming online.
But the target market has expanded to include kids in the U.S. as potential users of cheaper, stripped-down machines.
Classmate PCs also are part of Intel's push to generate interest in a new class of mobile devices the company is calling "netbooks," which are smaller and have fewer functions than standard laptops but also use far less power and are easier to carry around.
Other tweaks to the Classmate that Intel announced Wednesday from its developer forum in Shanghai include the availability of both 7-inch and 9-inch screens, a 30 gigabyte hard disk drive and an integrated Web camera. The second-generation classmate PCs are built on Intel Celeron M processor with 802.11b/g Wi-Fi and mesh network capabilities. The top range of these netbooks also includes a 6-cell battery life and a 512 MB memory. An Intel powered classmate PC supports Microsoft Windows XP and variants of the Linux operating environment.
Intel said its Classmate PCs will eventually use
Atom processors
, the company's new processors designed for pocket-size Internet devices.
Classmates are based on Intel's design and include its processors, but they are built by other manufacturers and sold under a variety of brand names. The first generation went on sale in March 2007 with the 7-inch screen and fewer functions. Intel said it has sold "tens of thousands" of the machines but declined to provide more specific data.
Intel and OLPC have feuded furiously over their competing products.
The Cambridge, Mass.-based nonprofit OLPC says it has sold hundreds of thousands of its $188 machines.
The Massachusetts Institute of Technology spinoff's low-cost XO laptop includes a microprocessor from AMD.
A short-lived truce between Intel and OLPC ended earlier this year when Intel
suddenly pulled out
from OLPC's board of directors.