Intel Announces Broad Product Portfolio for Moving, Storing and Processing Data
Intel today unveiled a new portfolio of data-centric solutions consisting of 2nd-Generation Intel Xeon Scalable processors, FPGAs, Intel Optane DC memory and SSD storage solutions, and software and platform technologies.
Intel's latest data center solutions target a wide range of use cases within cloud computing, network infrastructure and intelligent edge applications, and support high-growth workloads, including AI and 5G.
Intel said it is focused on helping companies create business value from untapped data through the delivery of a portfolio of data-centric solutions that is optimized to move data faster, efficiently store and access data, and process everything.
2nd-Generation Intel Xeon Scalable processors
Available today, Intel released 2nd-Generation Intel Xeon Scalable processors, which provide a powerful platform that delivers enhancements in performance, AI inference, network functions, persistent memory bandwidth and security.
The new processors integrate the Intel Deep Learning Boost (Intel DL Boost) technology, which is optimized to accelerate AI inference workloads like image-recognition, object-detection and image-segmentation within data center, enterprise and intelligent-edge computing environments. Intel has worked with ecosystem partners to optimize frameworks (TensorFlow, PyTorch, Caffe, MXNet and Paddle Paddle) and applications that take full advantage of Intel DL Boost technology. Intel's customers can choose tools like OpenVINO to ease deployment.
The new Xeon chips support Intel Turbo Boost Technology 2.0, which ramps up-to 4.4GHz, alongside memory subsystem enhancements with support for DDR4-2933 MT/s and 16 Gb DIMM densities.
The 2nd-Generation Intel Xeon Scalable processors also support the Intel Optane DC persistent memory, which brings high-capacity and persistence to Intel's data-centric computing portfolio. By moving more data into memory, this approach allows users to unleash faster insights from their data and delivers up-to 36TB of system-level memory capacity when combined with traditional DRAM in an eight-socket system. This represents a 3-times increase in system memory capacity compared with the previous-generation Intel Xeon Scalable processor.
Intel Speed Select Technology provides enterprise and infrastructure-as-a-service providers more flexibility to address workload needs. Intel's new Xeon Scalable processors can be configured to performance settings of core counts and frequencies, effectively creating "Three CPUs in One."
In addition, the Enhanced Intel Infrastructure Management Technologies enable increased utilization and workload optimization across data center resources.
The new Xeon processors also feature hardware-enhanced security features, including side channel protections built directly into hardware.
Along with the introduction of the 2nd-Generation Intel Xeon Scalable processors, Intel unveiled several processor families optimized to fuel the workloads that drive business operations.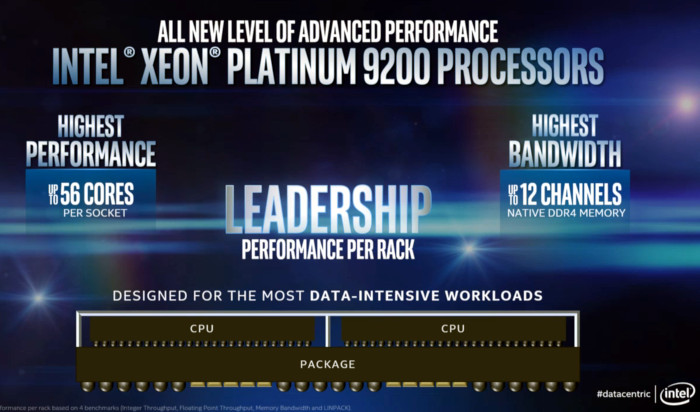 Intel introduced the 56-core, 12 memory channel Intel Xeon Platinum 9200, designed to deliver leadership socket-level performance and very high DDR memory bandwidth in a wide variety of high-performance computing (HPC) workloads, AI applications and high-density infrastructure. Driving the boards to the hilt, Intel designed some to run at up to 400 W with liquid cooling, a technique coming back in fashion as CMOS scaling slows. Provided that we have to do with a 14nm + design and no changes in the microarchitecture , the Xeon Platinum 9200 obviously doesn't change the equation in performance per watt or per dollar, since it offers twice the performance at twice the cost and power.
The 9200-series chips beat AMD's last-generation Epyc CPU handily. However, it will compete later this year with the 7-nm Rome version of Epyc that will pack up to 64 cores.
Intel's first 10-nm Xeon — Ice Lake — may not debut until late 2020. Intel is expected to field a system upgrade called Cooper Lake, perhaps before the end of the year, that could help it catch up with the extra memory and I/O channels that AMD offers with Epyc.
Additional Xeon Processors
Intel Xeon Platinum Processor (8200 Series)

Performance, business agility, hardware-enhanced security and built-in AI.
Up to 28 cores and 2, 4 and 8+ socket configurations.
Top memory bandwidth and a third UPI link for increased I/O bandwidth.

Intel Xeon Gold Processor (6200 Series)

Networking Specialized (NFVi optimized) SKUs with Intel Speed Select Technology – Base Frequency.
Up to 1.76x NFV workload perf improvement and additional flexibility to enable up to 8 high-priority cores that support virtualized workload acceleration
Up to 24 cores (6552 SKU)

Intel Xeon Gold Processor (5200 Series)

Networking Specialized (NFVi optimized) SKUs with Intel Speed Select Technology – Base Frequency.
Up to 1.76x NFV workload perf improvement and additional flexibility to enable 4 high priority cores that support virtualized workload acceleration

Up to 18 cores.

Intel Xeon Silver Processor (4200 Series)

Efficient performance at low power and built-in AI.
Up to 12 cores and as low as 70W TDP with improved memory channel performance.
Intel Turbo Boost Technology and Intel Hyper-Threading technology.

Intel Xeon Bronze Processor (3200 Series)

Entry-level performance and built-in AI.
The 3100 series provides a reliable upgrade over Intel Xeon E processors and is intended for small and medium businesses.
Up to 8 cores.
Targeting computing at the edge, security and storage solutions, Intel unveiled the Intel Xeon D-1600 processor, a highly-integrated system-on-chip (SoC) designed for dense environments where power and space are limited, but per-core performance is essential.
Combined with built-in Intel QuickAssist technology and Intel Virtualization technology, Intel Xeon D-1600 processors promise to deliver new levels of workload-optimized performance and hardware-enhanced security benefits for virtualized network functions (VNFs), control plane and mid-range storage solutions. Intel Xeon D-1600 processors feature up to 8 cores.
Intel also introduced its next-generation of 10nm FPGAs, built to enable transformative applications in edge computing, networking (5G/NFV) and data centers. The Intel Agilex FPGA family will offer application-specific optimization and customization to bring flexibility and agility to data-intensive infrastructure.
The Intel Agilex family combines FPGA fabric built on Intel's 10nm process with heterogeneous 3D SiP technology. This provides the capability to integrate analog, memory, custom computing, custom I/O, and Intel eASIC device tiles into a single package with the FPGA fabric. Intel delivers a custom logic continuum with reusable IPs through a migration path from FPGA to structured ASIC. One API provides a software-friendly heterogeneous programming environment, enabling software developers to access the benefits of FPGA for acceleration.
Other features include:
10nm process technology
Transceiver data rates up to 112Gbps
PCIe Gen 5 interface support
Intel eASIC devices One API
Compute Express Link, a cache and memory coherent interconnect to future Intel Xeon Scalable processors.
2nd-Generation HyperFlex Architecture: Up to 40 percent higher performance or up to 40 percent lower total power compared with Intel Stratix 10 FPGAs.
DSP: Only FPGA supporting hardened BFLOAT16 and up to 40 teraflops of digital signal processor (DSP) performance (FP16).
Memory support: DDR5, HBM, Intel Optane DC persistent memory support.
Initially, the chips will be programmed with the group's traditional Quartus tools. But Intel aims to roll out later this year plans for OneAPI, a high-level abstraction layer and set of libraries that will serve its FPGAs, CPUs, and upcoming GPU.
Agilex comes in the wake of Versal, a hybrid FPGA/SoC sold as chips or boards, that FPGA rival Xilinx rolled out in October.
Intel will be launching Agilex in three product families: F, I, and M, in that order of both time and complexity. The Intel Quartus Prime software to program these devices will be updated for support during April, but the first F models will be available in Q3.
Memory and Storage
Intel is also introducing new memory and storage products.
The Intel Optane DC persistent memory brings breakthrough storage-class memory capacity to the Intel Xeon Scalable platform. It is delivering up to 36TB of system-level memory capacity when combined with traditional DRAM:
A system restart reduction from minutes to seconds
Up to 36 percent more virtual machines
Up to 2x system memory capacity; up to 36TB in an eight-socket system
Intel has two different types of Optane: Optane Storage, and Optane DIMMs.
Optane in the memory module form factor works on the DDR4-T standard. The product is focused for the enterprise market.
Optane DC Persistent Memory comes in a DDR4 form factor and works with Cascade Lake processors to enable large amounts of memory in a single system – up to 6TB in a dual socket platform. The Optane DCPMM is slightly slower than traditional DRAM, but allows for a much higher memory density per socket. Intel is set to offer three different sized modules, either 128 GB, 256 GB, or 512 GB. Optane doesn't replace DDR4 entirely – you need at least one module of standard DDR4 in the system to get it to work, but it means customers can pair 128GB DDR4 with 512 GB Optane for 768 GB total, rather than looking at a 256 GB of pure DDR4 backed with NVMe.
Optane DIMMs sport their own controller with SRAM as well as a power management IC, capacitors, and DRAM for an address lookup table.
Up to six Optane modules can be used with a single CPU, which also needs some DRAM to boot. The Optane modules need to be nearer to the CPU for signal-integrity issues.
The boards can pack up to 11 Optane media chips, some used for error correction and redundancy.
With Optane DCPMM in a system, it can be used in two modes: Memory Mode and App Direct.
In the first mode, the system will see the large DRAM allocation, but in reality it will use the Optane DCPMM as the main memory store and the DDR4 as a buffer to it. If the buffer contains the data needed straight away, it makes for a standard DRAM fast read/write, while if it is in the Optane, it is slightly slower.
In the App Direct mode, the DRAM acts like a big storage drive that is as fast as a RAM Disk. This disk, while not bootable, will keep the data stored on it between startups (an advantage of the memory being persistent), enabling very quick restarts to avoid serious downtime. But developers may have to re-architect their software stack in order to take advantage of the DRAM-like speeds this disk will enable.
Intel reported on a handful of specific use cases that it has tested, each one significant but none both broad and dramatic. For example, the DIMMs support 30% more virtual machines per server running Microsoft HyperV or can reduce costs of such servers by a third.
Similarly, users of SAP Hana can restart systems 12.5× faster or save 39% on the costs of a large in-memory database. Intel did not detail gains on some of its other target apps such as Memcached, real-time analytics, and Apache Spark.
Card vendors will set prices for the DIMMs, but Intel says it aims for 1.2× the performance per dollar of DRAM on target workloads.
Intel will offer a 3-year warranty for every Optane module even if that module is run at peak writes for the entire warranty period.
Intel also announced the Optane SSD DC D4800X (Dual Port), combines the performance of Intel Optane DC SSDs with the data resilience required by mission-critical high-availability enterprise IT applications. Dual port capability adds redundancy to the data path to deliver continued data access in the event of failures or service operations and upgrades. The Intel Optane SSD DC D4800X delivers 9x faster read latency compared to NAND dual port, under write pressure.
FEATURE

SPECIFICATION

Capacity per Form Factor

Half-height, Half-length (HHHL) Add-in-Card (AIC): 375GB, 750GB, 1.5TB

2.5" x15mm, Small Form Factor U.2: 375GB, 750GB, 1.5TB

P4801X: U.2: 100GB M.2: 100GB, 200GB, 375GB

Form Factor

Add-in-Card (AIC), Half-height, Half-length, Low-profile; U.2 2.5in, 15mm; M.2 110mm

Interface

PCIe 3.0 x4, NVMe

Latency (typical) R/W2

<10/12μs

Quality of Service (QoS): 99.999%
4KB Random, Queue Depth 1, Read/Write: <60/100 μs; 4KB Random, Queue Depth 16, R/W: <150/200 μs
Throughput2
4KB Random, Queue Depth 16, Read/Write: up to 550/550k IOPS
4KB Random, Queue Depth 16, Mixed 70/30 Read/Write: up to 500k IOPS
Endurance (JESD219 workload)
Drive Writes per Day=DWPD; Petabytes Written=PBW
30 DWPD: 375GB - 20.5 PBW; 750GB - 41 PBW
60 DWPD: 100GB - 10.9 PBW; 200GB - 21.9 PBW; 375GB - 41.0 PBW; 750GB - 82.0 PBW; 1.5TB - 164 PBW

Power
Enhanced power-loss data protection
P4800X: Active/Idle: Up to 18 W / 7 W
P4801X: Active/Idle: Up to 11 W / 3 W
The Intel SSD D5-P4326 (Intel QLC 3D NAND) is an addition to Intel's first-to-market PCIe QLC NAND SSDs for the data center and is available on the industry's first EDSFF compliant drive. The drive and "ruler" form factor deliver cost-effective capacity SSDs to enable HDD and TLC SSD replacement in warm storage.
Using 64-Layer QLC technology (4 bits/cell), the product family delivers large affordable capacities to read-intensive cloud workloads. Additional cost optimizations on the Intel SSD D5-P4326 enable it to help accelerate HDD displacement in warm storage.
The SSD D5-P4326 comes with 15.36TB and 30.72TB usable capacities. The smaller 15.36TB capacity is also available in 2.5" 15mm U.2 form factor. That 15.36TB model was mentioned earlier this year as available for "limited deployments", but Intel is now ready to scale up their efforts.
Compared to Intel's 7.68TB P4320, the larger P4326 drives have improved random read and sequential write performance, while sequential read performance is unchanged and steady-state random write speeds fall significantly to just 11k IOPS. These drives offer the lowest performance and endurance but highest density in Intel's SSD product line: the 30.72TB model allows Intel to reach the goal of 1PB (raw capacity) of flash storage in a 1U server, thanks to the slim EDSFF form factor. Performance per TB is down relative to the smaller P4320, so the P4326 is even less suited for storing hot data, but it still offers a compelling performance advantage over mechanical hard drives, and the write endurance does scale in proportion to capacity: 0.18 drive writes per day for random I/O, and 0.9 DWPD for sequential I/O.
Move Faster
Intel offers a portfolio of server Ethernet products from 1GbE to 100GbE that are at the foundation of networks across the world, from large hyper-scale cloud providers to the largest Fortune 1000 enterprises. Intel has shipped over 1.3 billion Ethernet ports and introduced the Intel Ethernet 800 Series adapter with Application Device Queues (ADQ) technology.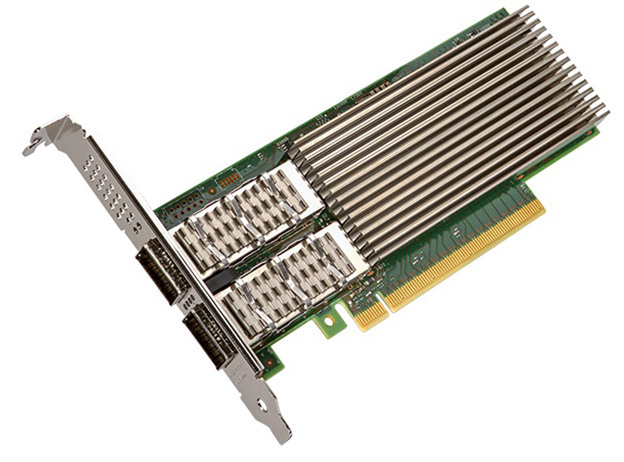 The Intel Ethernet 800 Series controllers and adapters, in production in 2019's third quarter, are capable of supporting speeds of up to 100 Gbps, which is 4x to 10x more server network bandwidth than many companies have deployed today. The new Ethernet series provides capabilities including Application Device Queues (ADQ), which improves application performance and consistency in meeting service-level agreements (SLAs).
ADQ delivers greater than 50 percent increase in application response time predictability3, more than 45 percent lower latency, and more than 30 percent improved throughput running open source Redis, a widely used database among cloud service providers.
Other capabilities include enhanced Dynamic Device Personalization (DDP) to improve packet processing efficiency and enable new services, and faster processing of latency sensitive workloads with support of both iWARP and RoCE v2 Remote Direct Memory Access (RDMA).
Availability
The 2nd-Generation Intel Xeon Scalable processors, the Intel Xeon D-1600 processor, Intel Optane DC persistent memory and Intel SSD D5-P4326 are all in general availability today.
The Intel Ethernet 800 Series adapter is sampling today, with production scheduled for 2019's third quarter.
The Intel Agilex FPGA family of 10nm FPGAs will start sampling in the second half of 2019.
Intel expects systems with Intel Xeon Platinum 9200 processors to start shipping in the first half of 2019 and ramping in the second half of the year.
Availability of the Intel Optane DC SSD D4800X was not disclosed.