1. Features, specifications
Inno3D recently introduced an improved version of the Nvidia 9800GT graphics card featuring a custom cooling system, potentially offering higher overclocking margins. The SLI-Ready NVIDIA GeForce 9800 GT supports NVIDIA PhysX technology that brings your games to life and HybridPower for optimal power management. And with GeForce 9 Series goodness, 112 processor cores and a 256-bit frame buffer, the GPU has got the stuff for all hardcore gamers.
The Inno3D iChiLL 9800GT Twin Turbo is an improved version of Nvidia's generic 9800GT with a 700MHz core (vs 600MHz), shaders clocked at 1500MHz (vs 1500MHz) and 1000MHz of memory (vs 900MHz) clocks. Moreover, it has 512MB of on-board memory with a 256bits of bandwidth. The shaders are not overclocked.
What is immediately noticeable is the big "Accelero Twin Turbo" cooler from Arctic Cooling. This dual-fan VGA cooler promises to reduce the temperature by 26°C and the noise levels at 0.6. It features 4 heat pipes, 30 fins and 2 PWM fans. The Accelero TWIN TURBO optimizes airflow to 40 CFM and achieves a cooling capacity of up to 120 . Together with memory and voltage regulator cooling, this new VGA cooler gives enthusiasts a very promising result – 26°C lower than the stock cooler and at the same time maximizes the overclocking potential.
Nvidia has a dedicated website that explains the improvements and benefits of the 9800GT series. The GPU of the GeForce 9800GT series is the well known G92 core, so in a sense, the 9800GT series are identical to the 8800GT series! What has been added is the HybridPower and 3-way SLI, as well as a revised 55nm G92b core for better overclockability and thermal management.
- Retail package
The Inno3D iChill 9800GT retail package follows the usual design of the Inno3D iChill products. The graphics card would cost you €140.
A sticker placed on the front side of the package includes information about the contents.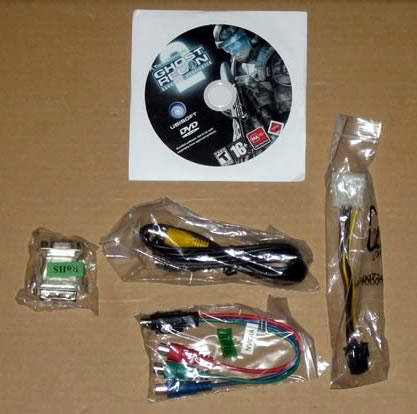 The package includes the usual for a graphics card, one D-Sub15-to-DVI converter, an S-Video cable, a power adapter and a HDTV cable. We also found a disc with the retail game of "Ghost Recon 2".
While the generic 9800GT series can be installed on a single slot, the big cooler of the Inno3D iChill 9800GT needs some more space so the card occupies two PCIE slots.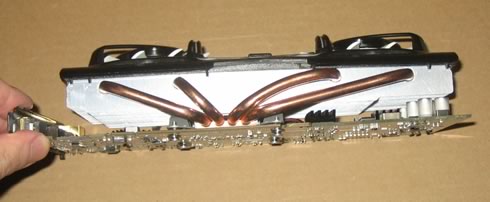 The 80mm fans are very quiet, even at full speed.
The available outputs are two DVI-D ports and one analog HDTV jack.
The graphics card should be powered from your PSU with a 6-pin adapter. A moles adapter is included in the package in case your PSU is kind of "old".
GPU-Z provides more information about the card's specifications. The GPU core runs at 700MHz, the memory is clocked at 1000MHz and the Shader's clock is set at 1500MHz.