10. Overclocking, final words
- Overclocking
For our overclocking tests we used the latest RivaTuner with FurMark. The highest scores we got were 720MHz/1562MHz/1284MHz for the core/shader/memory respectively.
Note that during our tests we had to increase the fan duty circle up to 70% making the card more noisy but stable.
- Final words
The Inno3D GTX275 OC is based on the Nvidia GTX275 series but it has increased clocks for core/shader/memory. That makes the graphics card very fast allowing it to compete even with the GTX285 series in some cases. The majority of our tests showed that the GTX285 series is just 4-6 FPS faster than the Inno3D GTX275 OC, depending the game title and rendering mode.
However, the the GTX285 is faster without any doubt with the DirectX 10 games.
Inno 3D's solution is also very competitive in terms of pricing. With a retail price of €240 Euro, this graphics card seems a real bargain since the GTX285 series would cost you more than €300 Euro.
In addition, the card comes in a complete retail package, has golden-plated outputs, two retail games and it is also backed by a 2-year warranty. Finally, the card is also overclockable although increasing the fan speed is necessary to get a stable system, making the card more noisy.
Inno3D also plans to ship the special I-Chill GTX275 series of graphics cards, possibly with even higher clocks (?) and a different and more effective cooling system.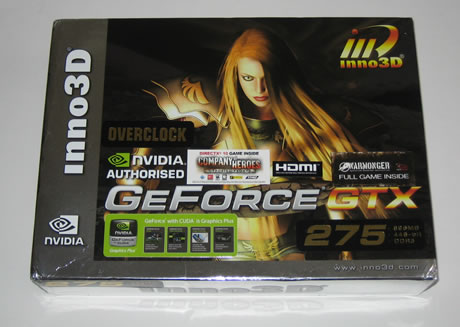 Overall this is a great package for all the categories of users. The graphics card is fast, costs much less than a GTX285 and looks very future-proof. Definitely a 'Safe Buy'.