Inno3D GTX 460 768MB review
5. Crysis Warhead, S.T.A.L.K.E.R: Call Of Pripyat Benchmark
- Crysis Warhead (DirectX9, DirectX10)
We proceed to the "Crysis Warhead" game, which supports both DirectX9 and DirectX10 rendering modes. The popular game is still the toughest game in our benchmark suite.Below are the test results from all the possible resolutions the anti-aliasing (AA) disabled.
The Inno3D GTX 460 768MB performed adequately with the Crysis Warhead game. The game is playable even up to the 'Gamer' shader level, although the minimum FPS went down to 18 in some cases. Since Crysis can be particularly memory-dependent, some extra VRAM onboard could help here. Possibly found in the more expensive Inno3D GTX 460 1GB?
Below you can see a graphical comparison of the performance of the Inno3D GTX 460 768MB in the Crysis Warhead game.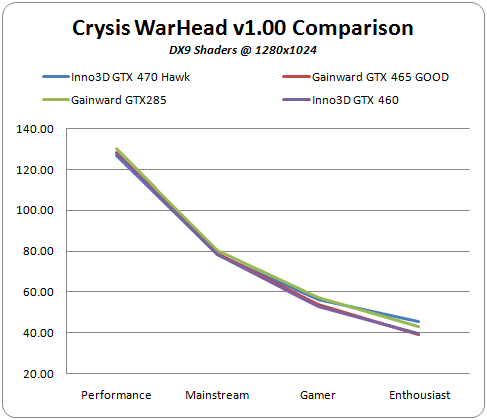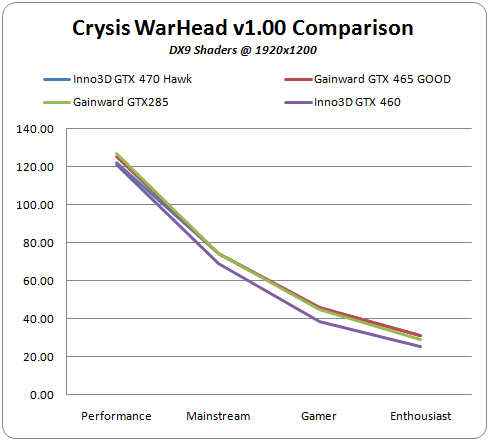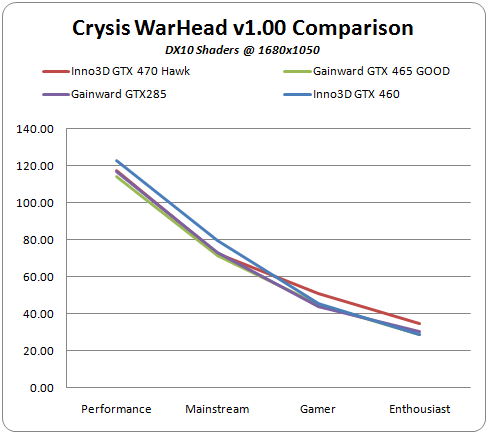 - S.T.A.L.K.E.R: Call Of Pripyat Benchmark
The ' S.T.A.L.K.E.R: Call Of Pripyat Benchmark' provides detailed information about a system's performance on various graphical modes. This benchmark is based on one of the in-game locations – Pripyat . The testing process includes four stages, those utilizing various weather and time of the day settings (day, night, rain, bright sun). In order to test the system thoroughly the benchmark is provided with a number of presets and options including different versions of DirectX (9.0 10.0, 11), screen resolutions, anti-aliasing etc.This makes it another one of the highly demanding games in our benchmark suite.
For our tests we set the visual details to the highest level and tested the Inno3D GTX460 768MB graphics card under DX10 and DX11 at the resolution of 1920x1200:
- DX10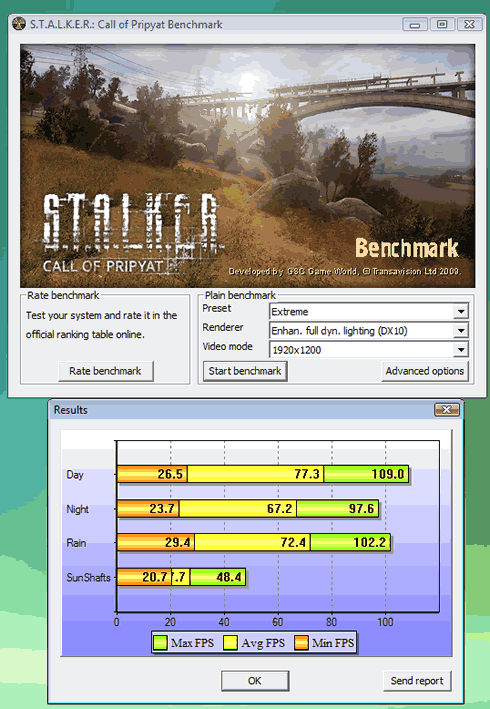 - DX11
The performance is high at all cases with the S.T.A.L.K.E.R.: Call of Pripyat Benchmark. The Inno3D GTX460 768MB performs closely to the GTX 465. The relatively low GDDR5 onboard makes the GTX 465 768MB slightly fall to the Radeon 5830.