Inno3D GTX 460 768MB review
4. FutureMark Hall Of Fame
We start with the results coming out from Futuremark's benchmarks. These include the results of the 3DMark 05, 3DMark 06 and the 3DMark Vantage software tests.
The Inno3D GTX 460 768MB got 16938 points, below the overclocked Gainward GTX465 GOOD and Club3D's HD5770: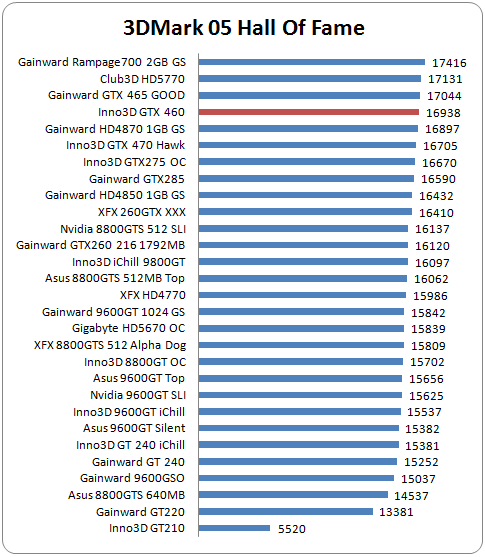 The3DMark 06 benchmark did not change the previous ranking except from the Inno3D 470 Hawk card, which was positioned above the Inno3D GTX465 768MB: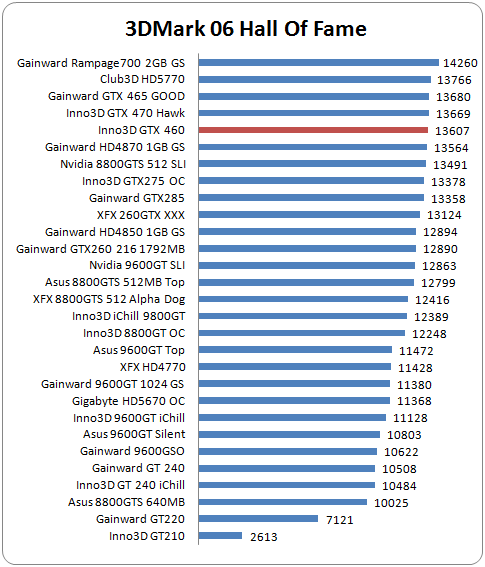 The 3DMark Vantage tests the performance of each card in resolutions. The Inno3D GTX 460 768MB gave a similar score with the Gainward GTX 465 GOOD edition, while both cards were slower than the GTX 470 series:
We took a first glimpse of the performance of the Inno3D GTX460 768MB. However, the in-game measurements found in the following pages will unveil where the GTX460 768MB actually stands.