Huawei Launches 5G Multi-mode Chipset and 5G CPE Pro
Huawei on Thursday officially launched its 5G multi-mode chipset Balong 5000, the TIANGANG 5G Base Station Core Chip, along with the first commercial 5G device powered by it, the Huawei 5G CPE Pro.
The Balong 5000 chipset supports a broad range of 5G products in addition to smartphones, including home broadband devices, vehicle-mounted devices, and 5G modules.
"The Balong 5000 will open up a whole new world to consumers," said the CEO of Huawei's Consumer Business Group, Richard Yu. "It will enable everything to sense, and will provide the high-speed connections needed for pervasive intelligence. Powered by the Balong 5000, the Huawei 5G CPE Pro enables consumers to access networks more freely and enjoy an incredibly fast connected experience. Huawei has an integrated set of capabilities across chips, devices, cloud services, and networks. Building on these strengths, as the leader of the 5G era, we will bring an inspired, intelligent experience to global consumers in every aspect of their lives."
With a small form factor and high degree of integration, Balong 5000 supports 2G, 3G, 4G, and 5G on a single chip. It reduces latency and power consumption when exchanging data between different modes.
At Sub-6 GHz (low-frequency bands, the main spectrum used for 5G), Balong 5000 can achieve download speeds up to 4.6 Gbps, according to Huawei. On mmWave spectrum (high-frequency bands used as extended spectrum for 5G), Balong 5000 can achieve download speeds up to 6.5 Gbps – 10 times faster than top 4G LTE speeds on the market today.
Balong 5000 is also the first chipset that supports both standalone (SA) and non-standalone (NSA) network architectures for 5G. With non-standalone, 5G network architecture is built on top of legacy 4G LTE networks, whereas standalone 5G, as the name implies, will have its own independent architecture. Balong 5000 can flexibly meet different user and carrier requirements for connecting devices throughout different stages of 5G development.
Balong 5000 is also the first multi-mode chipset that supports Vehicle to Everything (V2X) communications, providing low-latency solutions for connected vehicles. Huawei's 5G smartphones powered by Balong 5000 will be released at this year's Mobile World Congress in Barcelona.
Huawei 5G CPE Pro
Powered by Balong 5000, the Huawei 5G CPE Pro supports both 4G and 5G wireless connections. On a 5G network, an 1GB HD video clip can be downloaded within three seconds, and 8K video can be streamed smoothly without lag, according to Huawei. In addition to homes, the Huawei 5G CPE Pro can also be used by small and medium-sized enterprises for broadband access.
Adopting new Wi-Fi 6 technology, the Huawei 5G CPE Pro delivers speeds of up to 4.8 Gbps. It is the first 5G CPE that supports HUAWEI HiLink protocols.
5G Base Station Core Chip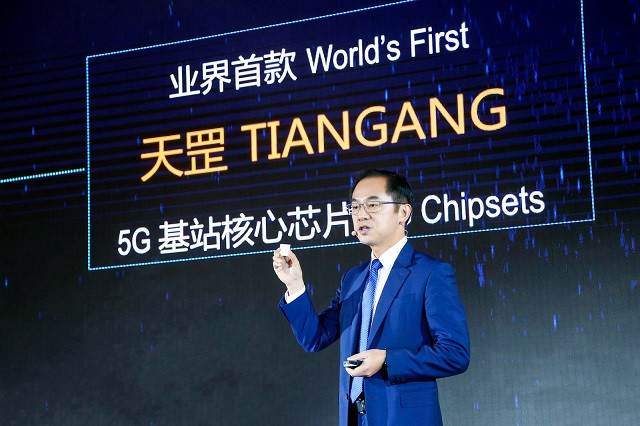 Huawei also today launched the first core chip specifically designed for 5G base stations, Huawei TIANGANG. The chip will support simplified 5G networks and large-scale 5G network deployment all over the world.
This chip is highly integrated, which means it can support large-scale integration of active power amplifiers (PAs) and passive antenna arrays into very small antennas. It also boasts super high computing capacity, with a 2.5-fold increase over previous chips. Using the latest algorithms and beamforming technology, a single chip can control up to 64 channels, which is the industry's highest standard. This chip also supports the 200 MHz high spectral bandwidth, getting ready for future network deployment.
This chip also brings improvements in active antenna units (AAUs), with 50% smaller, 23% lighter, and 21% less power consuming base stations. 5G base stations can be deployed in just half the time it took to install a 4G base station. These features will help address issues such as site acquisition and network deployment costs.
AI for autonomous driving networks
Huawei also launched the first data center switch with an AI brain. This switch enables zero Ethernet packet loss and end-to-end latency of less than 10 milliseconds. It consumes less than 8W of power while delivering more computing capacity than 25 mainstream two-way CPU servers combined.
Huawei has also introduced its full-stack, all-scenario AI technologies to enable an autonomous driving network, and developed the SoftCOM AI solution to help operators maximize energy efficiency, network performance, O&M efficiency, and user experiences.
Smartphone plans
Huawei said it could become the world's biggest-selling smartphone vendor this year even without the U.S. market and as global scrutiny of the firm intensifies.
The company's statement comes as the United States and its allies restrict market access for Huawei, alleging its products could be used by China for espionage. Huawei has said the allegation is unfounded.
Meanwhile, the firm's chief financial officer - the founder's daughter - has been arrested in Canada in relation to U.S. sanctions violations. Huawei has denied wrongdoing.
The maker of telecommunications equipment reported a 50 percent jump in consumer business revenue last year to in excess of $52 billion. It said it aimed to keep the momentum with the launch next month of a foldable smartphone powered by its new fifth-generation (5G) chipset.
Huawei will launch the foldable phone at the Mobile World Congress next month with sales beginning in April at the earliest.