HP Boosts Performance of Z4 Workstation, Unveils VR Windows Mixed Reality Headset
At SOLIDWORKS World, HP announced it will power its HP Z4 workstation with a choice of Intel Xeon or Core X processors and support dual graphics. The company showcased the HP Windows Mixed Reality Headset - Professional Edition.
HP's latest technology was showcased at SOLIDWORKS World, where it also unveiled its low-cost, full-color 3D printers.
The HP Z4 Workstation has been designed for engineering, simulation, rendering and virtual reality. Besides the workstation class Inte Xeon W processors, the Z4 Workstation can be now configured with the Intel Core X processors available with up to 18 cores and up to two extreme graphics GPUs.
The HP Z4 Workstation is available now starting at $1,499.
HP also showcased the HP Windows Mixed Reality Headset - Professional Edition. This VR headset features 1440x1440 resolution per eye and up to a 90Hz refresh rate. Users will enjoy the six degrees of freedom, no tracking boundaries and the included wireless motion controllers. The headset comes with easy to clean, replaceable face cushions. It also uses a double-padded headband, easy adjustment knob and front-hinged display.
Recommended minimum workstation specifications:
Graphics: DX12 capable graphics. NVIDIA GTX 1060,
NVIDIA Quadro P4000, AMD Radeon Pro WX 7100, equivalent or better
Processor: Intel Core i7, Intel Xeon E3-1240 v5, equivalent or better
Memory: 16GB RAM or more
Video out: HDMI 2.0, DisplayPort 1.3 (requires a DP to HDMI 2.0 adapter)
USB ports: 1x USB 3.0
Operating system: Windows 10 Pro Fall Creators Update recommended
The HP Windows Mixed Reality Headset - Professional Edition is scheduled for availability in March for $449.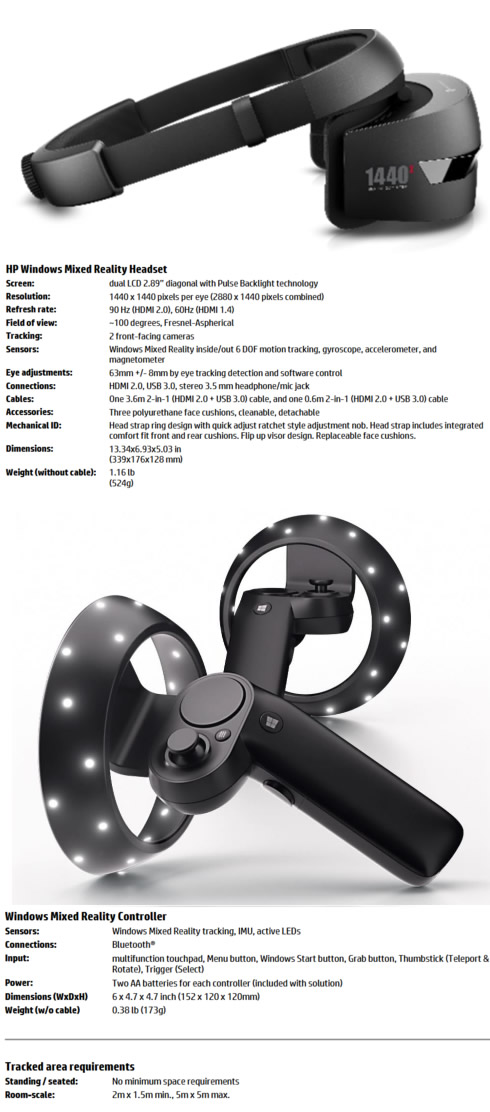 HP also shared details on the HP VR Launch Kit for Unreal Engine. The VR kit was created to accelerate decisions by streamlining VR development for design visualization. It enables users to quickly determine optimal computer configurations, save days in VR preparation with Datasmith which automates the optimization of 3D engineering assets for Unreal's development environment, and turnkey common interactions including parts explosion and model cross-sections. The HP VR Launch Kit for Unreal Engine, a suite of tools that is based on Unreal Engine, was developed for businesses by HP and Epic Games.
In addition, HP is extending its Device as a Service (DaaS) offering to VR solutions. HP DaaS is a service model that simplifies how commercial organizations equip users with the right hardware, support and lifecycle services. This solution helps companies manage their multi-OS and multi-device environments combining predictive analytics and proactive endpoint and security management for a fixed price per device.
New Color 3-D Printers
HP unveiled a cheaper line of 3-D printers on Monday. The Jet Fusion 300/500 series will be the quickest to create full color objects on the market and the first that can handle both prototyping and production, Steve Nigro, HP's president of 3-D printing, said.
Depending on configuration and color preference, the Jet Fusion 300 / 500 series is available starting in the $50,000s.
The company hopes its three-dimensional printers will grab a piece of the $12 trillion global manufacturing industry.
HP's ability to control part properties at the individual voxel level enables the design and production of previously unconceivable parts and is now available in full color. HP is already engaging in the co-development of new color applications with universities and businesses around the world including Phoenix Children's Hospital, Yazaki Corp., and Youngstown State University, amongst others.
In addition to providing voxel-level control, the new Jet Fusion 300 / 500 series of 3D printers has a compact design and the first integrated and automated materials delivery system, enabling unattended operation, ease of use, and increasing production efficiency and output. The Jet Fusion 300 / 500 series also supports the three color file formats (OBJ, VRML, and 3MF).
The HP Jet Fusion 300 / 500 3D printers will launch with a new material, HP 3D High Reusability CB PA 12. Parts using this material will have mechanical properties similar to the HP 3D High Reusability PA 12 material from HP's industrial solutions.
Leveraging HP's Open Platform for materials and applications development, HP will work with its materials ecosystem to grow the material breadth and drive costs down. The Jet Fusion 300 / 500 series will ultimately support similar materials as the Jet Fusion 3200/4200/4210, and also support unique materials that enable color or other voxel-level capabilities.
The HP Jet Fusion 300 / 500 series of 3D printers is available for order today and will begin shipping in the second half of 2018.