Google I/O: Google Digital Assistant Coming to iPhone, Android O, Android Go, New TPU and VR
Google CEO Sundar Pichai on Wednesday appeared on stage during the annual Google I/O developers conference in San Jose, California, U.S., and talked about Google's digital assistant that is coming on the iPhone, Google Android "O", new VR Daydream stand-along geadset, a new TPU and many more exciting news.
Google Assistant coming to iPhone
Google said it would make its digital assistant available on Apple's iPhone, making a play for the higher end of the smartphone market and challenging Apple's Siri feature on its own devices.
The announcement comes as Google, Apple and Amazon.com are competing to establish the dominant voice-powered digital assistant, which many in the industry believe will supplant keyboards and touch screens as a primary way that users interact with technology.
Sundar Pichai touted the company's progress with the Google Assistant, which allows users to complete various tasks through voice commands.
"Humans are interacting with computing in more natural and immersive ways," he said. "We've been using voice as an input across many of our products. We've had significant breakthroughs."
The app will support many of the same functions as the service does on Google devices. Users will be able to integrate with Gmail and control home appliances, Google said. The application will become available first for users in the U.S. and support English. Other countries and languages will come later.
Google also discussed a software development kit for the Assistant, which will allow third-party hardware makers to integrate the tool into their own products. Google said the expansion of the Assistant to the iPhone and various other third-party products should increase its reach beyond the current 100 million devices.
The Assistant can now converse in French, German, Brazilian Portuguese and Japanese. By the end of the year, the system will understand Italian, Spanish and Korean, Google said.
The Assistant debuted last year on Google's own hardware, and the company has gradually extended the tool to devices from other manufacturers running on its Android operating system.
Google is also bringing commerce features to its voice-based digital Assistant. The Alphabet unit unveiled support for ordering, payments and delivery for the Google Assistant. The service also confirms shoppers' identities, and sends notifications and purchase receipts.
CEO Sundar Pichai unveiled Google Lens, a set of vision-based computing capabilities that can understand what you are looking at. It will first be available as part of Google's voice-controlled digital assistant and Photos app. In the real world, that means you could, for instance, point your phone camera at a restaurant and get reviews for it.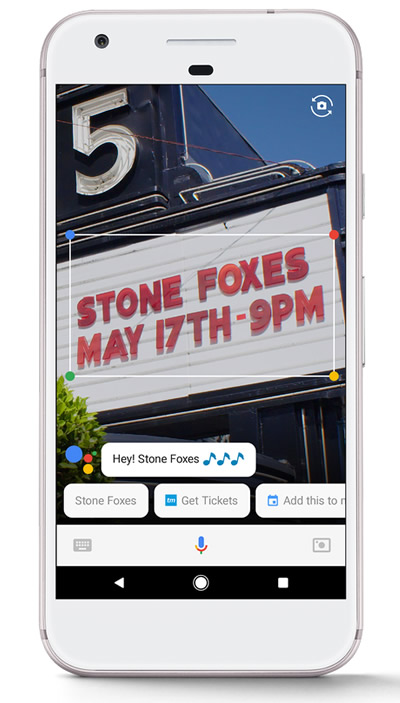 Google Assistant also gets new features:
Schedule new calendar appointments and create reminders. Starting today on Google Home, you can schedule appointments and soon you'll also be able to add reminders. Since it's the same Google Assistant across devices, you'll be able to get a reminder at home or on the go.
Make your home smarter. Google's mart home partners are supporting the Google Assistant across Google Home and Android phones, including August locks, TP-Link, Honeywell, Logitech, and LG.
On Google Home, hands-free help is just an 'Ok Google" away. Here are some of the new things you can do with the Google Assistant in your home:
Make hands-free calls with Google Home. In the coming months, just ask your Assistant and it will connect you to mobile phones or landlines in the U.S. or Canada, free. There's no setup and no need for a phone or additional app.
Enjoy more music, movies and TV shows. You can soon use Spotify's free music offering, as well as Soundcloud and Deezer, with Google Home. Google is also adding Bluetooth support to Google Home, so you can play any audio from your iOS or Android device.
Get visual responses from the Assistant on your TV with Chromecast. Later this year, Google will add visual responses from your Assistant on TVs with Chromecast. You'll be able to see Assistant answers on the biggest screen in your house, whether you're asking "what's on YouTube TV right now?" or "what's on my calendar today?"

VR and AR
In October, Google launched Daydream View, a VR headset that's comfortable and easy to use. Today, there are lots of Daydream-ready phones available to choose from. And there are more coming-including the Galaxy S8 and S8+, which will be Daydream-ready with a software update this summer, and LG's next flagship phone, which will launch later this year.
Daydream will soon also support a new category of VR devices, which Google calls standalone VR headsets. Standalone headsets don't require a phone or PC. Instead, getting into VR is as simple as putting the thing on. The hardware is fully optimized for VR, and features a new headset tracking technology called WorldSense. WorldSense enables positional tracking, meaning the headset tracks your precise movements in space - and it does this all without any external sensors to install.
Google worked with Qualcomm to create a standalone headset reference design, which Google's partners can use as a blueprint to build from. HTC VIVE and Lenovo are both working on devices, with the first ones coming later this year.
Google has been investing in Tango for years as a core technology for both virtual and augmented reality. With Tango, devices can track motion and understand distances and their position in the real world. For VR, Google used technology from Tango as the foundation of WorldSense. For AR, it can be used to enable smartphone AR experiences by placing digital objects in real spaces. The next phone with Tango technology will be the ASUS ZenFone AR, available this summer.
Tango is also one of the core technologies behind our new Visual Positioning Service (VPS), which helps devices quickly and accurately understand their location indoors. While GPS is great for getting you to the storefront, with VPS your device can direct you right to the item you're looking for once inside. VPS works today in museums and select Lowe's stores.
Faster TensorFlow Processor Unit
Google has designed and deployed a second generation of its TensorFlow Processor Unit (TPU) and is giving access to the machine-learning ASIC as a cloud service for commercial customers and researchers. A server with four of the so-called Cloud TPUs delivers 180 TFlops that will be used both for training and inference tasks.
The effort aims to harness rising interest in machine learning to drive use of Google's cloud services. It also aims to rally more users around its open-source TensorFlow framework, the only software interface that the new chip supports.
The Cloud TPU supports floating-point math, which Google encourages for both training and inference jobs to simplify deployment. The first-gen ASIC used quantized integer math and was focused solely on inference jobs.
Google is packing four of the new chips on a custom accelerator board. It packs at least 64 of them on a two-dimensional torus network in a cluster called a pod that's capable of up to 11.5 petaflops. The initial chip rode a PCI Express card in an x86 server.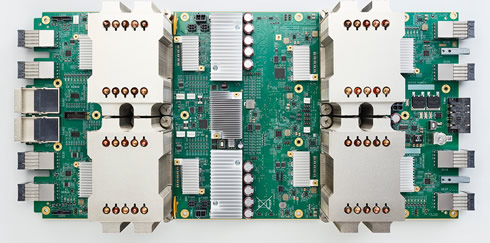 Google said that the new ASIC handily beats GPUs on training. The company's latest large language-translation models take a full day to train on 32 of the current top-end GPUs. The same job runs in six hours on one-eighth of a pod, presumably eight TPUs.
Commercial developers will be able to run software on TPUs through a new alpha program in Google's Cloud platform. Google will give researchers free access to a cluster of 1,000 Cloud TPUs that it calls its TensorFlow Research Cloud if they agree to openly publish their results and at least consider releasing as open-source any associated software.
Users will be able to run machine-learning jobs on the TPU service or on existing x86 or GPU servers.
Android O and Android Go
Google also previews features of its latest Android software for mobile devices, which powers more than 80 percent of the world's smartphones. The next version of Android, available to the mass market later this year, aims to gauge and control how much battery life your apps are using. A feature called Google Play Protect, meanwhile, will scan all your apps for malicious software.
Google will name the next Android version after a dessert or sweet-tasting snack beginning with the letter "O."
With picture-in-picture in Android O, you can do two tasks simultaneously, like checking your calendar while planning a party on a Duo video call. And Smart Text Selection improves copy and paste. By using machine learning to recognize entities on the screen-like a complete address-you can easily select text you want with a double tap, and even bring up an app like Maps to help navigate you there.
O will begin rolling out later this year, but developers can try the preview at android.com/beta now.
Google is also planning a slimmed down version of Android for low-end phones, primarily used in the developing world. Called Android Go, this software will automatically enable data-saving features and will steer users toward apps designed specifically for inexpensive hardware. Phones with less than one gigabyte of memory will automatically get Android Go.
According to Google, "Android Go is designed with features relevant for people who have limited data connectivity and speak multiple languages." It's basically optimized to run smoothly on entry-level devices that are running at least Android O. This works in part by designing apps like Chrome, Gboard and YouTube Go so that they use "less memory, storage space and mobile data."
Gboard, in particular, will make it easier to type in several different languages via transliteration. You can type the phonetic spelling of words in other languages, and the software will show you characters in the native alphabet. This targets regional markets where low-cost phones thrive, such as India and South America.
Android Go will also include a version of the Play Store that will show the entire app catalog, but it will highlight apps that have developers have finetuned for Go.
Google Photos updated
In addition, the company announced that it will offer physical photo albums through its photo app.
Photo books are easy to make-even on your phone. They're high quality, with a clean and modern design. And thanks to Google's search technology, your photos are already organized by the people, places, or things that matter. Once you select the photos, Google Photos will find the best shots for you - removing duplicates and poor quality images. All that's left for you to do is make a few tweaks and place your order. Soon, the app will even suggest photo books just for you, like your trip to the Grand Canyon, time with family during the holidays, your puppy, or even your kid's artwork.
Photo books are rolling out today in the U.S. on web, and on Android and iOS next week, starting at just $9.99 for a 20-page softcover book and $19.99 for a hardcover book. Google will bring photo books to more countries soon.
Another tool in Google Photos will prompt you to share photos you take with people you know. For instance, Photos will notice when you take a shot of a friend and nudge you to send it to her, so you don't forget. Google will also let you share whole photo libraries with others. Facebook has its own version of this feature in its Moments app.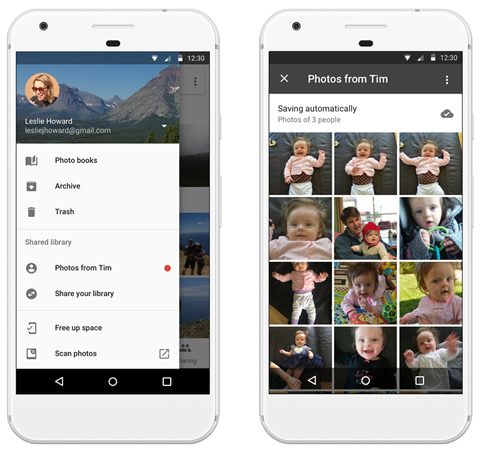 One potentially unsettling new feature in Photos will let you automatically share some or all of your photos with other people. Google claims the feature will be smart enough so that you could auto-share only specific photos.