Google and Lenovo Launch Lenovo Mirage Camera and Mirage Solo VR Headset
Virtual reality devices are still not a mainstream and Google wants to change that. The company released a new VR headset with Lenovo Group on Tuesday, along with specialized cameras to support the technology.
The new headset, dubbed Mirage Solo, has features from high-end VR devices, like displays that don't blur as the wearer moves around, and doesn't need to be tethered to a PC.
The first standalone Daydream VR headset combines the simplicity of an all-in-one headset with the experience of motion-tracking technology on Daydream's virtual reality platform.
Lenovo Mirage Solo users will be the first to experience the full potential of motion-tracking technology, called WorldSense, on Google's Daydream virtual reality platform. WorldSense lets you move around and explore your virtual environments as if you're truly there - leaning, dodging or ducking through space. For example, you can immerse yourself in wide-ranging content, from learning more about the Acropolis at Athens by exploring the ancient Greek citadel in person or search for clues to unravel a mystery surrounding fugitive Replicants in the congested streets of Blade Runner.
Utilizing the features of the Qualcomm Snapdragon 835 VR platform designed to support built-in VR functionality and help developers to release content, and 4GB of RAM, Lenovo Mirage Solo can easily handle the most demanding Daydream virtual reality experiences. Lenovo has also built the headset's display for VR engagement with a 110-degree field of view.
With WorldSense's inside-out positional tracking technology, the headset can mirror real life by tracking its position in space through built-in tracking cameras and sensors.
That means you can really explore: 1 Duck an incoming dodgeball, bank left with your snowboard or jump over a hurdle - all head movements can be tracked within the virtual world using WorldSense technology.
The Lenovo Mirage Solo headset offers up to seven hours of operation on a single charge. The headset is designed to fit nearly any size wearer, with quick-release buttons for visor adjustments, adjustable dials and size accommodations for nearly every face shape, visual aid and head proportion.
The Lenovo Mirage Solo also comes with a wireless Daydream controller, which acts as an extension of your hand. Sporting a clickable trackpad, app and home buttons, and a volume rocker, you can change the controller's function from app to app. Besides a navigation controller, it can also serve as a baseball bat, steering wheel or whatever fits that app's purpose.
Google's new cameras, called VR180, are built to encourage people to capture 360 degree footage that can be viewed inside VR devices. So far, the media library for VR is relatively thin, due to the high costs of shooting and creating content. "Watching VR180 gives such a strong sense of presence that it's almost like having a time machine that lets you be there all over again," Clay Bavor, a Google vice president, wrote in a blog post.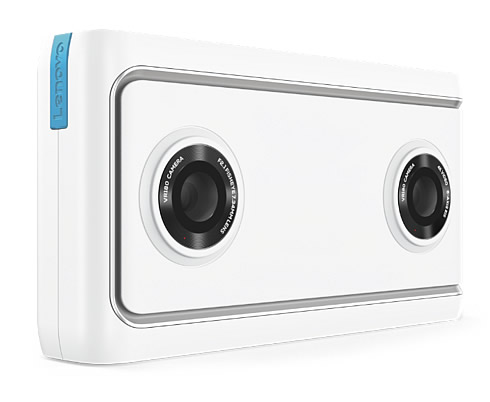 VR180 cameras are simple and designed for anyone to use, even if they've never tried VR before. With VR180 cameras, you just point and shoot to take 3D photos and videos of the world in 4K resolution. Google says that the resulting imagery is far more immersive than what you get with a traditional camera. You can re-experience the memories you capture in virtual reality with a headset like Cardboard or Daydream View. Or for a lightweight but more accessible experience, you can watch on your phone.
Its dual 13MP fisheye cameras achieve depth in image and video by capturing the same images at slightly different angles to form a 3D effect, in which near objects look near, while far objects appear far. The two lenses also offer a 180 x 180-degree field of view to let you see more.
The Lenovo Mirage Camera is very simple to use with just three buttons - power, shutter and function. Toggle between three modes: photo, video and live broadcasting.
The device houses the Qualcomm Connected Camera Platform with a Qualcomm Snapdragon 626 SoC which features integrated high-quality dual cameras and powerful processing with built-in Wi-Fi and even an integrated X9 LTE cellular modem in the LTE version, 2GB of RAM, USB Type-C charging and a slot for a removable battery. The camera offers up to two hours of continuous usage for high-resolution video recording.
Google says that several VR180 cameras will be available soon. Different models will sport different features-like live streaming, which lets you share special moments in real time. The Lenovo Mirage Camera and YI Technology's YI Horizon VR180 Camera will hit shelves beginning in the second quarter, and a camera from LG will be coming later this year. For professional creators, the Z Cam K1 Pro recently launched, and Panasonic is building VR180 support for their just-announced GH5 cameras with a new add-on.
Both the cameras and the new headset are built to feature Google services, such as YouTube, its digital maps and app store. In VR, Google is competing with Facebook to become the go-to media provider.
Google and Lenovo said the new device will arrive during the second quarter of 2018. Google didn't share the price of the headset or the camera.