The Google Pixel 2 and Updated Daydream View are here
Google is introducing Google Pixel 2, designed to provide you the highest-rated camera ever that helps you take great pictures and interact with the world around you, all-day battery life, and an Assistant that understands you.
The highlight feature of the new phones are the upgraded camera systems. The phones both have optical image stabilization for taking pictures, improved auto focus for objects, and cameras optimized for augmented reality applications from third-party developers. For the camera's software, Google is again turning to additions Apple made in previous years. The new Pixels have Portrait Mode and Motion Photos, Android-based versions of Apple's own Portrait Mode and Live Photos. Portrait Mode blurs backgrounds when taking a picture of a person or object, while Motion Photos tack 1.5 seconds of video on either end of photos. Google's Portrait Mode only requires a single camera lens while Apple's compatible iPhones have dual rear cameras.
Google made video capture better too by combining both optical and electronic video stabilization to give you smooth video, even when you're on the move. To top it off, Google is once again providing free unlimited storage for all of the photos and videos taken on the Pixel.
The camera will also keep getting better over time. As just one example, coming soon and exclusive to Pixel, you'll be able to play with Augmented Reality (AR) Stickers, so you can add emojis and virtual characters to your photos and videos and set the scene for your very own stories.
Augmented reality is a technology that superimposes digital information such as maps, text messages, video game characters and more onto a person's view of the real world, while virtual reality submerses a user into a completely different digitally created world. So far AR has been most popular with mobile games.
Google is intensifying its effort in the technology as Apple also tries to make AR more mainstream through improved software on iPhones and iPads. Apple has jammed its new $1,000 iPhone X, available later this year, with augmented reality features.
Pixel 2 owners will also get an exclusive preview of Google Lens - a new set of visual smarts that help you learn more about the world around you and get things done. Lens builds on Google's advancements in computer vision and ML, combined with Google's Knowledge Graph which underpins Google Search. From day one, on your Pixel 2, you'll be able to look up landmarks, books, music albums, movies and artwork by clicking on the Lens icon in Google Photos. You can also use Google Lens to copy URLs and contact info from a picture of a poster or business card. Google promised to add capabilities on an ongoing basis, including the use of Lens in the Google Assistant.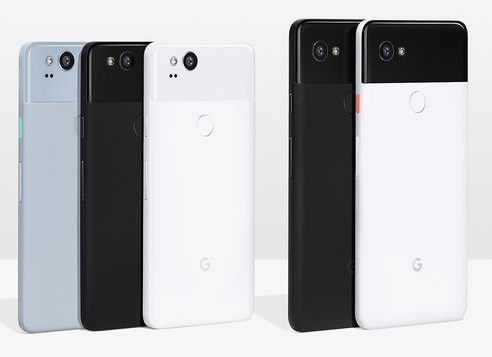 The Google Assistant makes many tasks-from sending a text or making a call, to finding an answer - hands-free. You won't need to edit the text messages you dictate as often as you do with other assistants. With Pixel 2, you can access your Google Assistant with a new feature called Active Edge. Just give the phone a quick squeeze - even when it's in a case - and ask the Assistant for what you need.
Your Assistant now helps you manage more settings and apps on your phone. You can say "turn on do not disturb" on your way into the theater, instead of navigating settings, and soon you'll be able to book concert tickets or buy flowers. You can control your music, your smart home devices and find answers to pretty much anything.
In the coming weeks, your Assistant on Pixel will also be able to help with your daily routines, just by using one simple phrase. For example, when you go to bed at night, with a simple "good night" your Assistant can silence your phone, turn off the lights, set your alarm and more.
The Pixel 2 has a battery that lasts all day. And if you ever need a quick boost, 15 minutes of charging gives you up to seven hours of usage. It's also water and dust resistant to the IP67 standard and comes with security features baked in.
Google is also making it easy to switch to Pixel. Most people will be able to copy their contacts, apps, messages, photos, and even their iMessages from their old phones to Pixel in 10 minutes or less.
Pixel 2 comes in two sizes, with the same features in both. There's the 5-inch Pixel 2 with an OLED display, which comes in Just Black, Clearly White and Kinda Blue. The 6-inch Pixel 2 XL has a pOLED 18:9 display and comes in Just Black and Black & White.
Both phones are powered by Android 8.0 Oreo and come with an always-on display which lets you see notifications at a glance on Pixel's screen without having to touch the power button. The new Now Playing feature, exclusive to Pixel, shows you what song is playing around you. With your permission it matches music to a database of thousands of songs that's stored on your device, without sending any information to Google.
Pixel 2 and Pixel 2 XL are available for pre-order today starting at $649 in the U.S. Both products are also available in Australia, Canada, Germany, India and U.K. Google will be bringing Pixel 2 XL to Italy, Singapore and Spain later this year. In the U.S., Google is teaming up with Verizon to make Pixel available at all Verizon retail outlets as well as at Best Buy stores. Pixel is also being offered on the Google Store. And Project Fi fans will be happy to know that Pixel also works on the Fi network.
Updated Daydream View
The updated Daydream View is the best mobile virtual reality (VR) headset on the market, and the simplest, most comfortable VR experience.
Along with the announcement of the new Pixel 2, Google announced a new Google Daydream View headset, which you can pair with Pixel 2 or another Daydream-ready phone for VR.
With this new headset, Google kept the best parts of the original and made them even better. The new Daydream View has high-performance lenses, which result in better image clarity and a wider field of view. It sports a premium two-tone fabric that makes the headset soft and light, and it comes in three new colors: Fog, Charcoal and Coral.
Last year, Google launched with 25 apps and games. Daydream now has more than 250 titles.
The new Google Daydream View will be available later this year. From now until the end of the year, your purchase of Daydream View will come with a bundle of top games to help get you started. (U.S., U.K. and Korea only).
Pixel 2 tech specs
Operating System

Android 8.0.0, Oreo
Minimum 3 years of OS and security updates1
Pixel 2

Cinematic 5.0 in (127 mm) display
FHD (1920 x 1080) AMOLED at 441ppi
16:9
2.5D Corning Gorilla Glass 5
Always-on display
95% DCI-P3 coverage
100000:1, super contrast ratio
True black level
Full 24-bits depth or 16.77 million colors

Pixel 2 XL

Fullscreen 6.0 in (152 mm) display
QHD+ (2880 x 1440) pOLED at 538ppi
18:9
3D Corning Gorilla Glass 5
Always-on display
100% DCI-P3 coverage
100000:1, super contrast ratio
True black level
Full 24-bits depth or 16.77 million colors

Cameras

Rear Camera

12.2MP
1.4μm
Autofocus with laser + dual pixel phase detection
Optical + electronic image stabilization
f/1.8 aperture

Video

1080p @ 30fps, 60fps, 120fps
720p @ 30fps, 60fps, 240fps
4K @ 30fps

Front Camera

8MP
1.4μm
f/2.4 aperture
Fixed focus

Video

1080p @ 30fps
720p @ 30fps
480p @ 30fps

Processors

Qualcomm Snapdragon 835
2.35Ghz + 1.9Ghz, 64Bit Octa-Core
Adreno 540
Security module
Internal storage: 64GB and 128GB1
Unlimited online storage for photos and videos2
Pixel 2
Length: 5.7 in (145.7 mm)1
Width: 2.7 in (69.7 mm)1
Height: 0.3 in (7.8 mm)1
Weight: 5.01 oz (143 g)1
Pixel 2 XL
Length: 6.2 in (157.9 mm)1
Width: 3.0 in (76.7 mm)1
Height: 0.3 in (7.9 mm)1
Weight: 6.2 oz (175 g)1

Colors

Pixel 2

Just Black
Clearly White
Kinda Blue

Pixel 2 XL
Stereo front-firing speakers
Bluetooth 5.0 + LE
Wireless HD audio with LDAC, Qualcomm AptX and AptX HD audio codecs supported
USB-C port to use with your own USB-C digital headphones
Headphone Adapter to connect a 3.5mm jack to your Pixel
3 mics
Noise suppression

Battery

Pixel 2

2700 mAh battery
Up to 7 hours of go with 15 minutes of charge

Pixel 2 XL

3520 mAh battery
Up to 7 hours of go with 15 minutes of charge
Wireless
Wi-Fi 2.4G + 5GHz 802.11 a/b/g/n/ac 2x2 MIMO1
Bluetooth 5.0 + LE
NFC
eSIM
Sensors

Active Edge
Proximity / Ambient light sensor
Accelerometer / Gyrometer
Magnetometer
Pixel Imprint: Back-mounted fingerprint sensor for fast unlocking
Barometer
Hall effect sensor
Android Sensor Hub
Advanced x-axis haptics for sharper/defined response

Ports

USB-C
3.1 Gen 1
Single Nano SIM
USB Type-C and USB-C are trademarks of USB Implementers Forum.

Materials

Aluminum unibody with hybrid coating
IP67 water and dust resistant
Corning Gorilla Glass 5

Other

Daydream ready
Hearing aid compatibility rating: M4/T3 HAC1