GlobalSat BT-338, SD-502 and BC-337
3. BT-338 Installation
In order to start using the BT-338, firstly you have to fully charge it. From our tests, it would need around 2~2.5 hours το fully charged, but remember its battery can last up to 17hours! After pressing the power button, you can move to your connected device, at our case a Dell Axim x50V with Windows Mobile 2003 SE. The installation process is clearly described at a included PDF file, but we will show some steps for your reference.
Start by accesing the bluetooth manager and tap New->Connect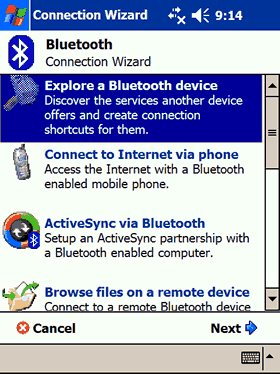 The BT-338 will show up with the BT-GPS-316FB2 ID: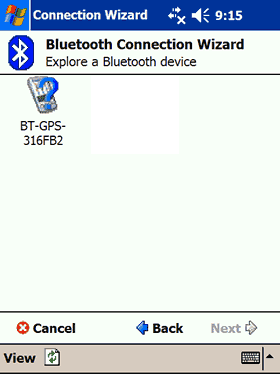 Press Next->Select BT-GPS COM Port -> Next
Done!
After accessing the BT Manager, press right click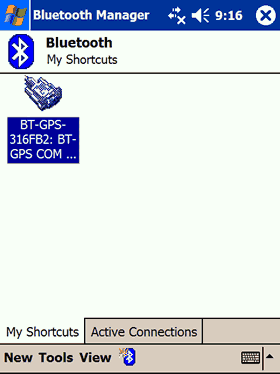 , select Connect
Finally, our BT-338 is connected with the Dell Axim x50V PDA and ready to use!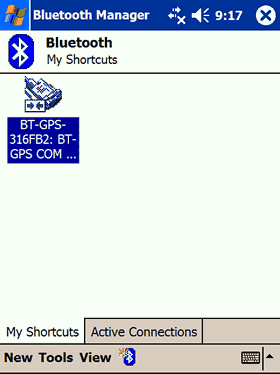 There are several details available about the activity of the BT port,
Globalsat suggests to use the included GPS Info software for checking if and how the BT-338 works. There is an executable file at the included CD-ROM disc, run it, then follow the instructions and will be installed at your PDA. While the included PDF manual suggests to look at COM5, our BT-338 found at COM7, make sure to select the communication speed (38400). Press the "Scan GPS" and if all goes well, you will see many numbers start scrolling down. Don't be afraid, its just what the receiver gets from the satellites.
After waiting few seconds, select the "GPS Info" tab to see several useful information about the satellites signal power, the current speed and co-ordinations. Our BT-338 works just fine even its placed at a window, real life tests later at this article...
Are we done? Not yet, lets check several other useful information, like the device firmware revision (latest know 3.1.1), with GPS Tweak. By using the special SiRF mode, we confirmed that our device had the 3.1.1 firmware: