1. Introduction
Overview:
The Dell Axim x51v is the successor to the very popular and highly acclaimed x50v introduced in 2004. Just as the X50v was the first Pocket PC to have Windows Mobile Second Edition, the x51v is the first to have the brand spanking new Windows Mobile 5.0. Now, as you will see later in this review, being an early adoptor is not always easy and there is no such thing as a "complete" new OS from Microsoft.
The Axim x51v does have some other improvements over the x50v – most notable the inclusion of 256 MB of flash ROM with persistent storage capability.
Additional features of the Axim X51 family include:
Choice of Intel® PXA270 processors
Robust 3-D gaming experience, DVD-quality playback and VGA-out capabilities with Intel 2700G multimedia accelerator (Axim X51v only)
Up to 256MB flash ROM with persistent storage capability
Bright, crisp 3.5-inch QVGA display (Axim X51) or high-resolution 3.7-inch VGA display (Axim X51v only)
Integrated Bluetooth 1.2 and 802.11b Wi-Fi (Axim X51 mid-level and Axim X51v)
Robust software bundles on companion CD with full versions of Toy Golf and GeoRally EX 3-D games, and Battery Pack Lite utility, and 16 trial versions of some of the most popular gaming, productivity and utility Pocket PC programs
Dimensions (HxWxD): 4.7 x 2.9 x 0.7 inches (119 x 73 x 16.9 mm), 6.2 ounces (175 grams)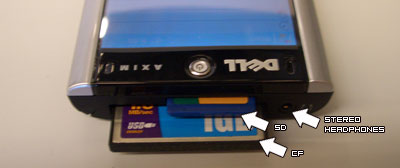 Design:
The X51v looks identical to the x50v (and that is a good thing.) The unit feels incredibly sturdy and it also feels heavier than it looks – but in a very solid and re-assuring way. The screen is HUGE (more on that later) and the sides of the unit have a rubber grip and feel very comfortable in the user's hand. There are four buttons along the bottom which can be mapped to other programs. The default is calendar, contacts, messaging (the new name for email) and Home. In the middle sits the d-pad – small, but usable.
Along the side of the Aximx51v are three other buttons (see photo below) – wireless enable, voice recorder and lock (a great feature.)
Along the top is the Stylus slot, the headphone jack and slots for both SD and CF memory cards and the IR port.


The wireless enable, record and lock buttons along the left side.
The Package
Hardware

| | |
| --- | --- |
| | PDA |
| | Sync option: USB Cradle (std X51 520MHz & X51v 624MHz) or USB sync cable (std X51 416 MHz) |
| | Adapter connector |
| | Standard carrying case |
| | Hard copy documentation |
| | AC adapter & localized power cord |
| | Standard battery (1100 mAh) |



Software
Operating System Applications:
Microsoft® Windows MobileTM 5.0 with Media Player 10 Mobile - Includes Calendar, Contacts, Tasks, Voice Recorder, Notes, Word Mobile, Excel Mobile, PowerPoint Mobile, Internet Explorer Mobile, Windows Media Player 10 Mobile, Calculator, Pictures, Jawbreaker, Solitaire, Messaging, File Explorer, MSN Messenger, Terminal Services Client, VPN Client, Infrared Beaming, Clock, Align Screen, Memory, Volume control, Landscape Mode support, WPA (Wi-Fi Protected Access); Bluetooth utility, Certificates Manager, Password setting, Today theme tool, Download Agent

Dell Applications (On device):
File Store (nonvolatile file storage in flash ROM), Backup (utility for Backup/Restore to Memory Card), Switcher (access and launch programs easily), Power Status, Brightness, Microphone Gain Control, Version Display, Dell WLAN utility (with optional wireless model), Funk Odyssey Client (CCX 1.0)


Getting Started CD
Microsoft Applications:
Outlook 2002, ActiveSync 4.0 (desktop device synchronization)

Full Versions:
Dell Axim Self Diagnostic Utility, Resco Picture Viewer, GEO RALLY 3D Game, Toy Golf 3D Game, Battery Pack (Lite)

Trial Versions:
CityTime, eWallet, SPB Finance, Journal Bar, Virtual Pool Mobile, Bejeweled 2, Full Hand Casino, Handmark Monopoly, Handmark Scrabble, Resco File Explorer, Links Pocket PC, Westtek ClearVue Suite, Calligrapher, Enigmo (requires X51v)

Trial Versions downloaded from the web:
Media Player 10 (full), Voice Command (trial)