5. Dynamic Energy Saver, Easy Tune 6
- Dynamic Energy Saver
In order to use the Dynamic Energy Saver function, you have to install the corresponding software. But previously, you have to enable EIST and C1E under BIOS:
The software starts automatically when windows loads. The energy saving functions are disabled by default. To enable it you should click on the big oval button found on the left side of the program's window: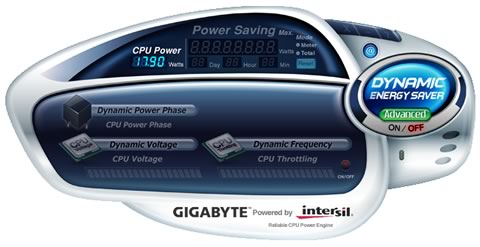 Several menus have now been enabled and it may take you some time to familiarize yourself with the various functions.
First of all, you can select among three preset CPU Voltage levels, which are supposed to offer different power saving modes. However there is not a clear indication of the voltage set by each level.
Note that when Dynamic Energy Saver is enabled, the EasyTunePro software does not work.
The software records the current power consumption, the total amount used in total and of course what have you gained, in terms of watts. Of course those numbers are related to the cpu and not the whole system.
Six animated cylinders represent the six available power phases.
The Dynamic Frequency CPU throttling is also illustrated as a progress bar.
- Easy Tune 6
Gigabyte also offers an very interesting utility that controls most of the motherboard's power features through Windows. Each tab has its own features/uses and provides information about the CPU, memory, GPU etc as well as tweaking options for the basic parts of motherboard.
The first tab provides information about our cpu.
The second tab included information about the memory. Note here that in several cases the application crashes, especially when you manually set the memory timings.
The Tuner tab includes the most interesting settings. Here you can manually experiment with the various frequency and voltage settings for the CPU, memory, FSB, and PCI /PCI-E.
Two columns are available. The "Power On" column provides the settings made by the motherboard after booting up your PC. The "Target" column indicates new settings after we manually modify them in real time, using the corresponding sliders.
Experienced user may select the "Advanced" mode of the Tuner window, while the "Easy" mode includes more simplified settings, allowing users to change only the FSB clock:
In the "advanced" mode, all sliders are visible and ready for tweaking.
Gigabyte EasyTune 6 also offers the ability to control all the basic voltages of the motherboard under Windows; very handy in our opinion.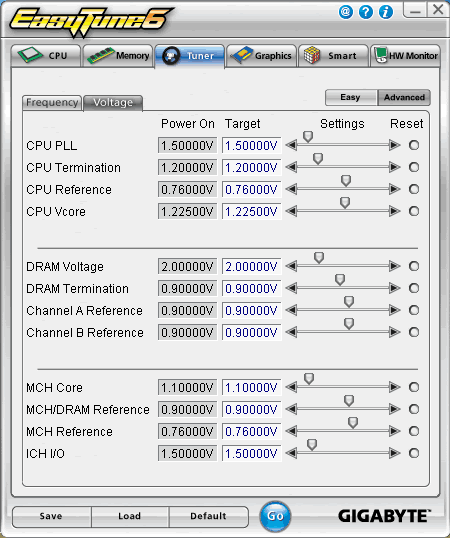 You can also overclock your graphics card easily:
Enable/disable CIA 2 (CPU Intelligent Accelerator)
The last tab offers information about Voltages and system temperatures, which probably lack accuracy..