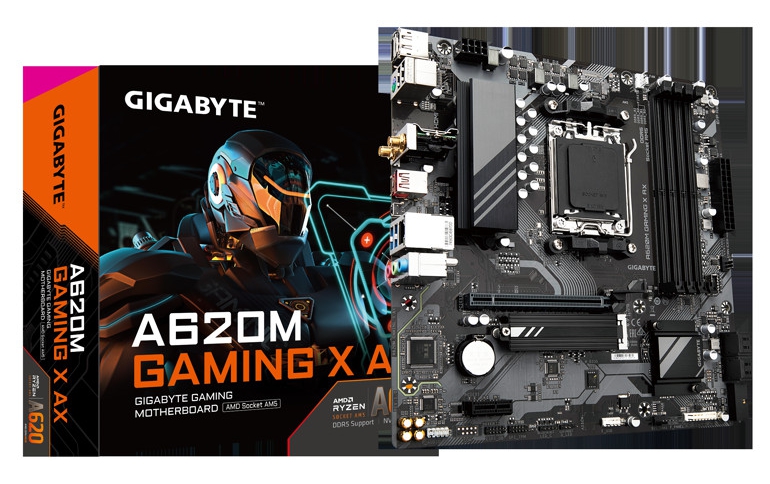 GIGABYTE A620 Motherboards Bring You the Smartest Choice to Enjoy AM5 Platform
GIGABYTE unveiled the latest AMD A620 series motherboards with optimal memory performance and all-round features. With the perfect support of the latest AMD RyzenTM 7000 series processors, GIGABYTE A620 motherboards deliver the most competitive AM5 platform for users to enjoy performance flexibly and affordably.
Enhanced by GIGABYTE exclusive layout design and BIOS setting, the A620 lineup can achieve optimal memory performance of DDR5 EXPO/XMP overclocking up to DDR5-6400, which exerts the utmost value and performance of the AM5 platform. Boasted with comprehensive features, GIGABYTE A620 motherboards can best fit users' needs and budget, and become the best choice for users who plans on stepping up to the latest AM5 platform.
Meanwhile, GIGABYTE's A620 motherboards boast the innovative PCIe® EZ-Latch technology to simplify the upgrade of graphics cards, and to avoid accidental damage to the surrounding components. By GIGABYTE exclusive Q-Flash Plus feature, users can update the BIOS without installing any processor, memory, or even graphics card, making it possible for users to easily enjoy the benefits brought about by the new BIOS code and processors. Further with GIGABYTE GCC software platform, GIGABYTE delivers the competitive A620 platform with user-friendly features and multiple form factor options which covers Micro ATX to Mini ITX.
GIGABYTE A620 motherboards are now available in the market. Enjoy all the exceptional features on GIGABYTE motherboards now and experience the optimal choice of AM5 platform.
For more information and news on GIGABYTE products, please visit the official GIGABYTE website: http://www.gigabyte.com