Gainward GTX560Ti 2GB Phantom Vs Club3D HD6790 CoolStream Edition
10. Crysis 2
Crysis 2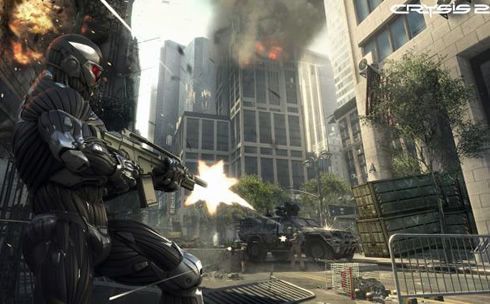 Crysis 2 is a first-person shooter video game developed by Crytek, published by Electronic Arts and was released in North America, Australia, and Europe in March 2011 for Microsoft Windows, PlayStation 3, and Xbox 360. Officially announced on June 1, 2009, the game is the second main installment of the Crysis series, and is the sequel to the 2007 video game Crysis and Crysis Warhead. It is the first game to showcase the CryEngine 3 game engine.
Minimum hardware requirements in order to play the game include an Intel Core 2 Duo at 2 GHz, or AMD Athlon 64 x2 2 GHz, or better, 2GB of memory and DirectX 9.0c NVidia 8800GT with 512 MB RAM, ATI 3850HD with 512 MB RAM, or better
For this test, we used the the Adrenaline Crysis 2 Benchmark Tool v0.15 Beta. The tool offers a great option for measuring the performance of graphics cards with Crysis 2. It offers a choice of different maps, options, image quality settings and and resolutions. Several tests can be performed in sequence.
In order to work, the benchmark tool requires a full version of the Crysis 2 game to be installed. Unfortunately the benchmark is currently working under DX9 for now. Support for DirectX 11 will be available once the Crytek release the update that adds support for this API.
We tested both the Club3D HD 6790 and the Gainward GTX 560Ti 2GB cards at 1920 x 1200, the FSAA set to EdgeAA, the Edge AA disables and for the three available maps: CentralPark, TimeSquare and DownTown.
Here are the results:
The Gainward GTX 560 Ti 2GB seems to playable FPS even at 1920 x 1200. We got an average FPS of 45~59, depending on the map. Of course, extremely low FPS were also logged during the test, meaning that there might be really demanding scenes that could make your GTX 560 Ti 2GB look extremely weak.
The Club3D HD6790 1GB is not that strong and it gave lower FPS for all the maps. What is really interesting is the fact that the benchmark did not report ridiculously low minimum FPS during the HD6790 test, compared to the previous test with the Gainward GTX 560 Ti 2GB:

Although the Gainward GTX 560 Ti 2GB and the Club3D HD 6790 are not directly competing with each other in terms of price and performance, below you see a graphical presentation of the results in different resolutions: