Gainward GTX560Ti 2GB Phantom Vs Club3D HD6790 CoolStream Edition
5. 3DMark 05, 3DMark 06, 3DMark Vantage and 3DMark 11
We start with the results of Futuremark's benchmarks. These include the results of the 3DMark 05, 3DMark 06, 3DMark Vantage and the 3D Mark 11 tests.
Starting with the 3D Mark 05 benchmark, the Club3D HD 6790 got just 16838 points, which is lower than the score of the HD 6950, the HD 5770 and close to the score of an Nvidia GTX 460 768MB.
Surprisingly, the Gainward GTX 560 Ti 2GB also scored lower than expected in the specific benchmark, staying behind the GTX 460's and the HD 6790. It is obvious that these differences are not representing the real differences among these cards: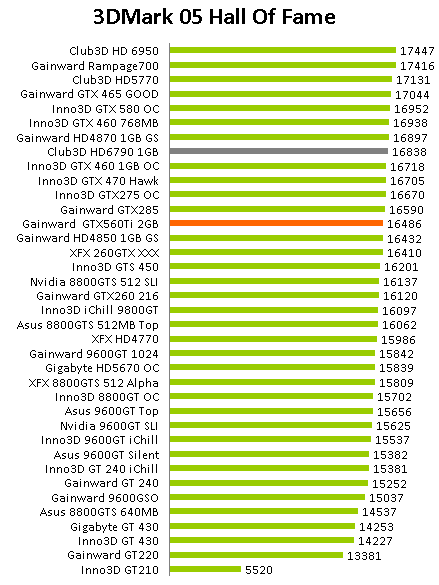 At the 3DMark 06 benchmark the Club3D HD 6790 scored a 13766, still lagging behind the GTX 460 768MB. The Gainward GTX560Ti 2GB scored higher at 13792, pretty close to the score of a GTX 460 1GB OC:
The 3DMark Vantage tests the performance of each card in different resolutions. We charted the GTX 460 1GB OC, the GTX 460 768MBthe GTX 580 OC, the GTX 470, the GTX 560 Ti 2GB, the HD6950 and the HD6790 cards.
Obviously the Club3D HD 6790 1GB cannot perform any other card on this test rather the GTX 460 768MB. On the other hand, the Gainward GTX 560Ti had a clear lead over the Nvidia's GTX 460 and 470 cards as well as the HD 6950 here:
Below you see the results of the recently released 3D Mark 11 v1.00 benchmark. The GTX 560 Ti was positioned between the GTX 580 OC and the HD 6950: