Foxconn nT-i1200 nanoPC review
3. Installing the OS
- Bios settings
Not much to comment here as Foxconn's (American Megatrends) BIOS includes just the basic stuff. What you need to set is the 'boot device priority' option under the BIOS, in order to install Windows (or any other OS). The system came with Ver. P03 BIOS installed, which we later updated to Ver. P04 using Foxconn's Windows updater tool.
- Installing Windows
In order to install Windows 7 you can either use a USB stick or a USB optical disc with an ISO image of the OS. For our tests we used the Windows 7 32-bit Ultimate Edition OS with SP1. It is not advised to install the x64 version of Windows 7 since Intel hasn't released any compatible graphics drivers yet, although the Intel Atom 2500 processor supports x64 instructions. Of course this raises another issue; 32bit OS can only use 3GB of DDR3 memory.
After having formatted the SSD drive and finishing the tons of updates, you will eventually have your system ready. Well, not exactly.. In order to enjoy maximum performance, you'll have to install the latest drivers from Intel.
After rebooting the system you may see your desktop responding slowly. As a simple solution, disable AERO by selecting the 'basic' Windows 7 theme. It is also advised to keep choose the 'best performance' setting under the 'Visual Effects' options.
Once again we made these changes to the settings and rebooted the system. Now although the system is very responsive, you'll have to make a final change. Go to the 'Power options' and select the "High Performance".
You can also further tweak the system following the numerous guides found on Google - 'how to tweak an Intel Atom based system'.
Below you see the basic information about the system and the Intel NM10 chipset. Our memory is running at 7-7-7-20-4T :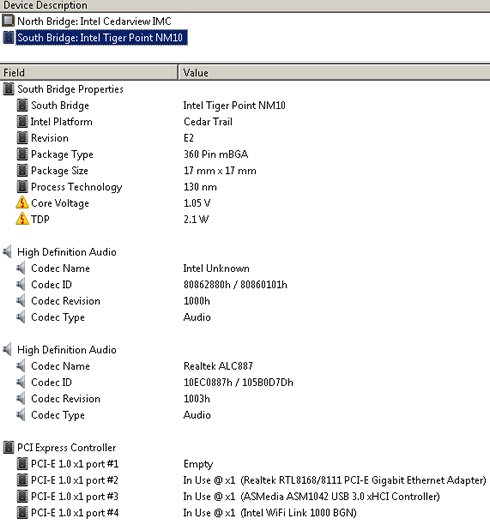 The CPI-Z utility provides more information:
Some details on the Intel 3600 IGP are provided by the GPU-Z utility: