1. Introduction
EVGA, a well know graphics card manufacturer, recently entered the motherboard arena with the EVGA 680i for Socket 775. This model made quite an impact on users with its performance and overclocking capabilities. However, its high price probably put it in the too expensive category for ordinary users. With the release of the 680i LT, EVGA hopes to bridge that gap and provide a choice for entry level users, while still providing a highly overclockable motherboard and good performance compared with other solutions (Intel P965). In this review, we will examine the EVGA 680i LT SLI motherboard and we will be taking a look at the main differences compared with the EVGA 680i motherboard.
- EVGA nForce 680i LT SLI 775 A1
The EVGA nForce 680i LT SLI is based on Nvidia's 680i chipset, which supports the Intel®Core™2Extreme, Core™2Duo, Pentium®4EE, Pentium®D, Pentium®4, CeleronD processors for Socket (LGA775). It features 1066/800/533MHz(FSB), dual-channel un-buffered DDR2 800/667/533 x 4DIMMs with a maximum of 8GB.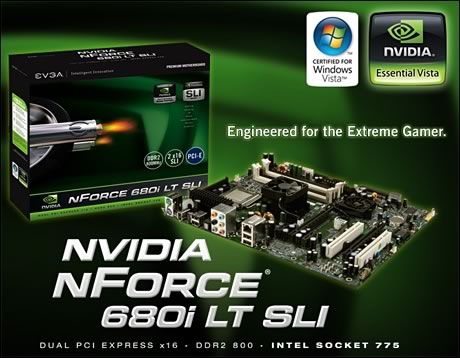 - Main features
Engineered for the Extreme Gamer, NVIDIA nForce® 680i LT SLI™ MCPs deliver the same award-winning NVIDIA nForce 680i SLI performance at a great price. Featuring true dual x16 PCI Express slots, support for NVIDIA SLI™ technology, and substantial overclocking capabilities, the NVIDIA nForce 680i LT SLI is the ideal platform for an extreme gaming system. Unleash the underlying hardware. With comprehensive overclocking tools to push the limits on the front side bus (FSB) speed, the NVIDIA nForce 680i LT SLI MCP has ample headroom for overclocking.
Engineered for the Extreme Gamer
SLI Support with 2 16x PCI Express slots
Extreme overclocking with FSB speeds of 1333MHz and beyond
DDR2 memory support of 800MHz and beyond
Maximizes performance for the gaming enthusiast
World-class NVIDIA nForce™ system performance plus comprehensive overclocking tools

Delivers a performance boost for enthusiasts and extreme gamers
Features and Benefits:
NVIDIA SLI support with 16x PCIe performance
Supports Intel Core 2 Extreme, Core 2 Quad, and Core 2 Duo
NVIDIA nTune performance application
Substantial overclocking capabilities
Gigabit Ethernet
Built for Microsoft Windows Vista
SLI Memory support up to 800MHz
Key Features
NVIDIA® SLI™ Technology: Dramatically scales performance by allowing two graphics cards to be run in parallel. Only available on select PCI-Express models.
NVIDIA Native Gigabit Ethernet: The industry's fastest Gigabit Ethernet performance, eliminates network bottlenecks and improves overall system efficiency and performance.

NVIDIA RAID: NVIDIA RAID technology implements standard RAID 0, RAID 1, and RAID 0+1 techniques to maximize storage assets. NVIDIA RAID technology additionally introduces many innovations that simplify and optimize the management of RAID features and disk resources.

NVIDIA StreamThru Data Transport System: NVIDIA's patent-pending isochronous data transport system, providing uninterrupted data streaming for superior networking and broadband communications. StreamThru assists in making streaming video and audio smoother and jitter-free.

Unified Driver Architecture (UDA): Part of the NVIDIA Forceware unified software environment (USE). The NVIDIA UDA guarantees forward and backward compatibility with software drivers. Simplifies upgrading to a new NVIDIA product because all NVIDIA products work with the same driver software.
NVIDIA nTune Performance Application: Enables the easiest, safest, and highest performing overclocking available for NVIDIA nForce-based PCs. Performance wizards allow automatic tuning for the best performance or the quietest operation. Previously known as the NVIDIA System Utility.

USB 2.0: A standard plug and play interface providing easy-to-use connectivity for USB devices.

NVIDIA Firewall Technology: A high-performance, hardware-optimized firewall, NVIDIA Firewall protects your PC from intruders by filtering unauthorized traffic. Integrated into NVIDIA nForce3 and nForce2 MCPs with NVIDIA Gigabit Ethernet, it provides professional-grade traffic inspection capabilities, advanced management features--remote access, configuration, and monitoring--and is easy to use and setup via a user-friendly wizard.

NVIDIA nForce Networking: NVIDIA networking delivers the highest throughput for network transfers and lower CPU utilization. The manageable and stable NVIDIA networking solution results in better networking performance and a lower total cost of ownership.

NVIDIA ForceWare Unified Software Environment (USE): Ensures the best out-of-box experience for every user by delivering industry-leading features for graphics, audio, video, communications, storage, and security; one driver for all products; and continual performance and feature updates over the life of the product.
Serial ATA: Next-generation storage technology enables easy-to-install, high-performance, low-power hard drives.
- Full specifications
Based on the NVIDIA nForce 680i LT SLI Chipset
Supports Intel Core 2 Extreme, Intel Core 2 Quad, Intel Core 2 Duo, Pentium EE, and Pentium processors
1066/1333 Mhz Front Side Bus
Memory

4 x 240-pin DIMM sockets
Dual Channel DDR2
Maximum of 8GB of DDR2 533/667/800MHz SLI-Ready memory

Expansion Slot

2 x PCIe x16, 2 x PCIe x1, 2 x PCI
2 x 32-bit PCI, support for PCI 2.1

Storage I/O

1 x UltraDMA133
6 x Serial ATA 300MB/sec with support for RAID 0, RAID1, RAID 0+1
1 x Floppy disk drive connector

Integrated Peripherals

7.1 Channel, Azalia (HDA)
1 x 10/100/1000 LAN via

Multi I/O

1 x PS2 Keyboard
1 x PS2 Mouse
1 x Serial Ports
8 x USB2.0 ports (4 external + 4 internal headers)
Audio connector (Line-in, Line-out, MIC)

Form Factor

ATX Form Factor
Length: 12.0in - 304.8mm
Width: 9.6in - 243.6mm