4. BIOS
The BIOS is from Phoenix:
In the Advanced Chipset Features, we can control all the major configurations for the board:
First, let's take a look at the System Clocks:
Here you can set the CPU Multiplier and PCIe MHz speeds. Disabling Spread Spectrum will allow higher overclocking speeds. The next setting (FSB & Memory Config) is probably the most important, since from here you can control the FSB and memory speed/timings: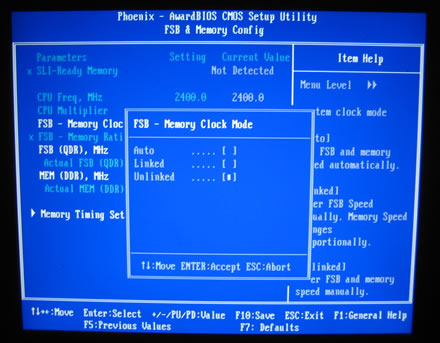 As with all 680i boards, the FSB and memory can work either linked or unlinked: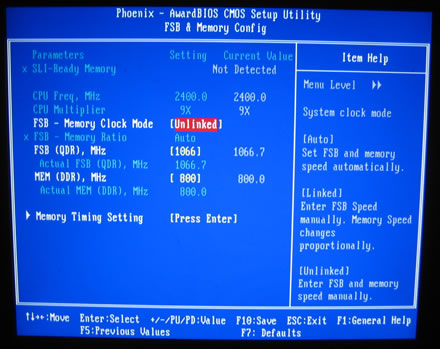 This allows very good control of overclocking, since for example, memory MHz could stay low (800MHz), while CPU FSB increases, independently. Auto mode usually selects "Safe" settings. You need to adjust them in order to get the maximum speed. If FSB and Memory work together, you can set the FSB:RAM ratio: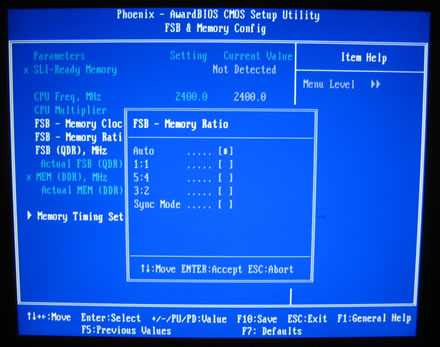 Each setting represents a different FSB:RAM ratio, so be careful what you select:
DDR2-533 (1:1)
DDR2-667 (4:5)
DDR2-800 (2:3)
In the memory timings sub-screen, we can set all known settings. Here, there are two options "Optimal (auto)" and "Expert (manual)":
Passing to the "CPU Configuration" screen, we can disable C1E:
Lastly, system voltages can either be set Auto or manual:
Memory, CPU, FSB and SPP voltages can be set according to the following table.
BIOS Setting
Feature:

CPU Clock Multiplier

Auto, 6x-11x in 1X increments

CPU bus frequency

Auto, 400 to 2500 QDR (100~625)
in 1MHz increments

CPU voltage

Auto, 0.80000V to 1.60000 in 0.00625V increments

DRAM voltage

Auto, 1.80V to 2.50 in .10V increments

PCI Express frequency

100MHz~200MHz in 1MHz Increments

NB voltage

Auto, 1.2V, 1.3V, 1.4V

FSB voltage

Auto, 1.2V, 1.3V, 1.4V
Compared to the standard 680i BIOS, the 680i LT cannot control HT and MCP voltages, while the FSB/NB voltages are limited to 1.4V. Hardware monitor is needed to see how hot your CPU runs:
What's rather inconvenient is the fact that the official EVGA flasher works only under DOS(!)