13. Conclusion
Testing for the first time an nVidia 680i LT based motherboard from EVGA, I was very curious to see how its performance would be compared with the Asus P5N32-E SLI, the only non-Nvidia designed 680i motherboard. As the results showed, the performance was very close to that of the P5N32-E SLI in our tests, and in some cases surpassed it. Very good news...
The EVGA 680i LT has some design differences with the EVGA 680i motherboard, which are described earlier in this review. For around $50 less, you get several fewer components (1x LAN, 8x USB2.0), less motherboard LEDs/buttons/cooling system and a different board colour. We didn't have any problem with the "reduced" features, although there are users complaining about the fewer overclocking features (less voltage settings). Of course, this is why Nvidia describes the 680i LT overclocking capabilities as "Great" vs the 680i as "Best". We haven't tested the EVGA 680i so we can't be sure about the difference in performance levels, but they should be close. This board supports all currently sold Intel processors for the 775 socket, Intel® Core™ 2 Duo/ Intel® Pentium® D/Intel® Pentium® 4/ Intel® Celeron® D processors.
The overall design of the board is good. There is plenty of free space around the CPU area, allowing you to install a larger fan. If you do decide to install a really big CPU heatsink (like Arctic Cooling Freezer 7 Pro), the Northbridge fan could be a problem. We had to unscrew it and move it over a bit so that the large fan could fit.
IDE, floppy and SATA connectors are present for HDD and optical storage devices. What we didn't like was the unusual placement of the front panel connections (on/off - reset, etc switches). We had to look for several minutes before we found them huddled close to the memory bank slots. In fact, it is a good idea to make the connections before inserting the memory modules.
The additional power input on the board will help system stability in case of a SLI setup.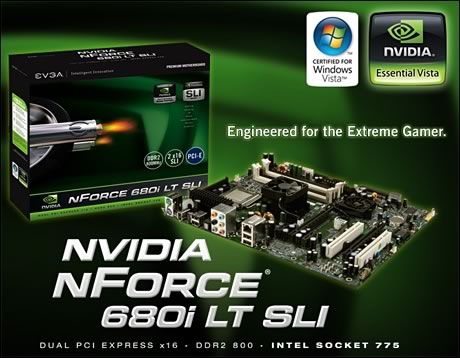 The board proved to be very overclockable, with auto settings. We managed to get and additional 1GHz when overclocking our stock Intel E6600 (2.4GHz), without modifying any options in the BIOS. The Auto settings worked very well, but remember you need a better cooling system to keep your system stable at those high speeds. We reached a top roof of FSB 415MHz but other reviewers have reported up to ~500FSB, so you shouldn't have any complains when it comes to the overclocking capabilities. There are several BIOS settings missing, mainly in the voltage settings, that could further help stability...
Ending our presentation, we can say that this board is a good choice for medium level users who want to overclock C2D processors. With auto settings, everything will work beautifully and with the proper cooling system, you could reach high CPU speeds. The retail price of US$210 is not that low, since for the same amount you can buy an Asus P5N32-E SLI, which offers better on-board ports/features and similar performance. Of course, if you can spend the additional $50, you could always get the EVGA 680i board which is more ideal for a power user's needs.
- The Good
Very good performance in almost all tests
Very good overclocking capabilities
Complete ports/features for the price
Nvidia nTune can be used to control most motherboard features
- The Bad
Retail price could be lower since it is the same as with Asus P5N32-E SLI
Air cooling system produces noise
Placement of front panel on/off/reset headers is very unusual and not practical
Several missing BIOS features are missing (Voltage controls compared with 680i version)