2. Benchmarks
- Tests
Corsair's PC2-4200 and PC2-5400 memory kits were tested in an ASUS A6JA. There were no incompatibility problems, either when installed alone or in combination with other 1GB DDR2-533/667 memory modules. All tests were performed under the same environment, using the same benchmark utilities. For comparison, we have included the results for 1GB Nanya DDR2-533 and 1GB OCZ DDR2-667 memory modules, as well as of course combinations of 2GB DDR2-533 and 2GB DDR2-667Mhz memory.
- Benchmark Software

In PC Mark 05, the 1GB Corsair PC2-4200 and PC2-5400 performed well but didn't quite make it into first place. The best performance was with the 2GB PC2-5400 module.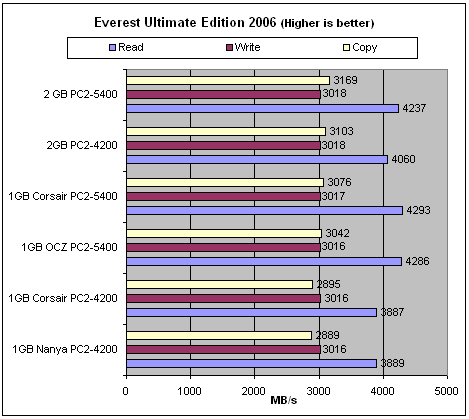 Everest Ultimate Edition 2006 offers many tests, including read/write/copy and latency. The Corsair PC2-5400 is faster than its rival OCZ module overall. Breaking it down however, we see that there's really no difference in the writing performance between any of the modules, while in reading, the 1 GB modules are better. Finally, copying puts them in order with the 2 GB modules on top, then 1 GB 5400 and lastly, 1 GB 4200.
Performance Test 6 includes a MemoryMark that shows the memory's overall performance. The best results came with the 2GB PC2-5400, while Corsair's 1 GB PC2-4200 was slightly faster than the 1 GB PC2-5400, probably due to its lower timings (CL4 vs CL5).

RightMark offers quite a bit of information about memory modules, combined with the tests. In the synthetic tests, the OCZ PC2-5400 produced the highest reading throughput, while the 2GB PC2-5400 had the highest writing throughput. Both Corsair modules are somewhat slower than their rivals, but with a very small performance gap.

The same trend appears in at the Performance Tests. The OCZ module had better performance than its Corsair counterpart, while the 2GB PC2-5400 module produced the highest score overall.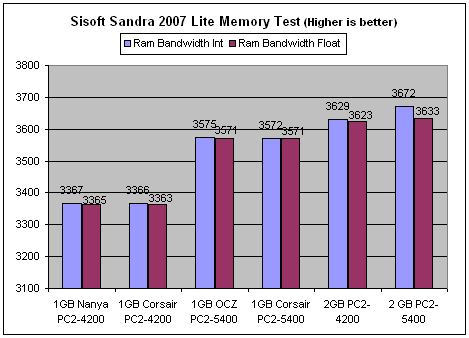 Sisoft Sandra 2007 Lite is the latest version of the famous benchmarking software. In the Memory bandwidth test, both the OCZ and Corsair modules showed similar performance, while Nanya's PC2-4200 produced slight better performance than the Corsair PC2-4200. Again, the best results come with the 2GB DDR2-667Mhz modules.
SuperPI is the best known utility to test the limits of a CPUs and test its overall performance. As the results showed, the performance when calculating 2M of Pi numbers, are very close with the 2GB of memory modules being 2secs faster overall.
- Gaming Performance
F.E.A.R has one of the most demanding graphics engines. With maximum quality settings, all memory configurations showed equal performance (22FPS average). No difference between the 1GB or 2GB setup.

Same results were also reported with Heroes of Might And Magic V (v1.1). Using FRAPS, we got an average of 19 fps, at 1280x800 resolution with best quality settings and 4x FSAA, 16x anisotropic filtering.