Corsair at Computex 2014
Corsair's new products showcased at the company' s both at Computex 2014 in Taipei include the Cherry MX RGB gaming keyboards, the Corsair Hydro Series HG10 cooling bracket for graphics cards, three new PC cases, the Voyager Air 2 wireless drive, the Flash Voyager GTX USB flash drive and the Corsair HXi Series PSUs. The new HXi Series PC power supply is available in 750, 850, and 1000 watt models and feature 80 PLUS Platinum efficiency, fully modular cables, silent operation, Japanese electrolytic capacitors, and Corsair software monitoring and customization.
The PSUs are achieving greater than 92% energy efficiency. A Zero-RPM Fan Mode only spins the PSU fan under the heaviest loadsfor low noise operation. Within, a 140mm fluid dynamic bearing fan runs quietly at all speeds for additional cooling.
Lastly, Corsair Link software provides enthusiasts real-time temperature, power usage, efficiency monitoring, and selectable single/multi rail mode straight from the desktop.
Specifications
80 PLUS Platinum efficiency
Fully modular DC cable set
100% Japanese electrolytic capacitors rated at 105°c
Zero-RPM fan mode for virtually silent operation at low and medium loads
Corsair Link support for monitoring efficiency, voltages, power output, temperature, and fan speed plus user customizable setting of rail modes and fan speed.
Fluid dynamic bearing fan
Continuous power rated at 50° Celsius
HX750i 750 watt: $169.99
HX850i 850 watt: $189.99
HX1000i 1000 watt: $229.99
The HXi Series PSUs are backed by a seven-year warranty and will be available in August 2014.
Corsair's Hydro Series HG10 GPU cooling bracket is a new accessory that gives gamers the opportunity to replace a stock graphics card cooler with any of Corsair's Hydro Series liquid CPU coolers. According to Corsair, the upgrade reduces GPU temperatures by as much as 50°C (122F), cutting down on droning fan noise, reducing GPU throttling, and boosting overclocking potential. In conjunction with the new HG10, Corsair also premiered new LED-infused versions of its Air Series SP120 and SP140 static pressure fans in five colors — red, white, blue, green, or purple.
The HG10 offers full coverage for compatible reference-design GPUs, meaning it's not just cooling your GPU itself, but the red-hot VRMs and VRAM on your card. After installing the HG10 GPU bracket, a PC enthusiast can mount any Corsair Hydro Series liquid CPU cooler (available separately) to chill their graphics card's GPU (up to 50°C) and VRM/VRAM (up to 25°C) lower than stock temperatures.
The HG10 re-uses the stock cooler's radial fan, ensuring consistent airflow over the graphics card's memory and power circuitry while maintaining compatibility with the GPU's built-in fan control circuitry.
The HG10 is priced at $39.99 and available in several editions designed for specific AMD and NVIDIA graphics cards layouts. The first available edition - due in June - supports the AMD 290x/290 reference cards. Future versions for NVIDIA and other AMD cards arrive later this year.
Construction
Black anodized aluminum with opaque black ABS shroud
Compatible liquid coolers: Corsair Hydro Series H110, H105, H100i, H100, H80i, H80, H75, H60, H55
HG10 Editions and supported graphics cards:

HG10 A1 Edition - AMD Radeon™ R9 290X/290 reference cards
HG10 N1 Edition - NVIDIA GeForce® Titan, 780 Ti, 780, 770 (coming Q3)


Warranty: 2 years
Price: $39.99

The Air Series SP120 LED and SP140 LED fans incorporate the same design of Corsair's SP series fans – a design that utilizes seven wide, custom-molded blades. Rubber mounts and hydraulic bearings deliver cooling with low vibration, noise, and turbulence. These new LED fans are available in 120mm and 140mm sizes with red, white, blue, green, or purple LED lighting which illuminate the clear-frosted blades with four LEDs.
Air Series SP120 LED
MSRP: $12.99 single pack / $23.99 double pack
Size: 120 mm x 25 mm
Operating Voltage: 7-12V
Airflow: 57.24 CFM
Static Pressure: 1.6 mm/H20
RPM: 1550
Sound level: 26.4 dBA
Connector: 3-pin
Air Series SP140 LED
MSRP: $15.99 single pack / $29.99 double pack
Size: 140 mm x 25 mm
Operating Voltage: 7-12V
Airflow: 49.49 CFM
Static Pressure: 1.17 mm/H20
RPM: 1440
Sound level: 29.3 dBA
Connector: 3-pin
Corsair's three new PC cases -- the Carbide Series Air 240 for mini-ITX, Graphite Series 780T full-tower, and the portable Graphite Series 380T mini-ITX -- feature sleek design, space for large components (such as 240mm watercooling radiators and a full-length graphics card), and a range of extras.
The Carbide Series Air 240 is mini PC case with a cube-shaped chassis. It comes in either black or white colors, complete with side-window, and optimized for powerful air or water cooling configurations (including room for a 240mm radiator or two) without sacrificing space for a full-size graphics card. It will be available in for $90 - $100.

Corsair's Direct Airflow Pathway Cooling layout and three included AF120 fans guide cool air to your PC's hottest components. Meanwhile, hard disk drives and the power supply stay tucked away behind the motherboard out of sight. Cable routing options hide airflow-restricting cables and provide easy connectivity with front panel USB 3.0 ports.
The Graphite Series 780T is a Full-Tower PC case, available in black or white. The latched side window panel reveals the interior with enough room to accommodate dual 360mm watercooling radiators, nine expansion slots and up to nine hard drives. Lastly, a three-mode built-in fan controller lets you to fine-tune the airflow potential of the three included Corsair AF-140 140mm fans.
The Graphite Series 780T will be released in September for $180 - $190.
The portable Graphite Series 380T comes with an integrated carry handle and multiple color options. The mini-ITX case has a windowed side panel. It accommodates up to four 3.5in/2.5in drives and a full-length graphics card. There's also a host of cooling options that belie the 380T's small size; fit up to five fans or a 240mm watercooling radiator such as Corsair's H100i. A Corsair AF-140 140mm and AF120 120mm fan are included, and an integrated three-speed fan controller allows you to set your own the priority between cooling and silence.
It will retail in August for $130.
The Voyager Air 2 is a palm-sized, wireless hard drive that adds 1TB of storage to your iPad, iPhone, Android device, PC, or Mac. For ultimate mobility, a rechargeable lithium-ion battery provides up to seven hours of video streaming between recharges.
The latest second-gen drive uses new Voyager Air 2.0 software, which adds new features to the Voyager Air product family, including: simplified media browsing, cloud synchronization with Dropbox and Google Drive, and Airplay streaming to Apple TV.
The drive is a self-contained streaming media server with a wireless hub built-in, so it can wirelessly stream digital content to other playback devices directly with no Internet connection required. Media can be played with the free Voyager Air app for Android, Apple iOS, and Amazon Kindle Fire devices, or through a web browser. The drive can also be connected wirelessly to a home network for easy access to media from DLNA-compatible smart TVs. Plus full Airplay compatibility allows convenient streaming to big screen TVs via an Apple TV. Voyager Air 2 provides 802.11n/b/g Wi-Fi connections for multiple users at ranges up to 90 feet, and can stream 720p high-definition video to up to five devices at once.
Voyager Air 2 is also cloud friendly, as it synchronizes with your Dropbox or Google Drive folders, making the content available offline anywhere you go.
Voyager Air 2 also functions as a USB 3.0 drive, compatible with USB 2.0 connections as well. It comes ready to use in Windows format (NTFS), but Mac users can reformat to HFS+ for Time Machine compatibility.
Voyager Air 2 will be available beginning in June. Suggested retail pricing is $179.99 USD.
The new Flash Voyager GTX USB 3.0 flash drive will be available in 256GB and 128GB capacities. It is the fastest USB flash drive Corsair has ever produced, offering peak transfer speeds of up to 450MB/sec read and 350MB/sec write.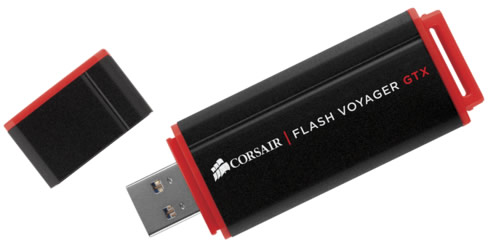 The Flash Voyager GTX boasts the inner technologies of an SSD that will keep the drive operating at peak performance for years to come. USB Attached SCSI and S.M.A.R.T. monitoring ensure fast, error-free transfers of large video music and photo collections, while TRIM support curbs degradation so the Flash Voyager GTX retains its performance, even after extended heavy use. Compatible with both USB 3.0 and USB 2.0, the Flash Voyager GTX works on Microsoft Windows, Mac OS X, and Linux with no additional software required.
The Flash Voyager GTX flash drives will be available in July and come backed with a five-year warranty.
Suggested retail pricing is as follows:
Flash Voyager GTX 128GB: $119.99 USD
Flash Voyager GTX 256GB: $199.99 USD
Last but not least, the K95 RGB and K70 RGB mechanical gaming keyboards, plus a M65 RGB gaming mouse, are making their debut at Computex. The new keyboards are the first featuring the high-precision German-made Cherry MX RGB key switches.
Editing software enables creation of lighting effects and macros, from colors that can highlight key groupings, to gradients and ripple patterns that can provide a visual cue that a macro or in-game timer has completed. In addition, program effects such as background, foreground, action, and type lighting to run concurrently with up to ten levels of brightness.
Corsair brings 16.8 million color lighting to the new K95 RGB keyboard. Equipped with Cherry MX RGB red mechanical keyswitches, the K95 RGB is precise, housed in a brushed black anodized aluminum chassis. It can be programmed with up to 108 macros, presets or key combinations on its 18 dedicated G-Keys. The K95 RGB also features dedicated media keys as well as a 100% anti-ghosted matrix, full key rollover and a 1000Hz reporting rate for fast input for gaming. It will be available in late August for $190 (MSRP).
The new K70 RGB keyboard incorporates the same 16.8 million color backlit Cherry MX RGB red keyswitches found in the K95 RGB, but with a more traditional layout that omits the bank of macro-keys. It offers the same custom lighting and control as the K95. Dedicated media keys as well as a 100% anti-ghosted matrix, full key rollover and a 1000Hz reporting rate all combine for accurate input for gaming.
The K70 RGB keyboard will be avaiable late July for $170 MSRP.

The M65 RGB gaming mouse – available in black or white - has built-in three zone 16.8 million color backlighting. Housed in an aluminum unibody shell, the 8,200 DPI gaming-grade laser sensor helps gamers make all the right moves.

Backed by a 2 year-warranty, the mouse will retail in late August for $70 MSRP.