Computex: Dell Announces New Inspiron 2-in-1,Venue Tablets and All-in-One PCs
Dell is announcing the Inspiron 11 3000 and the Inspiron 13 7000 series 2-in-1 PCs today that feature a 360 degree rotation between laptop, easel, tent, and tablet modes -- coming in Windows 8 and Ubuntu OS versions. The company also debuts the new Dell Venue 7 and Venue 8 tablets, the Inspiron 20 3000 Series AIO, and has made available the new Dell UltraSharp UZ2715H, UZ2315H, and UZ2215H Multimedia Monitors. The PC maker is offering Ubuntu as an OS option alongside Windows 8 on its new hybrids. The latest Ubuntu 14.04 LTS is the first version of the OS that has an interface for desktops and tablets in a single package, much like Windows 8. Users can select a desktop interface or a touch UI called Unity 8 for tablets.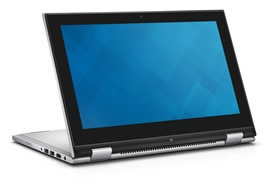 The Inspiron 11 3000 Series 2-in-1 has an 11-inch, 10-finger capacitive touch edge-to-edge display with wide viewing angles. The screen can display images at a 1366 x 768 pixel resolution, which is standard in most budget laptops and hybrids today. It has one USB 3.0 port, a 500GB hard drive and 4GB of memory. It also comes with 500GB of storage, weighs roughly 1.39 kilograms, offers up to a little over 8 hours of battery life and is powered by the low-end Celeron and Pentium processors, which are based on the Bay Trail architecture. Audio quality is enhanced by Waves MAXXAudio technology.
The Inspiron 13 7000 Series 2-in-1 is a step up from the Inspiron 11 3000 Series with a 13.3-inch 10-finger capacitive touchscreen display with up to Full HD resolution. It comes powered by Intel's Core i3 and i5 processors based on the latest Haswell microarchitecture, has a backlit keyboard, and a built-in passive stylus. It is 1.66 kilograms, and is available with an optional high-definition screen that can display images at a 1920 x 1080 pixel resolution. The PC has two USB 3.0 ports, a 500GB hard drive and up to 8GB of memory.
The Inspiron 13 7000 Series 2-in-1 will be available in starting in September.
Both hybrids also feature a basic webcam, an HDMI 1.4a port and a media card reader. Users can select Dell's standard b/g/n Wi-Fi or Intel's 802.11ac Wi-Fi module for wireless networking.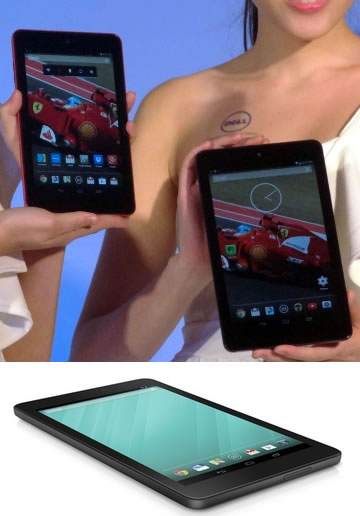 Dell wants to differentiate with the relese of the $199 Venue 8 tablet, which is based on the Android OS and has new features like wireless charging and a full high-definition screen.
The new Android 4.4 tablet also has the latest 802.11ac Wi-Fi and a 2-megapixel front camera and a 5-megapixel rear camera. It can be docked to a pad for wireless charging. Also getting a feature upgrade is the $159 Venue 7, which has 802.11ac Wi-Fi and a 1280 x 800-pixel screen. But the 7-inch tablet won't have wireless charging.
The tablets will also have longer battery life of up to 10 hours and are among the first with Intel's new Atom processor code-named Merrifield, which was originally built for smartphones. Other features in both tablets include 16GB of flash storage, 1GB of RAM and Bluetooth 4.0.
The Venue 8 weighs 338 grams and is 8.95 millimeters thick. It has a 1920 x 1200-pixel screen, and will come with a stylus.
The Venue 7 is 290 grams and also 8.95 millimeters thick. It has a new MaxxAudio speaker for better sound.
The Venue tablets will ship in July. Dell also plans to release speakers, Bluetooth keyboards, Bluetooth portable speakers and cases later this year.
Dell is also announcing a new entry-level Inspiron All-in-One PC – the Inspiron 20 3000 Series. The Inspiron 20 3000 Series All-in-One has a thin and lightweight design with an adjustable A-frame stand for multiple viewing options. It has a 19.5-inch HD display (no touchscreen, 1600x900 pixels resolution) , comes powered with up to Intel Pentium quad core processors, and premium speakers with Waves MAXXAudio and an integrated sub-woofer. A touchscreen will be available as an upgrade, as well as a quad-core Intel Pentium N3530 CPU.
The Inspiron 20 3000 series will come with 500GB of storage and either 2GB or 4GB of DDR3L/1600 memory . I/O ports include HDMI-in, three USB 3.0 ports, 10/100 ethernet, and a media-card reader. Wireless networking will be limited to 1x1 802.11n, plus Bluetooth. It goes on sale July 1. Dell' s decision to install Windows 8.1 with Bing helped the company deliver an all-in-one for just $350.
Additionally, Dell is also announcing new 27-inch, 23-inch, and 21.5-inch Dell UltraSharp monitors. These new monitors feature Full HD screen resolution and an ultra-wide 178 degree viewing angle. They are also optimized for Microsoft Lync through their built-in 2 megapixel Full HD webcams built-in mics with echo cancellation.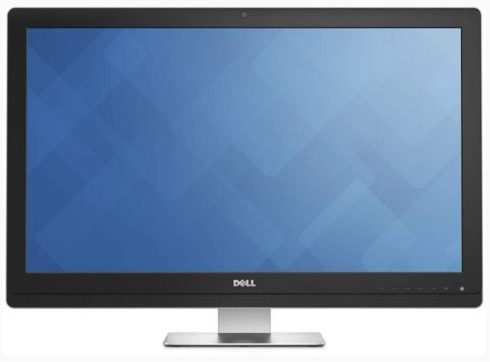 These new UltraSharp monitors will be available from June 3rd on Dell.com starting at $449.99 for the 27-inch model (UZ2715H); $299.99 for the 23-inch model (UZ2315H); and $269.99 for the 21.5-inch model (UZ2215H).