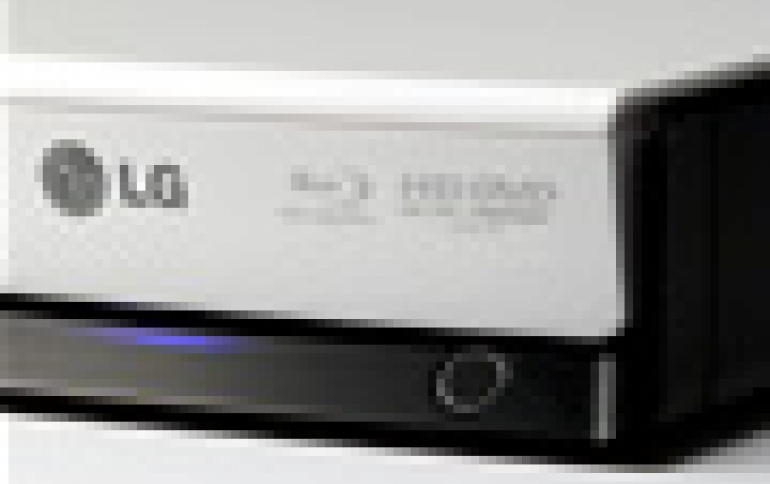 CeBIT 08: LG Showcases New External Blu-ray Burner
LG's LG BE06LU hybrid (Blu-ray/HD DVD) drive is on display at CeBIT 08, offering 6x recording for Blu-ray and HD DVD reading. The external drive comes in a stylish black and white case and offers 6x burning for single layer BD-R discs and 2x for BD-RE (SL&DL). The Korean company continues its support for HD DVD, offering 3x reading for HD DVD-ROM. The specifications also include writing/reading for the DVD-RAM, DVD and legacy CD format.
Lightscribe disc labeling technology is also provided.
The LG BE06LU is currently available in Europe for around €400.
Specifications:
Read:
BD-ROM (SL) 6x max.
BD-ROM (DL) 4.8 max.
BD-R (SL) 6x max.
BD-R(DL)/BD-RE(SL/DL) 4.8x max./ 2x/2x max
HD-DVD ROM (SL) 3x max.
HD-DVD ROM (DL) 3x max.
DVD-ROM (Single/Dual) 16x/8x max.
DVD-R/RW/Dual 12x/10x/8x max
DVD-Video (CSS) 8x max. (Single/Duall.)
DVD+R/+RW/Double 12x/10x/8x max
CD-R/RW/ROM 40x/40x/40x max.
CD-DA (DAE) 40x max.
Write:
BD-R (SL) 6x
BD-R(DL)/BD-RE(SL/DL) 4x/ 2x/2x
DVD-R 2x, 4x, 8x, 16x
DVD-R Dual Layer 2x, 4x CLV
DVD-RW 1x, 2x, 4x, 6x ZCLV
DVD-RAM 5x
DVD+R 2.4x, 4x, 8x, 16x
DVD+R Double Layer 2.4x, 4x CLV
DVD+RW 2.4x, 4x, 6x, 8x ZCLV
CD-R 10x, 16x, 40x
CD-RW 4x, 10x, 16x, 24x