be quiet! mc1 and mc1 pro
1. Introduction / Retail Package
High-speed NVME drives, especially the PCIe Gen4 do produce a lot of heat. The need for proper cooling introduced NVME coolers and be quiet!, a respectable manufacturer of premium PC components, announced two products that aim to cover those needs, the MC1 and MC1 Pro M.2 SSD cooler. That kind of NVME cooler can also be used in today's fast gaming consoles, like the PlayStation5 SSD expansion slot.
MC1 is the small M.2 SSD cooler series by being quiet! that supports M2280 NVME SSDs and also has support for the Playstation 5 gaming console. The MC1 Pro is its big brother with much bigger cooling abilities and supports mostly for PC use.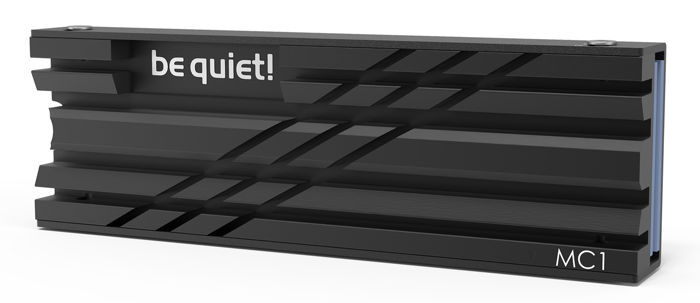 Both products feature high cooling performance with integrated heat pipes, enabling maximum read/write speed for an extended timespan. Both products support either single and/or double-sided M.2 2280 modules and 3 years of warranty. Both products has an All-black finish for an elegant look.
- Retail package
Both products come in a similar carton small box. The design is very minimal with the be quiet! logo at the top right area, and the product logo at the center.
opening the boxes unveil its contents, which are more or less the same, a printed manual, and the main product that has two parts, four screws, and one small Philips screw driver.
The MC1 product is the smaller one with a 1cm heigh, 2.4cm width, and 7.5cm length. Both parts have pre-applied thermal pads that are protected.

The MC1 pro has similar contents
however, it's much bigger at its size, mostly at the height with a bigger heatsink.

Below you can see their differences in height that also will be present during the thermal testing.
Installing an NVME isn't very hard, just remove the protective sleeve and place the NVME at the bottom plate and then place the top and screw the four Philips mini screws. be quiet! has included a mini screwdriver for that purpose.