1. Introduction

Asus, as an innovative manufacturer of PC peripherals, decided to enter a rather unusual arena when it announced a line of new sound cards. As we all know, this territory has been "dominated" by Creative Labs with their famous SoundBlaster series, while almost all currently sold motherboards support up to 7.1 surround sound. The Asus Xonar D2 comes with good specifications, but it not only has to compete with the already established "SoundBlaster" series, but also many professional sound cards in this category.
So what can we expect from the Asus Xonar D2?
- Asus Xonar D2
The ASUS Xonar D2 audio card series was announced at this year's (2007) Computex Taiwan. The Xonar D2 7.1-channel audio card made an impact among users and the press, since another company, besides Creative Labs, has decided to enter this rather "difficult" market.
Asus uses its own design, based on the AV200 audio chip, which, according to Asus "...not only provides unprecedented sound quality on PC platform, but also integrates multiple sound-enhancing technologies from Dolby® and DTS to transform almost any PC into a high-quality digital home media center..."
The ASUS Xonar D2 features a signal- to-noise ratio (SNR) of 118 db for both audio in and out—reaching the limit of audio quality on most PC platforms. Unlike generic sound cards on the market that provide the highest SNR to only the front stereo outputs, the Xonar D2 is able to deliver 118 db quality audio for all 7.1 channels.
Apart from delivering impressive audio quality, the Xonar D2 is also packed with multiple sound technologies from Dolby and DTS to deliver outstanding entertainment experiences. These include Dolby Digital Live, which converts PC or game audio content real-time into Dolby Digital; Dolby Headphone, which creates an entertaining surround sound listening experience using any set of headphones; Dolby Virtual Speaker, which delivers a vibrant surround sound listening experience from stereo speakers and Dolby Pro Logic® IIx, which creates up to 7.1-channel surround from stereo or 5.1 sources as well as DTS Interactive for real time AC-3 encoding and DTS NEP: PC stereo to multi-channel expander.
"As users increasingly use their PCs to enjoy music, movies, and gaming, great audio is key to delivering an outstanding entertainment experience," said Greg Rodehau, PC Market Segment Director, Dolby Laboratories. "The ASUS Xonar D2 sound card delivers a powerful suite of Dolby technologies that create highly immersive listening environments from virtually any content or playback device being used."
The technologies onboard the Xonar D2 deliver outstanding game audio quality and 3D positioning in PC 3D games. DirectX technology specifies and creates 3D positions of sounds around the player for 4, 5.1, or 7.1 speaker configurations.
The Xonar D2 also comes with a special application called "Portable Media Processor". This application works with the onboard ALT (Analog Loopback Transformation) circuit to provide almost lossless analog recording audio quality from digital music files.
To sum up, the ASUS Xonar D2 is a new generation audio card that focuses on providing audio lovers with truly high end audio quality, for gamers the best 3D positioning sound effects, and adds more value for everyone who wants to have better music experience on the go.
- Features
The main features are:
Unprecedented SNR Up to 118db reaching the limit of PC sound clarity
High-definition audio processing at 192KHz/24Bit for all Input and outputs
Versatile Dolby/DTS Audio Technologies for Game, Music, and Video
Accurate 3D sound positioning and hardware acceleration for PC gaming
Legally backup your digital music with Dolby Headphone or Dolby Virtual Speaker effects added
Real-time DDL and DTS Connect encoders for amazing gaming and surround sounds over your Home Theater System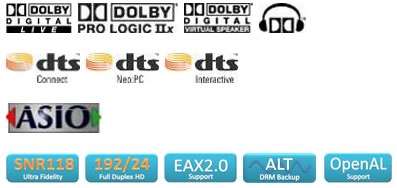 - Full specifications
Audio Performance

Output Signal-to-Noise Ratio (A-Weighted):
118 dB

Input Signal-to-Noise Ratio (A-Weighted):
118 dB

Output THD+N at 1kHz:
0.0004% (-108dB)

Input THD+N at 1kHz:
0.0004% (-108dB)

Frequency Response (-3dB, 24-bit/96kHz input):
<10Hz to 46kHz (for all channels)

Frequency Response (-3dB, 24-bit/192kHz input):
<10Hz to 90kHz (for all channels)

Output/Input Full-Scale Voltage
2 Vrms (5.65 Vp-p)

Sample Rate Conversion Quality:
Almost lossless, high-fidelity floating-point filters, which has:
-140dB THD+N (typical value for 44.1K->48KHz, 24bit)
-145dB Dynamic Range (typical value for 44.1K->48KHz, 24bit)



Main Chipset

Audio Processor:
ASUS AV200 High-Definition Sound Processor (Max. 192KHz/24bit)

24-bit D-A Converter of Digital Sources:
Burr-Brown PCM1796 *4 (123dB SNR, Max. 192kHz/24bit)

24-bit A-D Converter for Analog Inputs:
Cirrus-Logic CS5381* 1 (120dB SNR, Max. 192kHz/24bit)



Sample Rate and Resolution

Analog Playback Sample Rate and Resolution:
44.1K/48K/96K/192KHz @ 16/24bit

Analog Recording Sample Rate and Resolution:
44.1K/48K/96K/192KHz @ 16/24bit

S/PDIF Digital Output:
44.1K/48K/96K/192KHz @ 16/24bit ,Dolby Digital, DTS, WMA-Pro

S/PDIF Digital Input:
44.1K/48K/96K/192KHz @ 16/24bit

ASIO 2.0 Driver Support:
44.1K/48K/96K/192KHz @ 16/24bit



I/O Ports

Analog Output Jack:
3.50mm mini jack *4 (Front/Side/Center-Subwoofer/Back)

Analog Input Jack:
3.50mm mini jack *2 (Line-In/Mic-In)

Other line-level analog input (for CD-IN/TV Tuner):
CD-In, Aux-In (4-pin header on the card)

Digital S/PDIF Output:
Coaxial and High-bandwidth Optical Combo Connector
Supports 192KHz/24bit

Digital S/PDIF Input:
Coaxial and High-bandwidth Optical Combo Connector
Supports 192KHz/24bit

MIDI Ports:
Additional MPU-401 MIDI I/O bracket and converter cable



Driver Features

Operation System:
Windows Vista/XP(32/64bit)/MCE2005

Dolby® Technologies:
Dolby® Headphone, Dolby® Virtual Speaker, Dolby® Pro-Logic IIx, Dolby® Digital Live

DTS® Technologies:
DTS® Connect (DTS Interactive Encoder and DTS Neo:PC)

Smart Volume Normalizer™:
Normalizes the volume of all audio sources into a constant level

Xear 3D™ Virtual Speaker Shifter:
Virtual 7.1 speaker positioning

Magic Voice™:
Modifies the sound of your voice, for VOIP and online chat applications (Windows XP)

Karaoke Functions:
Music Key-Shifting and Microphone Echo effects (Windows XP)

FlexBass™:
Professional Bass Management/Enhancement system

Other Effects:
10-band Equalizer/27 Environment Effects

3D Sound Engines/APIs:
EAX®2.0&1.0, A3D® 1.0, DirectSound® HW & SW

DirectX:
DirectX 9.0 or above required for 7.1ch output



Bundled Software Utility

Portable Music Processor utility:
Backup digital music content or CD audio into regular MP3/WMA files with Dolby Headphone, Dolby Virtual Speaker (w/ Pro-Logic II), and Smart Volume Normalization processing (Windows Media Player 10 or above is required)

Professional Audio Editing Utility:
1. Ableton Live Lite
2. Cakewalk Production Plus Pack (SONAR LE, Dimension LE, and Project5 LE)

PowerDVD 7.0:
Software DVD player with Dolby Digital 5.1 decoder



Accessories

Accessories:
-3.5mm-to-RCA adaptor cable *4 (8ch)
-S/PDIF optical adaptors *2
-S/PDIF optical cable *1
-Additional MIDI card, cable, and external standard MIDI adaptor Y cable *1
-Dolby Demo CD