10. Comparison Tests 24bit

Asus' first attempt in the sound card arena comes in the form of the "Xonar D2". The model comes either in PCI or PCI-E support. In our review, we examined the Xonar D2 PCI version. The ASUS Xonar D2 features a signal- to-noise ratio (SNR) of 118 db for both audio in and out and for all 7.1 channels. Pretty impressive numbers if you ask me.
The Asus Xonar D2 has a good retail package. The drivers work and ASIO mode didn't present any problems. The included Asus PMP software will encode WMA/MP3 files at blazing fast speeds and there are Ableton Live! Lite and several Cakewalk software packages bulked in. Of course, power users will prefer the full retail versions, but they come at a price.
The design of the card is very good. All outputs light up, which can look quite impressive under night conditions, although we didn't find the particular feature very useful. What we noticed is that the card runs very hot, with the external metal shell working like a cooler. There are many cables included in the retail package.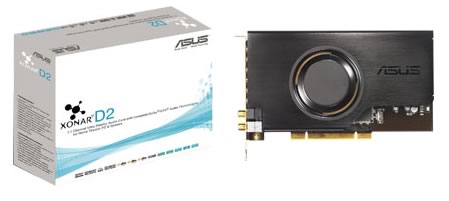 After running several with RightMark Audio Analyzer and in comparison with the on-board sound card of the Asus P5K3 Deluxe (SoundMax based), we saw that the Asus Xonar D2 was much better in all possible bitrates and frequencies. The card had much lower noise and better dynamic range. The recent driver update solved some issues we had with the driver that comes with the driver CD. The card now gets an "Excellent" rating in almost all RightMark Audio Analyzer 6.0.5 tests, whether in 16 or 24 bits.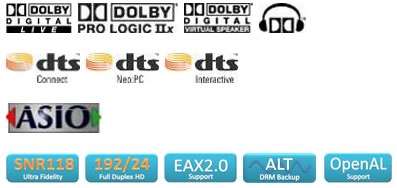 Unfortunately, we didn't have in our labs other PCI based sound cards to examine and directly compare against. Despite the fact that the RightMark Audio Analyzer gives some indication, professional users will test the card's limits and strengths under real life applications. The card supports ASIO and several Dolby Digital modes which are useful for gamers also. EAX2.0 support is present, but it doesn't support EAX HD mode, only the latest Creative Labs cards support this mode.
Concluding this review, we are not very sure whether we should or should not recommend this sound card to anyone. Before jumping to any conclusions, let me explain. The Asus Xonar D2 costs somewhere in the vicinity of €170. Most currently sold motherboards already have on-board Audio chipsets that support HD content. Ordinary users will most probably not "hear the difference", especially with 2 speaker setups. I assume that 5.1 or even 7.1 users that have spent more money on speakers will hear a difference, since the Asus Xonar D2 has much lower noise than on-board Audio chipsets. But if you can afford the €170, give the Asus Xonar D2 a look.
For the more professional users, there are a number of other options, either from Creative Labs or some very respectable companies in the field like M-Audio, Terratec, Roland, ESI, et al. But since we haven't tested any other cards, we cannot be sure about their comparative performance. :-)
Positive
Very good external design
All input ports are backlit
Full support with WDM and ASIO drivers
Included Asus PMP encodes blazing fast to WMA/MP3
Fully Dolby certified sound card
Windows control panel looks stable and complete
ASIO drivers have low, 2ms latency
No major problems detected during our tests, very stable
Very good-to-Excellent test results with RMAA testing suite
Complete retail package with many cables and MIDI daughter card
Negative
High retail price
Black metallic shell on the card runs very HOT