14. Overclocking
No matter your graphics card, there comes a time in your computer's life when it can no longer cope with the latest technological demands the ever so popular games impose. This is one of the main reasons for overclocking your graphics card. Gamers are always looking forward to a little extra boost in terms of framerate. Even though most of the time the boost is far from noticeable, overclocking remains the last resort when you can't afford to buy a brand new VGA card.
The ASUS EN7800 GT TOP SILENT comes already stock overclocked. The default running frequencies for the 7800 GT series cards are 400MHz core clock and 1.0GHz memory clock. But the default core and memory clock for the EN7800 GT Edition are set to 420MHz and 1.24GHz respectively.
In order to measure the temperature, we left the PC on, without running any tasks. The temperature reported was 60 °C, which is close to typical temperature that we had seen with other cards, even cards that use a fan cooling system. During the 3DMark05 benchmarks, the temperature rose to 80 °C, with the default clock speeds.
| | |
| --- | --- |
| | |
| IDLE temperature | Gaming temperature |
We overclocked the card and ran some tests to see how far we could go, and we managed to get a stable system running at 458MHz core clock and 1.31GHz memory clock. This might not seem like much, but the default frequencies for this card are already high (420MHz/1.24GHz), and it is a significant increase when we consider that this card uses a passive cooling system. You could probably squeeze a few more MHz out of the card with better air-flow in the PC case, but remember, overclocking to the absolute limits also shortens the lifespan of you card.
During gaming, the card reached 80 °C, while overclocking with no artifacts or screen distortions of any kind, the temperature level rose to 92 °C. We do not recommend overclocking this card, unless you have very good air-flow in your system. While we had no problems, even at 92 °C, ours was only a short duration test. Running the card on a daily basis at that temperature is far from ideal.
Overclocked
3D Mark05 temperature
Let's see if we achieved any differences in performance.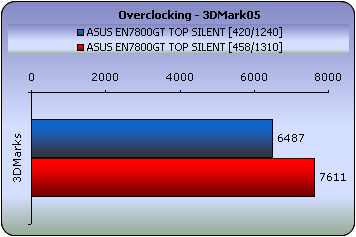 The boost after overclocking in both 3D marks was significant...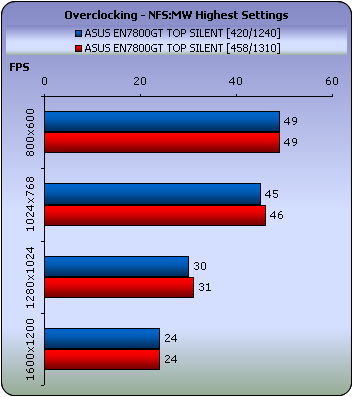 However, in NFS MW overclocking didn't impact on the game...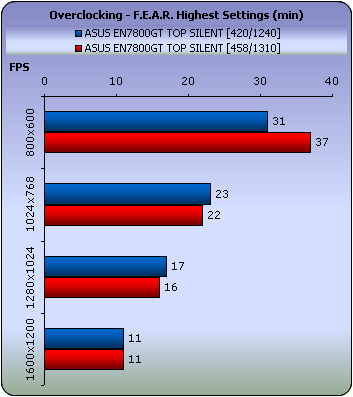 Little change here as well.