3. Asus EAX1650XT
Asus presents its version for the X1650XT platform with the EAX1650XT. The ASUS EAX1650XT/2DHT/256M and ASUS EAX1650XT CrossFire/2DHT/256M are both equipped with exclusive ASUS innovations and the ATI RADEON® X1650XT GPU. With the powerful ATI RADEON® X1650XT GPU, the ASUS EAX1650XT supports the finest in graphics technology, including CrossFire™ Ready multi-GPU technology, Ultra-Threaded and Shader Engine. Combined with unique ASUS innovations such as SPLENDID for intelligent video enhancement and interactive gaming features, the all-new ASUS card delivers the ultimate in computer visual enjoyment.
With the EAX1650XT, your graphics performance will never be compromised!

ASUS Features

Over 26% faster than Generic GF7600GT
The Hottest 3D game: GTI Racing bundled
ATI CrossFire Technology Ready
Copper base heatsink to dissipate the GPU heat away effectively
Built for Microsoft® Windows Vista
Key features
ASUS Splendid: Watching movies on PC is as good as on Top-of-the-line consumer television
ASUS Video Security Online: Keep an eye on your home at all times no matter where you are
ASUS Game LiveShow: Stream live gaming action onto the internet and share with other gaming enthusiast
ASUS Game Replay: Recording gaming action and strategy into MPEG4 files to share with other gaming enthusiast
ASUS Game FaceMessenger: Easy IM and live game conference in any PC games
ASUS Gamer OnScreenDisplay: Adjust the fame settings and enhance gaming experience without leaving the game
Models Available
EAX1650XT/2DHT/256M/A: PCI-Express, Dual VGA, Dual DVI-I, TV-Out, HDTV-Out, 256M
EAX1650XT CrossFire/2DHT/256M/A: PCI-Express, Dual VGA, Dual DVI-I, TV-Out, HDTV-Out, 256M
** Note: To enable CrossFire™ function
System requirements:
1. A standard ASUS EAX1650XT graphics card
2. An additional ASUS EAX1650XT CrossFire™ edition graphics card (with two pieces of CrossFire bridge interconnectors inside the box)
3. A CrossFire™ Ready motherboard
4. 512MB of system memory
Power Supply Requirements:
1. 450-Watt power supply or greater, 30 Amps, 12 volt rail is recommended (assumes fully loaded system)
2. For CrossFire™: 550 watt power supply or greater, 38 Amps, 12 volt rail
For our review, Asus provided us with their retail version of the EAX1650XT. The card costs around €170 in Europe and US$169.99 in the US, as found on several online stores.
The retail package is complete with printed manual, drivers and of course cables:
The retail package includes:
The Asus EAX1650XT card
2x DVI to VGA adapters
1x 7 Pin S-Video to composite cable
1x Power cable
1x CD-ROM with GTI Racing Retail Game
1x CD-ROM with ASUS Utilities
1x CD-ROM with Asus Driver
1x Leather CD carrying case
Looking at the card, it is small in size. It has a small copper air cooling system on board:
On the top of the card are the 2 Crossfire connections: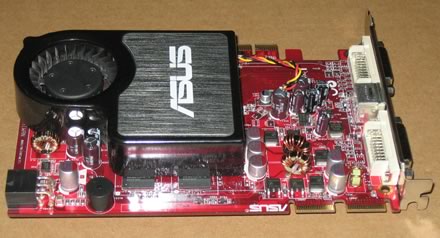 The card has two DVI-D outputs and one TV-out output:
The card requires that a PCI-E power supply be used in order to supply enough current. You need a PSU with at least a 600W rating with these current VGA cards, especially if you decide to go CrossFire:
On the rear we see the cooler's mounting plate and SN for the VGA card: